Budget Blooms
You may have noticed a bouquet in the middle of the table for Clara's party two weeks ago.
Well, sadly some of those blooms are no longer among the living:
But there are a few that are still going strong, so I decided to drop them into three of my favorite vases (from Ikea a while back) for this happy little effect:
And yes, they're on the windowsill in our bathroom. Just because I realized that we have never had any flowers in that room (there are all sorts of "firsts" in this house for me – including flowers in the bathroom) so I had to revel in the first-bathroom-blooms occurrence. It feels good to get back to the whole budget blooms thing (since we shared them on a monthly basis for almost two years and somehow forgot all about them since moving). I guess getting back to it symbolizes some sort of feeling-settled-enough-to-stop-and-smell-the-flowers thing. What blooms are you guys bringing home these days? How do you feel about super bright flowers like these (when I dumped the water out of the original vase it was neon pink). I think I usually prefer less or no dye, but for the bean's big birthday bash, they were kind of perfect. And her daddy picked them out for her – how sweet.
Bonus post extension (because it's Fridaaaaay baby):
To pick up where I left off yesterday with my end-of-Oprah denial at the bottom of this post, someone recommended that I Oprah-fy myself here on Oprah.com. So I did.
And then I Oprah-fied John.
It's really helping me cope. Sadly it didn't work too well with Burger or Clara. But the John one kills me. Especially those earrings. Feel free to Oprah-fy yourself (and post them on our Facebook page if you wanna share the hilarity). I'd love to see what you guys look like with big Oprah hair. I can't wait. Literally, I'm on the edge of my seat.
Even though it was originally my idea/Christmas-present-to-Sherry to buy fresh flowers once a month, I've been pretty absent from these budget bloom posts since their inception – mostly because talkin' flowers isn't really at the center of my comfort zone. But this month's florals are less about the blooms and more about bottles which (as an off-and-on soda fan) are right up my alley. So here's August's $2.47 arrangement adding some punch to our kitchen window sill:
This actually started with a blueberry Izze soda (technically it's "sparkling juice") that we purchased at Whole Foods a few weeks ago. Sherry and I have both been fond of the graphic flower on their bottles for a while, so the empty Izze bottle managed to save itself from the recycling bin day after day while we enjoyed its quirky beauty on the counter. Then we realized that paired with a few other colorful Izze bottles it could easily become a sweet repurposed vase. So on a recent trip near Starbucks, I dropped in and picked up two more Izze bottles (each with a different colored flower just for fun) and then we grabbed three spider mums from a local florist to the tune of $2.47. So I guess if you want to get technical, although the flowers were under $3, this arrangement was around $9 if you include the Izze. But we did get to enjoy a bunch of fizzy drinks for that price too.
We liked the all-white flowers paired with the trio of hues on the Izze labels. Plus we realized there's something nice about the blooms blending in with the dominant crisp white color of our kitchen, making their containers stand out that much more.
We've always been fans of adapting cups, votive holders, and of course bottles into makeshift vases – this is just our first time using Izzes. They'd also look great in a monochromatic grouping (all clementime flavored bottles with orange or yellow gerbera daisies, for instance) or you can come up with your own mix-and-match color scheme (there are 8 flavors in total). Oh and some classic Coke bottles could add a cute retro feel while some worn green glass bottles at a thrift store or flea market would bring a nice cottage vibe to any arrangement.
So there you have our monthly blossoms. They've actually been lasting quite a while, thanks to the fact that they hail form a local florist (which really does seem to make a difference). We also change the water and re-cut their stems every 5 days or so- just to give them the best chance at long term survival (so far we're over two weeks into things and they're still going strong).
But enough about our mums, do you guys have any other bottle or vase stand-ins that you've particularly loved using instead of the more tried and true meant-for-flower vessels? Are there any other flowers that you've been enjoying lately? Oh yeah, and we've got more plans for those Izze bottles too (you know we love squeezing as many projects out of our cheap little purchases as we can) so don't be shocked if you see 'em again soon. Stay tuned…
Wanna see our first grocery store bouquet from last January? Itching to check out February, March, April, May, June, July, August, and September too? How about this year's January, February, March, April, May, June, and July bouquets? Just follow the links for some pretty sweet cheap-o (and even free) bouquets.
As most of you know, every month we like to enjoy one inexpensive- and sometimes free- bouquet to keep things feeling fresh around here (the idea actually stemmed from a super sweet Christmas present from the hubs a while back). And since July was our anniversary month, we decided to honor that fact with some gladiolus stems that we snagged for a song at the grocery store a few weeks back (just $2.39 for the entire bouquet!).
What do gladiolus stems have to do with our anniversary? Well, three years ago we whipped up garden themed favors for our backyard wedding. We just picked up simple brown mini paper bags at Target and dropped a single gladiolus bulb into each one for our guests' garden. We even added easy handwritten planting instructions on the back of each bag (they were one of the only bulbs that could be planted that late in the season). Clipped to the front of the bag was a photostrip (tying in with our photostrip save-the-date and the actual photobooth that we rented for the event) and the strip on the favor featured John's face covered in lipstick kisses while we held signs that read: Plant one… on us! *smooooch*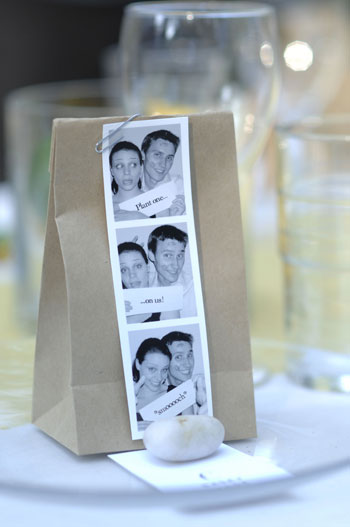 Believe it or not, many of our friends and family members planted their gladiolus bulbs and actually get to enjoy their own little backyard blooms every summer when they sprout (my mom sends us pictures of hers every year without fail). But since ours never bloom (they shoot up leaves but don't get enough sun to flower) we opted to pick up this under $3 bouquet to fill the void.
We love the sweet pink color and the tall sculptural stalks. Especially paired with my fun curvy green vase (a birthday gift from John's sister from Crate & Barrel).
So although we didn't get a chance to share our July bouquet in July, we figured it was better late than never. And before you know it we'll be back with our August blooms so we're sure not to miss those this time. But enough about us. What about you guys? Did you recently snag any greenery on the cheap from your backyard, your local grocery store, or even the farmer's market? Tell us all about what flowers and other outdoor finds you're loving this month.
Wanna see our first grocery store bouquet from last January? Itching to check out February, March, April, May, June, July, August, and September too? How about this year's January, February, March, April, May, and June bouquets? Just follow the links for some pretty sweet cheap-o (and even free) bouquets.