Yup, we rearranged some furniture! Wait, what did you think we meant by new moves in the bedroom?
First lets rewind to this post where I said "As for if the bed can move, the floor plan of this room is a definite challenge thanks to "things" on each wall (two very off-centered windows, a nook across from the door, and a nook with the sink tucked into it on another wall – and a chandelier in the exact center that looks off if the bed isn't in the right place). So we've tried the bed in a bunch of spots, but the place that works best for us is where it lives now (it's the only long flat wall in our entire room)."
Well, after seeing a few inspiring glossy mag photos, we decided it might not be the weirdest thing in the world for the bed to be right next to a window. See, moving the bed would do one major thing for us: allow us to ditch our sadly-too-small-for-our-giant-room side tables (which we couldn't do on the old wall where they lived, since the door would swing open and hit anything larger).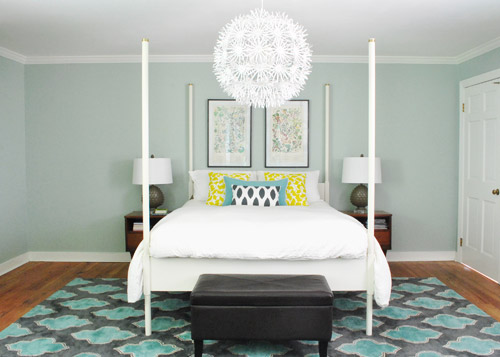 So although we weren't 100% sure how we'd handle the odd nook to the right of the bed and the window that would nearly touch the bed on the left, we just decided to go for it and see what we could come up with. But before we moved anything, we got new curtains from Ikea for $5 a pop (Vivan panels, which are our favorites from our first house). They come two per pack for $9.99, and aren't super heavy or super sheer, just sort of breezy and light – which we thought this room could use since it has a big dark rug on the floor (and we'd eventually love to stain the wood floors a dark mocha color).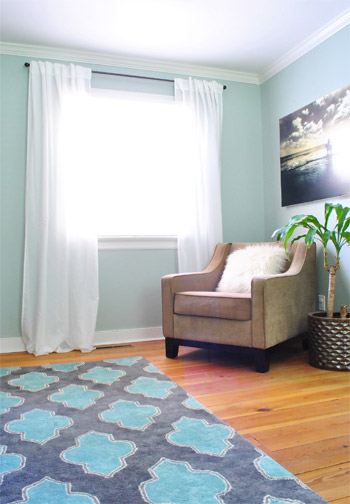 They definitely layer right in and add some softness (we hope to reuse the old green curtains I made in the playroom). Didn't hem the new guys yet though- but I probably will someday. Haha.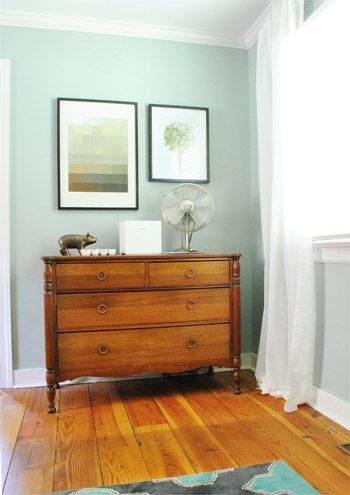 Then it was time to move stuff around. First we removed our insanely heavy organic mattress (which can best be described as the equivalent of lifting 50 dead bodies, not that we'd know…) and then we slowly inched the bed over to its new spot across from the doorway (so you can walk at least ten steps into the room instead of three before slamming into the side of it, which happened in its old position by the door).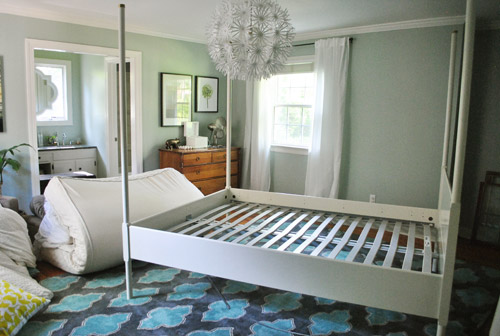 Next we shimmied the rug into position under the bed in its new spot before nearly blowing a gasket moving the mattress back onto the bed in its new spot. It still looked really really weird.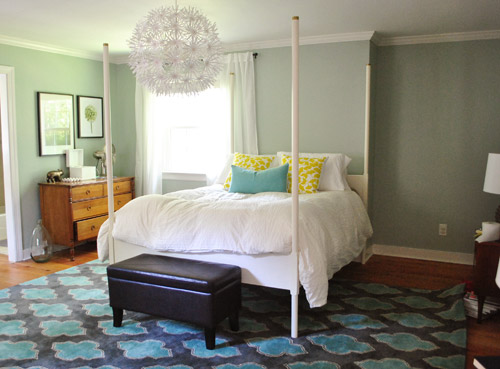 I was excited to start moving some other furniture around, but John had to duck outside to work on some deck stuff and Clara was napping so you know what I did, right? That's right, my 5'2″ self got it done on my own. Haha. I hauled our dresser into the nook to act as a much larger bedside table and then stared at the blank space under the window on the other side of the wall for a nice long time while I caught my breath. It wasn't functional to give up a night table and we definitely appreciate the balance of having two bedside lamps (especially along a wall with an off-centered window and an odd corner nook without any sort of symmetry going for it at all).
So I literally walked around the house (avoiding the nursery so as not to wake the dragon Clara) to see if there was something we already owned that I could bring in to use as my bedside table under the window. Sure enough, my eyes rested on this guy who has been hanging out in the dining room: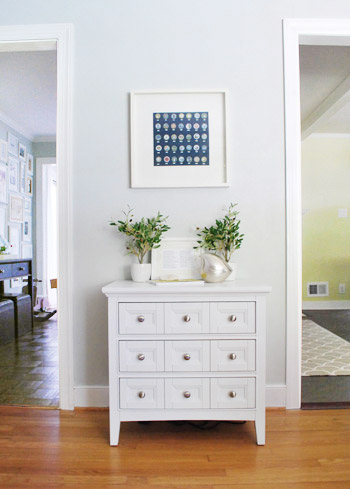 The funny thing is that this cabinet is actually meant to be a bedside table, so here I was thinking I was being a rebel to stick it in the dining room, only to drag it into the bedroom and realize that I loved it under the window. Don't get me wrong, I loved it in the dining room too, so for one of those places we'll have to grab something else (it might just be a placeholder in the bedroom and we'll get another table and return it to the dining room eventually – or vice versa). Update: Folks are asking if the chandelier is still centered over the bed, since it's hard to tell from this angle. Thankfully it's still perfectly centered! If the nook were a foot wider this arrangement wouldn't have worked – and if we had a king-sized bed instead of a queen it would have been no dice! Whew.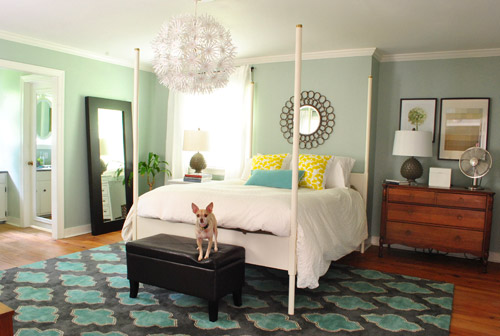 Then I hung the art that used to hang above the dresser in the nook, and put up an old oil-rubbed bronze mirror over the bed – which used to hang in our living room, but was replaced with a white mirror about six months ago. It added a little more "something" to the big blank wall above the bed, but we're thinking that down the road we'd love to make a big upholstered headboard for that area and maybe move the mirror up so it's closer to the height of the big round chandelier in the middle of the room since we think height in the center of that wall might be really nice and will further disguise the fact that our bed is jammed between an awkward nook and an oddly off-centered window.
Here's Burger stretching. That is the only reason I took this shot. Cracks me up. I actually really liked the smaller white table on one side with a larger wood dresser on the other side since they both seemed to fit into those spaces well and the matching artichoke lamps added some nice balance. Ideally the white night table would be a bit taller so both lamps would be at the same height, but for now I just grabbed a stack of books to add some height to that light on my side of the bed. Maybe down the line we'll add castors or little legs to give it a bit more lift, but for now it does the trick.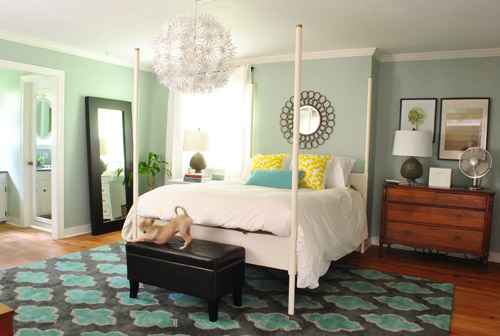 Moving that art into the nook to sort of balance the window on the other side of the bed seemed to make an instant difference since that nook no longer looked like a big blank wall, and the two frames felt rectangular and balanced with the window on the other side of the bed (admittedly more so in person since the window is blown out in this pic, but is very easy to see in real life).
I also mentioned that I dragged the leaning mirror from across the room to where the wood dresser used to be, which seemed to add even more balance to the new setup since it was a nice shot of dark wood next to the white nightstand to tie into the wood dresser on the other side of the bed. We had that guy anchored on the wall so Clara can't pull it down on herself, but thankfully the system just uses cable ties, so we were able to reuse the same system with two new zip ties in its new spot (you can see how the whole anchoring thing works here).
Here's another view of things. Of course those two botanical frames look crazy on the wall with no bed under them, so we're planning to rehang them in the corner of the room that's on the other side of the sink nook (not pictured, but there's a chair and a side table over there).  And then anything from a cabinet or console to a large piece of art could end up on that wall someday. But this view definitely looks extra weird since it's so unfinished on that back wall.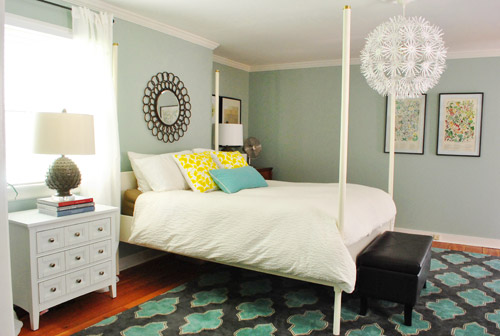 At this point we were tired but hopeful. It still looks kind of crazy to us, but not bad for about an hour of work. And we definitely have bigger plans to help it make more sense over time, so we'll keep you posted. In the meantime, here's Exhibit A that we're dorks for life. Yes, we had the tripod all set up so we took a moment to pretend to be angry monsters under the bed. Although looking back John just looks like a mischievous kid and I look like a sullen teenage vampire.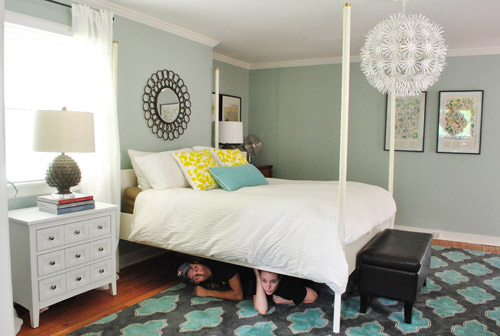 Then we pretended to sleep. Totally normal, right?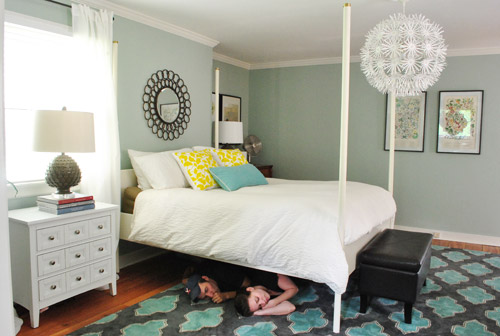 Then we thought we were done taking pictures, but later that night we found ourselves standing in the hallway – just marveling at the new view.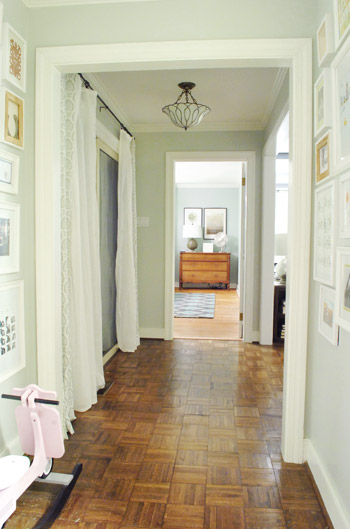 We couldn't find a recent pic of the old view into the bedroom, but this is one from over a year ago, just to give you an idea of how the side of the bed was sort of the only thing you'd see before: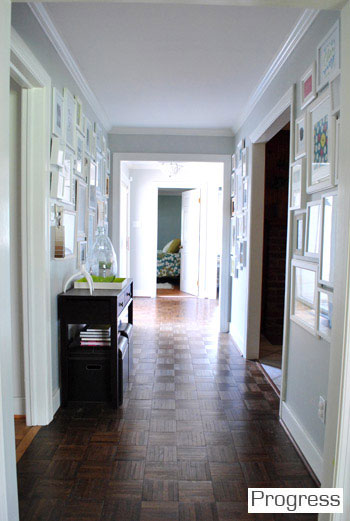 Now instead of seeing the bed, there's just a straight shot into the room with the dresser in the nook. It's actually really nice not to see the bed from the hall anymore, and the nook looks a lot less weird and bare when there's actually something in it.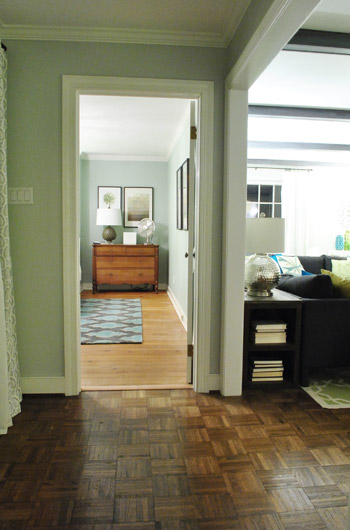 So that's where we landed after a few hours of bedroom noodling. Although I must admit that we did something a little more DIY-heavy after this little furniture-move-a-palooza, so we'll share those details this afternoon (just have to upload the pics and write the post). In short: we're getting somewhere, but we're definitely not completely there yet (but what else is new around here, haha). More soon!
&nbsp
&nbsp&nbsp&nbsp

&nbsp

&nbsp
If you enjoyed this post, please leave a comment or subscribe to the feed and get future articles delivered to your feed reader.
567 Comments
This comment section is currently closed.