Who knew a half-baked banquette idea could bring on the chatter like that? Over 800 comments within a few hours time? Insanity. We're loving all of the ideas and suggestions that you guys are throwing into the pot and promise to keep you posted every step of the way! There are definitely a lot more things to consider and nothing's set in stone, so I think we'll probably change our plan by the minute. But you know we'll gab incessantly about it to anyone who's willing to listen as we go.
In the meantime, since I should be painting office cabinets (but haven't had a second to tear myself away from the blog), I thought it would be fun to share this awesome rendering that a sweet (and apparently very good at Photoshop) reader named Amber sent our way: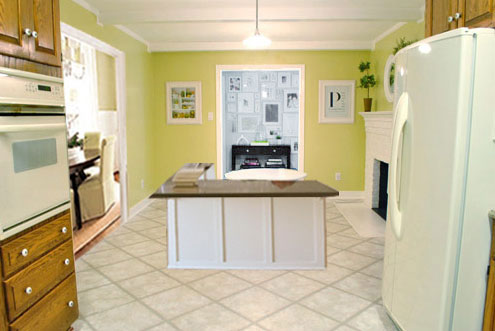 Now can you kind of start to picture it? Of course lots of things might be different (the counter might not be that color, the table might not be that shape/color, the lights may change/move, the floor will change, the cabinets won't be brown and have eyeballs on them, there might be open shelves on the back of the banquette instead of just cabinetry, etc). Basically nothing that you see up there is "for sure," but it definitely helps us start to picture it. So we thought sharing it might help you guys too. And a big wet kiss goes out to Amber for her ninja-like photoshop skillz.
I think the hardest thing for people to "see" before this rendering (us included) is that the banquette won't block any more of the room than the table that used to sit there did. And people sitting at the banquette will have the same open POV that they would have had at the table (since the banquette seating will be the same height as table seating). And the countertops behind the banquette will also be around the same height as the base cabinets in the room. So hopefully it won't feel closed off at all (everyone can see over base cabinets… well, except for Clara and Burger). Look, here's John faux sitting in the new area now: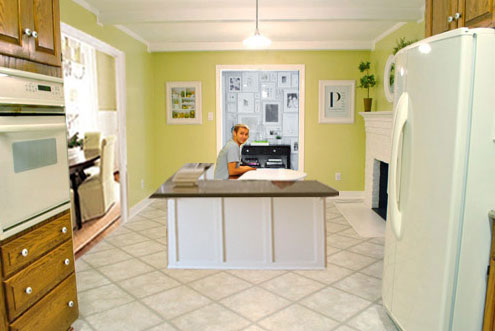 Now that we see this we're thinking it could be cute to even add two small stools to the back of the banquette so that the closest-to-the-kitchen countertop could be used as a casual seating area too. Not sure though, because it might also be great prep space. And I can definitely picture us using it to set out things like appetizers if we're entertaining. It's all complete speculation and guess work at this point! But thanks again for all of the suggestions this morning. Who knows where we'll end up!
On and there were actually a few folks who thought seating that faced the hallway and the fireplace was less intuitive than something that faced the work area of the kitchen, but we like the counter being the close part to the work area, and also think the two best views of the room are the frame wall and the fireplace. Plus I'm not mad at the fact that I wouldn't have to look at a sink full of dirty dishes when I'm relaxing in my nook. Haha. Also because that fireplace is in the corner of the room, turning the L to face the other way (with the seating looking back at the prep area of the kitchen) wouldn't solve the balance issue that the L-shaped arrangement does when it faces the fireplace. Hopefully this sketch makes more sense of the reasons why (top setup: what we want to do, bottom setup: what it would look like flipped):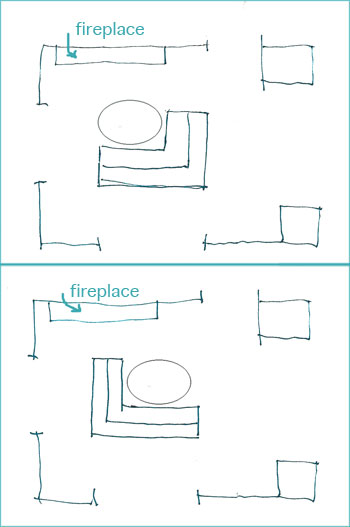 See how that fireplace in the corner would make way less sense that way? Sorry for not including a sketch like this in this morning's post for ya.
Anyway, you'll have to excuse me, I have some office cabinetry to paint. I bought some new stuff last night (Benjamin Moore Advance paint) and I hear it's awesome for cabs, so I can't wait to pop back in with all those details – probably early next week if I ever get all those coats done and snap some photos. Anyone else painting cabinets? Or dreaming of banquettes?
Psst- We just announced this week's giveaway winners. Click here to see if you're one of them!
&nbsp
&nbsp&nbsp&nbsp

&nbsp

&nbsp
If you enjoyed this post, please leave a comment or subscribe to the feed and get future articles delivered to your feed reader.
381 Comments
This comment section is currently closed.