***This giveaway is no longer accepting entries – see who won below!***
According to random.org, the royal treatment is going to Cathleen Pearson (who feels bad for Kate's balding husband). Congrats!

No, not those royals. The majesty behind this giveaway comes from Royal Design Studio, whose stellar stencils will turn your walls into a stylish statement piece (but not in the way that a certain hat made a statement on a certain princess' head recently). We're crazy inspired by all of the stylish patterns and fresh color combos they showcase, and one of you will score $100 towards anything you find on their site. Enough chatter – feast your eyes on these babies (Sherry's over the moon for the one on the top right) and be sure to head over their website for more eye candy.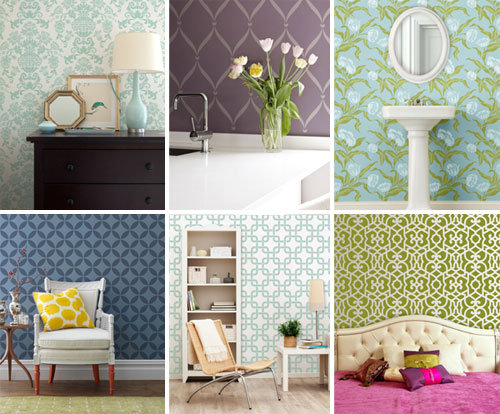 PRIZE: A $100 gift card to Royal Design Studio
TO ENTER: Comment on this post with the words "I WANT THE ROYAL TREATMENT!" and…
BONUS QUESTION: … fess up, were you totally caught up in Royal Wedding mania? Did you get up early to watch the festivities? Have you been chatting about the dress, kisses, and hats ever since? Or were you on the other end of the spectrum and worked hard to avoid the hubbub?
GIVEAWAY CLOSES: Wednesday, May 11th at 8pm EST
NUMBER OF WINNERS: One
PRIZE SHIPS: Anywhere in the world!
USUAL STUFF: One entry per e-mail address is permitted. The winner will be selected using random.org and announced on Thursday as an update to this post. That's right, come right back here on Thursday morning for the announcement of our winners. Good luck…
Note: We weren't paid or perk'd for hosting this giveaway, we just like rewarding our lovely readers! See our Giveaway FAQs page for more info. Pics from Royal Design Studio
&nbsp
&nbsp&nbsp&nbsp

&nbsp

&nbsp
If you enjoyed this post, please leave a comment or subscribe to the feed and get future articles delivered to your feed reader.
3,602 Comments
This comment section is currently closed.