Archive for November, 2008
When this cute couple wrote to us for help with their front room and entryway, we were excited to create something light and welcoming for a house that says "why hello there" every time they enter. Here's their letter:
We're looking for beachy, light and airy entryway and front room with clean lines, kid-friendly style and a fair dose of whimsy. We're big fans of relaxing colors and things that make us smile. The rug in the front room can go and we also would like a runner for the entryway (maybe jute for both rugs?). We'll also need new end tables and lamps for either side of the couch, and we need decor for the walls, a chair, a coffee table, etc. Only the beige couch, entryway piece (bench with long, upright mirror), and hallway credenza have to stay. We'd love a new wall color, not only for the front room but also for the adjoining stairway wall. We favor greens and blues and I probably overly avoid patterns and tend to stick with monochrome blocks of color – to a fault. One challenge is figuring out how to store the shoes at the entryway. Without fail, either the floor of the coat closet ends up being a pile of shoes or there is an ever-expanding array of neatly-placed pairs of shoes flanking the entryway bench and it just gets out of hand. I'd also like a small entryway table that I can hide two backpack hooks underneath. Oh and I'd love if you could work a star into the space (even subtly as it's a symbol of my children and my husband). Thanks so very much, in advance.  – Jean & Andrew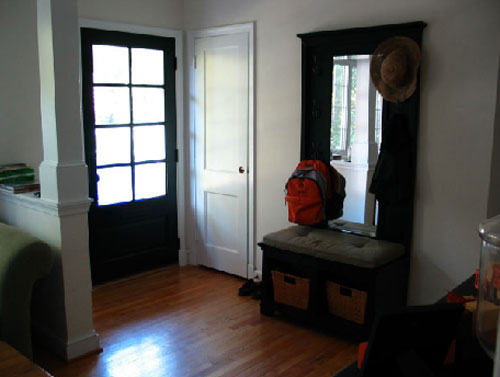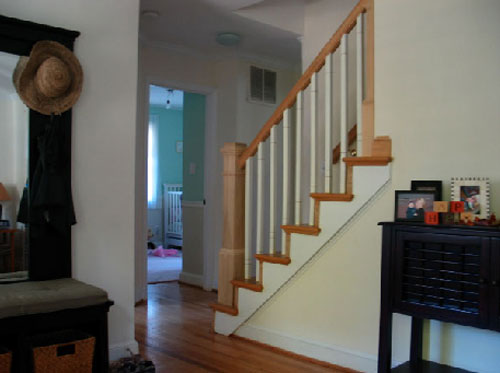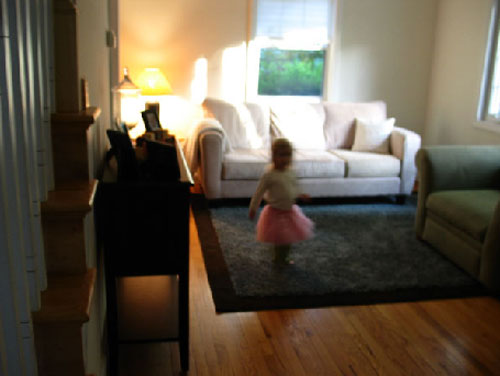 This space is already open and flooded with light- two things that really help to create a welcoming and inviting vibe from the second you step through the door. So here's our handy dandy mood board full of colors and pieces to bring out that beachy & whimsical style that Jean and Andrew seek:
Here's the mood board breakdown.

Read the rest of this entry »
I know it sounds geeky, but you know that feeling you get when you find someone the perfect gift or mail off that check to charity? That's kind of the feeling I get when I stick a banana peel in my compost container under the sink. It's one little thing we can do each and every day to keep unnecessary items from filling up our garbage can and living on as landfill. And in return we get rich, fabulous soil for bigger plants and that super sweet feeling that says "one more karma point" every time we add an eggshell or a coffee filter.
And since most people think composting is smelly and gross, we thought it might be wise to visually demonstrate how un-scary and un-nasty compost can be. We had to take a picture of this particular batch of veggies and eggshells because it almost looked like a rainbow: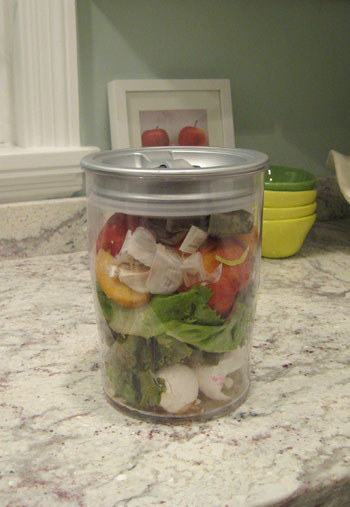 We should also mention that the compost container that we keep under the sink (shown above) is air-tight and 100% odorless (we snagged it at Target for around 8 bucks). All we have to do is walk it outside to add the latest collection of peels, pits, and tea bags to our super simple exterior compost bin (picked up at Lowe's for 7 clams) a few times a week. Easy peasy.
So if you're in the market for a bit of quick karma and some free organic soil, check out our step-by-step tutorial for making a sweet little compost bin of your own. Everyone thinks it's this huge commitment that takes hours to do (even I thought it was a big step when John suggested it) but composting has honestly made our lives easier, not harder. We take out the kitchen garbage half as much, we don't have to drag the garbage can to the curb nearly as often, and we never have to haul home garden or potting soil anymore. Life is good. Happy composting everyone!
When Christy sent us pics of her amazing backyard transformation we were super inspired/jealous. Here's her letter:
Our backyard before was mostly dirt, grass & weeds with an existing in ground pool & spa. But as soon as we saw some clearance dry stacking stones from Lowe's we knew we could spruce things up pretty cheaply. We also ended up finding some pavers on clearance at Lowe's too and plants on clearance at Target so it sort of snowballed from one thing to another and before we knew it we had a before and after story to send to you. Here's the so, so sad before: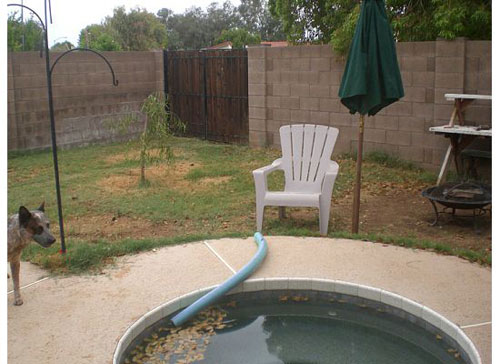 And here's the almost after (the walls on the benches still need to be painted, but this space is much more used now):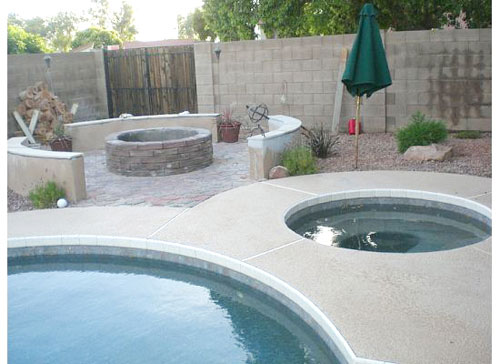 We enjoy fires in the fire pit weekly. Plus, not being green is a lot greener. I am conserving water by switching out to a xeriscape lawn with low maintenance plants. The pavers, rocks (12 tons), fire pit & plants were all done DIY by me, thanks to many long cold nights after work with a broken finger. The benches & BBQ were done by a local mason (they're topped with flagstone). The entire thing, mason work, materials, plants, etc. was around 2k. I hope you enjoy my little DIY do-over. – Christy
Enjoy it? We live for it. It's amazingly well done (we love how you mimicked the round spa and pool with the circular fire pit and benches). And to think that you did almost everything yourself (with a broken finger no less) is spectacular. Thanks so much for sending your fabulous before and after pics our way. Yummy.