Archive for November, 2008
I hope you guys had fun reading all the funny comments about each pet's strange habit. We certainly were entertained. In fact, I'm glad we weren't awarding the prize based on the weirdest anecdote because that would've been an impossible choice. Instead, we used trusty random.org to tell us that the winner of the Pet First Aid Kit courtesy of FirstAidLive.com is… Ljcadv!
Hopefully Ljcadv won't have to use the kit for her brindle boxer, Riley, anytime soon. But considering Riley's "drinking problem" it's probably best that she has some sort of first aid nearby. Congrats Ljcadv!
Thanks again to Danielle at FirstAidLive.com for the friendly reminder to be prepared.  Oh, and apparently her dog Bubba saw the picture of Burger playing Vanna with the kit in our last post and wanted to get in on the action.  Modeling's tiring work, eh Bubba?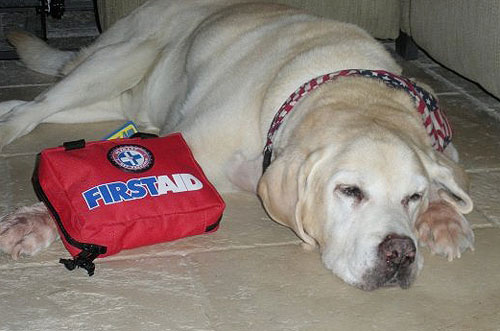 If your number didn't come up this time, you can always snag a Pet First Aid Kit of your own here. Plus, our first International freebie is right around the corner so stay tuned and keep your fingers crossed.
&nbsp&nbsp&nbsp
When looking for some crafty Christmas projects to take on this season, we knew we wanted to do something using our personal photos. And since your typical photo-mug isn't really our style, we turned to Moo for inspiration. They're a quirky lil' printing company (popular among flickr users) that makes it easy for you to print stylish photo cards, postcards and stickers. Our personal faves are their MiniCards, stick-of-gum-sized cards made from your own photos. So we decided to order a $20 pack of 100 cards to tackle two simple holiday projects.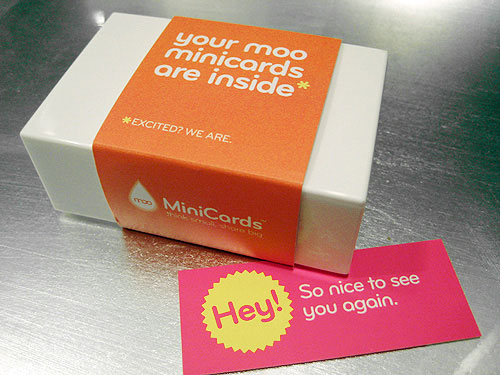 One of our projects came at the suggestion of the folks at Moo themselves. Their site recommends a slew of craft ideas, including a bunch of seasonal ones, and we were all over their personalized gift tag idea. Taking inspiration from the Burger-as-Rudolph Christmas card we made last year, we photoshopped our little guy into another festive scenario for the card's front and had them print "To:" and "From:" on the back.  Mistletoe anyone?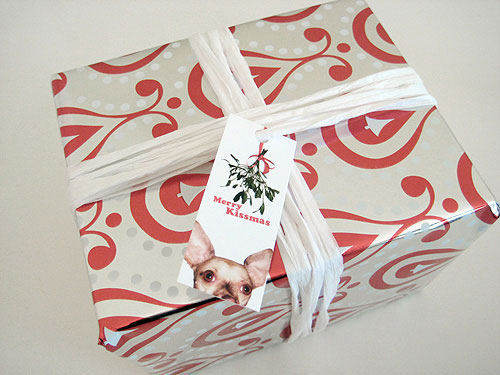 Our second project was inspired by the fact that the MiniCards are roughly the size of those expensive rectangular glass and marble tiles that are all the rage now. All we had to do was find a pattern that mimicked the texture of stone and voila, we'd have some easy faux-tiles at our disposal. Fortunately, we took this cool pic of an Alaskan glacier during our honeymoon last year, and by cropping different areas of the icy peaks and slightly changing the color of each one, we amassed the perfect collection of varied stone-like photo tiles.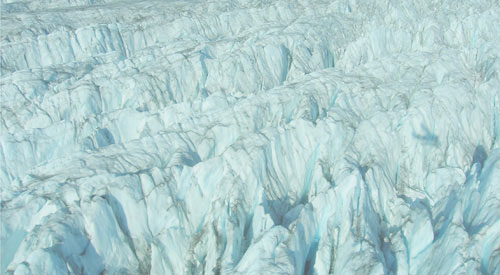 Now, where to use them?  How 'bout on this $10 holiday tray we snagged at Target? Nothin' like a good tile job to make it look more expensive…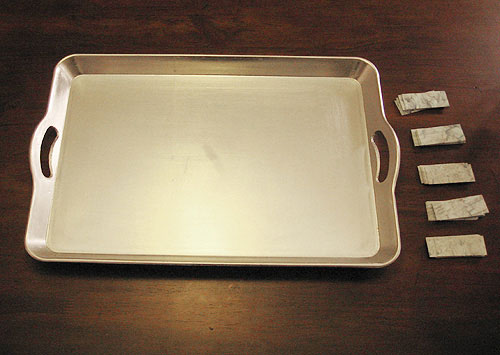 Tiling the tray was a family affair. I was in charge of applying the tape loops to the back of the MiniCards while Sherry was responsible for laying them in a brick pattern. And Burger, well, he was in charge of not getting himself into any trouble.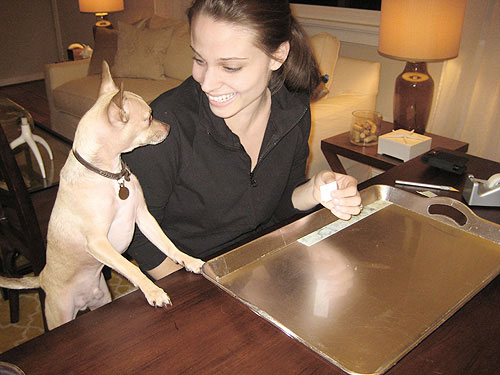 Oh yeah, Sherry was also mistress of the utility knife used to round the corners (something we did with the card in place for the best possible fit).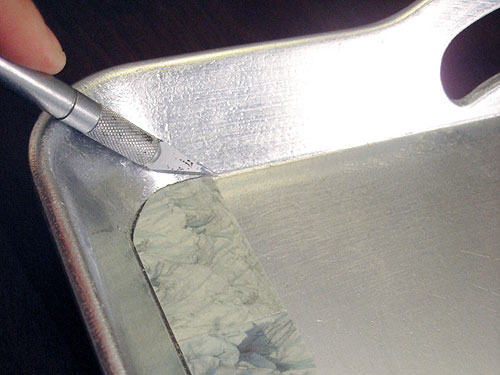 By sheer luck we ended up with the exact amount of tiles we needed – no more, no less (PHEW!). Looks pretty tile-esque, no?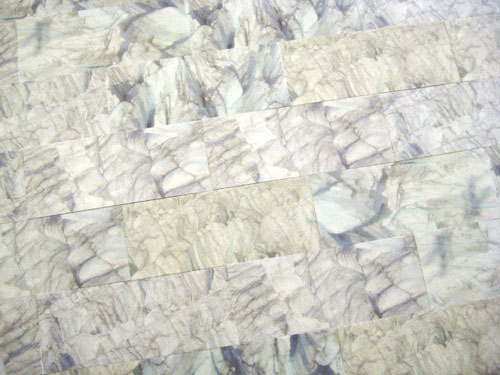 But of course if takes more then tape and paper cards to complete a faux tile project. So in comes the bar coat to finish the job! After mixing up 16oz of a clear liquid resin called Envirotex Lite- Pour On High Gloss Finish (snagged at Michael's) we poured it evenly across the bottom of the tray to solidify and therefore protect the design.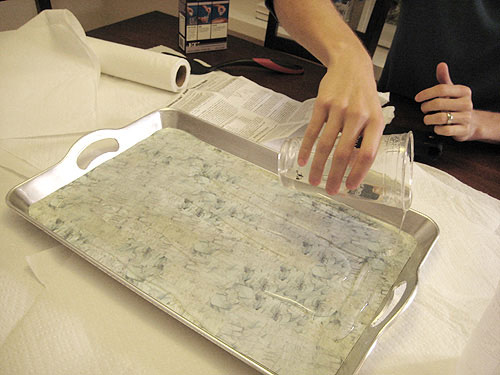 The resin is super thick (the equivalent of 500 coats of varnish- it's actually what they use to create those thick glossy bar tops) so it takes 72 hours to fully harden into a clear, glossy, waterproof coating.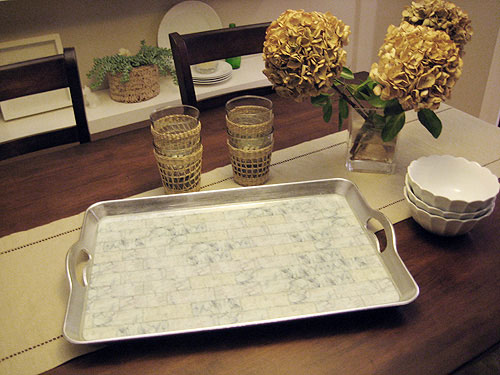 So even though we can't put anything on the tray quite yet, we can already tell it's going to come out very nicely.  And very tile-like, indeed.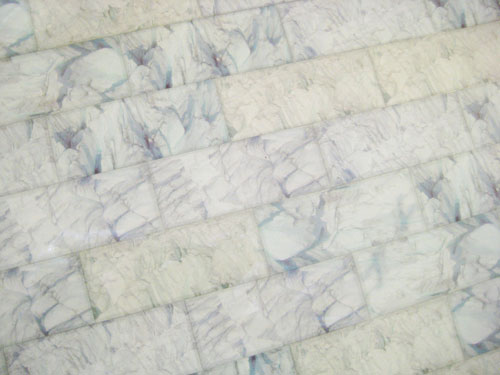 Wanna take on a Moo MiniCard project of your very own?  For this week only, if you're new to Moo you can get 10% off a pack of MiniCards by entering the code "younghousemoo" at check-out. And be sure to let us know what cool projects you're undertaking with your cards… especially if they're holiday themed. Now go out there and get carded.
&nbsp&nbsp&nbsp