Is there anything better than a beautiful, functional, and DIY-ed piece of furniture? Arguably yes (a free car full of money?), but not much. So we loved getting Kim & Scott's email about the built-in media wall that they constructed with a couple of friends. Not only was it custom built to perfectly fit the space, it saved them at least $450 (many similar units go for $750+ and theirs was $252 to build). Here's Kim and Scott's letter:
We started out with a very green accent wall, and over time we began to layer in a few new pieces to the living room (a shaggy rug, a Craigslist coffee table, etc). After said changes, we grew weary of the bold wall and figured that if we were going to change the wall color – what the heck! – we should just create a whole new media wall. Of course, right?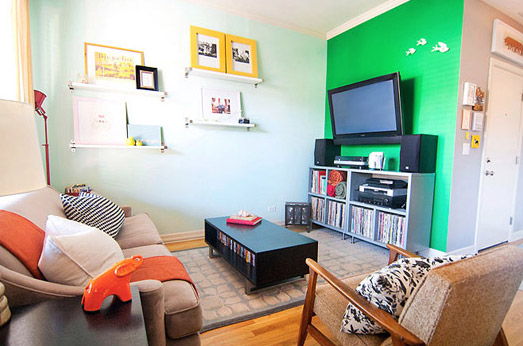 So with the help of some friends in another state, our road-tripping wall made it's way back to Chicago where she was finished up, styled, and enjoyed. We have a tiny city condo, and the media center, although much larger than our last one, actually saves space, looks built in, and completes our room. Thank you for continuing to inspire with your many projects – large and small! -xx, Kim & Scott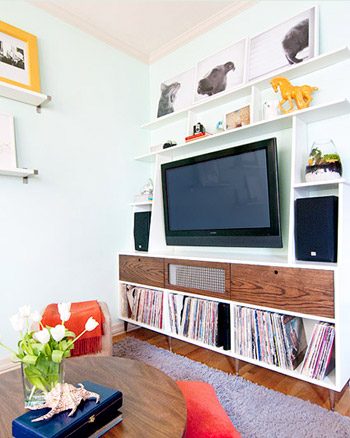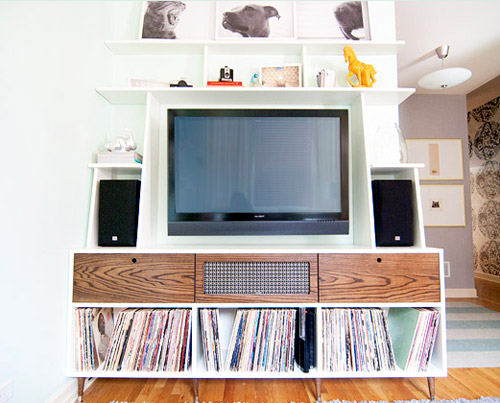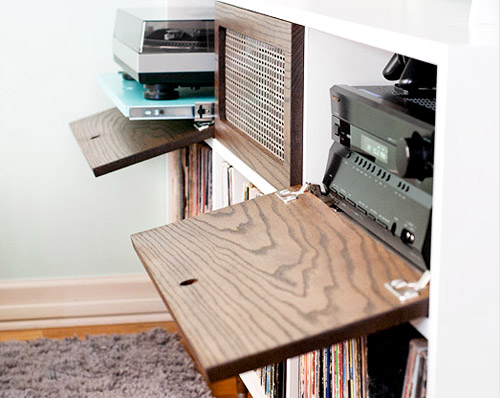 Isn't that awesome? We love the flip-down wood drawers and the perfectly customized shelves (and you know Sherry's sweating that yellow ceramic horse – that's a jersey term that she taught me by the way). Thanks for sharing Kim and Scott! For more photos or to learn more about the process of creating their built-in, check out their blog. This is just the kick in the butt that we need to upgrade our own media cabinet situation. As soon as we get a bit more accomplished in our counter-less kitchen…
&nbsp
&nbsp&nbsp&nbsp

&nbsp

&nbsp
If you enjoyed this post, please leave a comment or subscribe to the feed and get future articles delivered to your feed reader.
100 Comments
This comment section is currently closed.