Even though spring is a ways off, Sara's before and after pictures had us feeling all sunny and cheerful. Here's her letter:
I'm a longtime reader of your blog, and I have a big Reader Redesign for you. My fiancé and I bought our house last summer and have slowly been fixing it up. I'm so excited to share our biggest project to date: a DIY paver patio. We got a quote from a contractor that wanted around $8200 for the job! We decided to do the work ourselves, and also add a wall for extra seating. With no experience. And only two weeks to get it done before our big summer party. Yikes! We spent all of our nights and weekends (and a couple of vacation days) digging, compacting, leveling, shoveling, and moving (literally) tons of gravel, pavers and sand. It was backbreaking, but we are so pleased with the end result! With some clearance patio furniture and pillows from Home Depot, clearance seat cushions from TJ Maxx and a new fire pit from Menards, we ended up with a 300 square foot outdoor room that was nothing but weeds before! We still have some things to do out there, but for this season we are done. Oh and you can see more details and photos over on our blog. Here's our budget breakdown for you:

Belgard Dublin Cobble pavers, Weston Universal wall stones, edgers, stakes, 11 tons of crushed limestone, two tons of sand, three bags of polymeric sand, concrete adhesive for wall –  $2054
Compactor rental – $200
Patio table – $140
Six patio chairs – $300
End table – $40
Six throw pillows – $40
Six seat cushions – $60
Umbrella – FREE gift from neighbor (thanks, Margo!)
50 pound umbrella stand – $85 and worth every penny
Fire pit – $100
Total:  $3019 – over 5k less than the contractor wanted for just the patio (not including the seat wall!)
Thanks so much for your great blog and for taking the time to check out our big patio project! -Sara
Here's the bare before photo: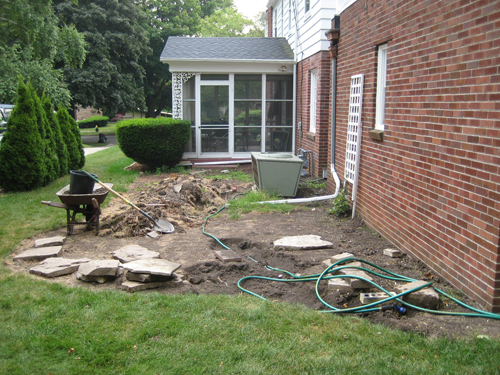 And here's the amazing after: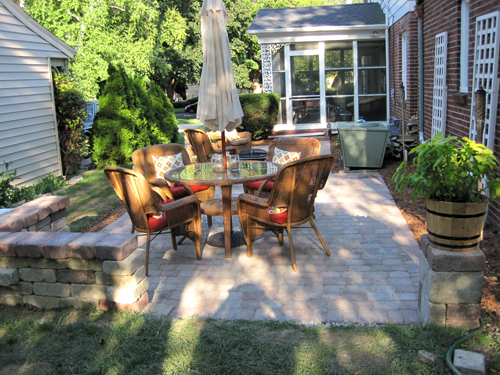 Didn't Sara's DIY determination pay off big-time? What a fantastic place to entertain and enjoy three seasons out of the year! Plus we can only imagine the added resale value that it brings to their home. Don't forget to head over to her blog to see more. Amazing job Sara! Now if only spring would hurry up and get here so you can enjoy all that hard work…
Psst- Speaking of hard work, Burger has narrowed his dog version of The Bachelor competition down to two lucky four-legged ladies. Check out the finalists (and the general absurdity) over on Hamburger's House.