We're back with our it's-almost-spring installment of window shopping at Target. We recently found ourselves ogling so many things that we knew it was time for another post… so here it is.
First we have what is quite possibly our favorite collection of bath stuff that we've seen yet. The circle towels are actually pretty reminiscent of the TJ Maxx ones that we snagged for our big bathroom renovation, and we love how easily mixed and matched everything on these shelves can be. You could grab the bamboo shower mat along with those circle towels and a few of those green ceramic accessories on the top shelf and have a totally fresh look in your bathroom. Or you could go for a plush striped bath mat along with the white and blue sea-shell towels on the far left and then add white ceramic countertop accessories instead. It's virtually error proof!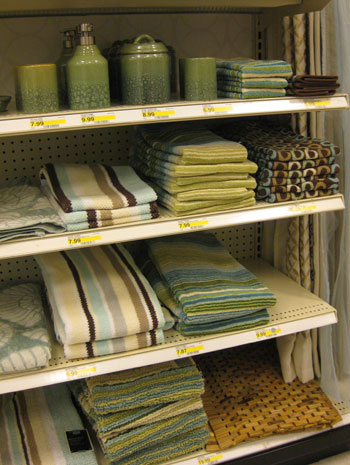 But maybe you're feeling more of the high-contrast thing these days? How crisp and modern would these great polka dot Dwell accessories look on your counter along with that bulbous white soap pump and some dotty hand towels? Especially if you opted to get pinstriped bath towels (or some other variation on the dot theme) to keep things from getting too matchy in there. Could be very chic indeed.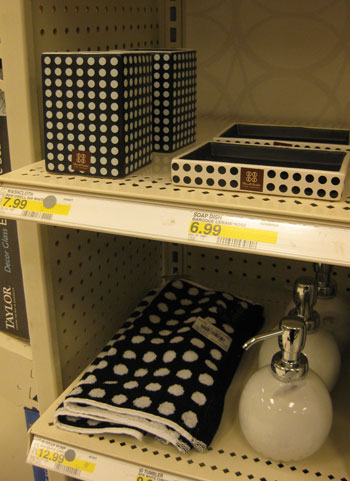 And since I'm not ready to get off the black and white thing just yet, we think these incredibly priced black sphere lamps (just $19.99 or $29.99) are the fastest way to a Domino-worthy room that we've seen in a while. Many designers say that every space needs a splash of black, and we think these babies (topped with a crisp white drum shade) would add so much classic elegance. You could place them on either side of a sofa, atop a console table, on either side of the bed, or even just pop one on your home office desk for style to spare.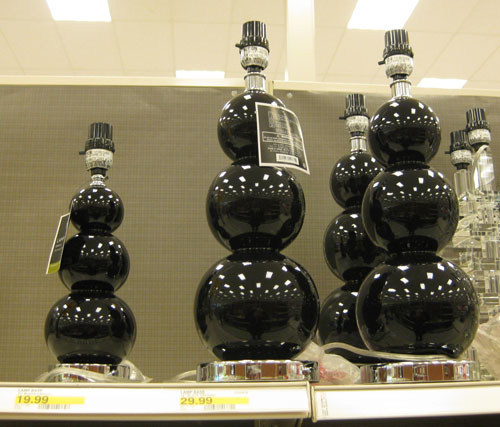 But wait, there's more black and white where that came from- in the form of this $49.99 zebra ottoman. Sure it might look a bit out of place among the aisles of Target, but again we picture it in a far more fitting setting- like a modern or eclectic room with a textured jute rug and a stack of chic hardcover books on it. Yup, it's definitely that Domino look again- and the price makes it a lot more attainable than many other upscale ottoman options out there.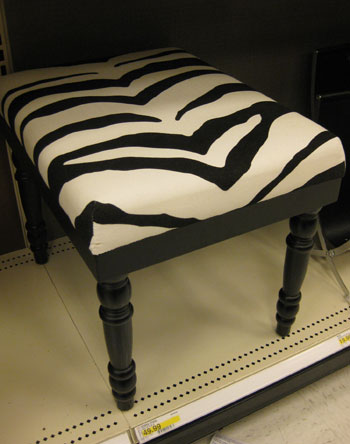 Next we just have to mention how glad we are to see a lot more Thomas O'Brien stuff. He's one of our favorite Target designers (he's responsible for both the brown houndstooth floor pillows in our sunroom and the green and white circle pillows in our den) and his mixture of sophisticated navy and airy light blue bedding has us loving them for an easy bedroom makeover. So if you have a sleeping space that's calling out for a bit of posh personality, just picture the subtly graphic tone on tone comforter on the bottom shelf or perhaps the girlier navy and white floral number on the middle row. And you can't go wrong with the polished light blue quilt with the navy detailing that you see on the top row. There are even coordinating-but-not-matchy-matchy patterned sheets to go with them, which is always better than stepford-ish identical linens. Plus they can feel a lot more effortlessly chic  than regular white or solid blue sheets.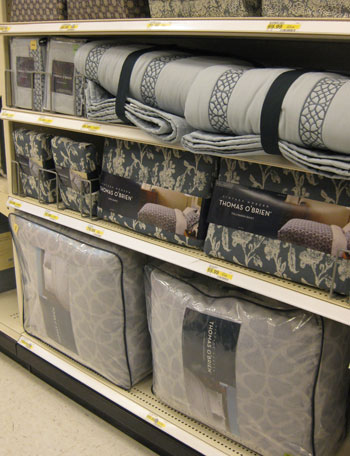 And we noticed a bunch of red sale stickers (score) on a ton of Dwell bedding so we just had to highlight that as well. From a graphic brown and white quilt to colorful and modern comforters there's definitely a lot of interest to be added to any room with just one purchase from their collection. And how cute is the coy and romantic little pink and brown floral pillow up on the top shelf? It would be so sweet on a cozy chair (that could be any color from white or cream to tan, mocha or chocolate).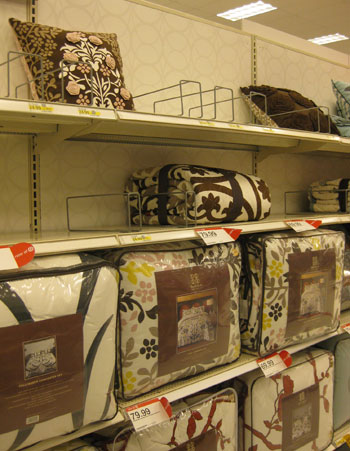 To stay on the patterned and graphic theme for a bit longer, we also saw these great little bowls that would add instant interest in your kitchen (or beyond). Of course a stack of them would look endlessly charming in a glass fronted cabinet or even piled high on your dining room buffet, but we could also see someone grabbing a set of two and using them to organize everything from q-tips and cotton balls in their bathroom or even paperclips or rubber bands on their desk. And we especially covet the ones on the right since they remind us of a much pricier Hermes pattern that's nearly ten times the cost of these babies. Oh and if you have basic white china how great would your table setting look with these bowls added to the mix, just for a bit of sophistication and fun? I might just be going back for those babies soon…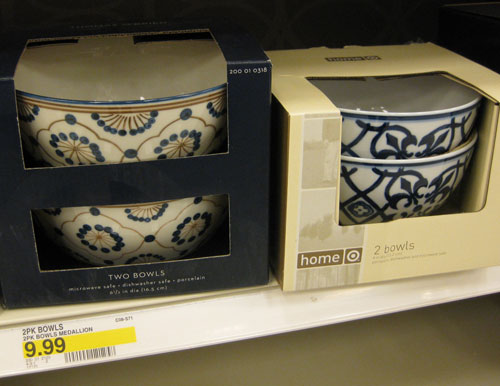 And in more ceramic eye candy news, we also loved these timeless white vases (for $14.99 and $19.99) that you could literally use from now until the day you die. We think there's something very luxe and Jonathan Adler about them, and they would look great with any type of bloom or even some chic branches. File them under "instant classics."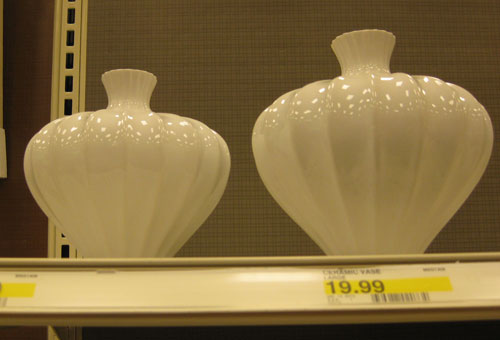 Now we're back to Thomas O'Brien. Oh how we love him. Let us count the ways. Well, way number one = this rug. The raised chenille floral pattern is interesting yet neutral enough (thanks to the cream and tan palette) to make it fit into nearly any space without much effort on your part. Score.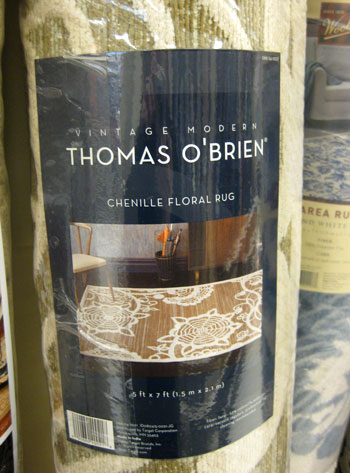 And we couldn't scoot through the rug and ottoman area without sharing these clearance finds. These burlap-looking ottomans were marked down to just $24 each. Isn't that amazing? We literally stood in front and them and dared ourselves to find a spot for them in our house (sadly we couldn't so we moved on, but they might just end up at your house if you can do a better job than we did in that department). They feel really casual and Lee Industries-ish to us (they do a lot of external seams like that, which we adore). And for less than $25 a pop they're a stone cold steal.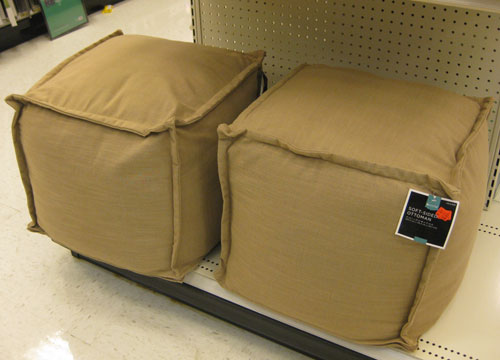 In the cheerful and fun department, we hunted down these graphic and floral comforters (just $24 for a full/queen one!) which would definitely freshen up any room for spring. Heck at that price you can get one just for spring and summer and switch it out with your existing duvet or comforter in the fall and winter for a whole new look.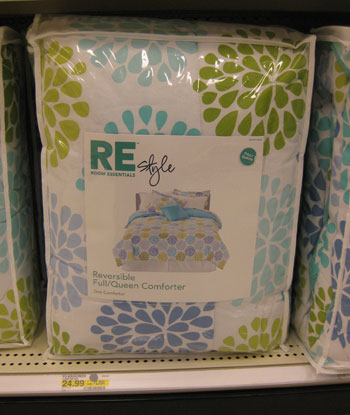 And this giant basket had us at hello. Especially because it had little chalkboard rectangles on each side for easy organization (it's a good DIY idea too, btw). It wasn't supremely cheap at $39 but we're fairly confident that it's one of those purchases that you'll use for decades for containing everything from soccer balls and sneakers in the mudroom to spare blankets in the guest bedroom. And it would be fun to change that little chalk label every time you give it a new use.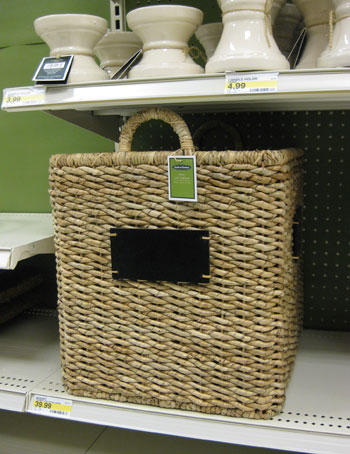 We can't really explain why we were so smitten with this birdhouse but there was just something about the super rich solid wood and the chic egg shape along with that textured hanging rope that nearly had us taking one or two home with us. I think we just liked the fact that it was a lot less frou-frou than most traditional birdhouses- and the $14.99 price tag was pretty appealing too. Note: they also sold similar looking bird feeders, so you could grab two of them to ensure that your backyard birds not only have a place to sleep but also a 24-hour buffet to saddle up to.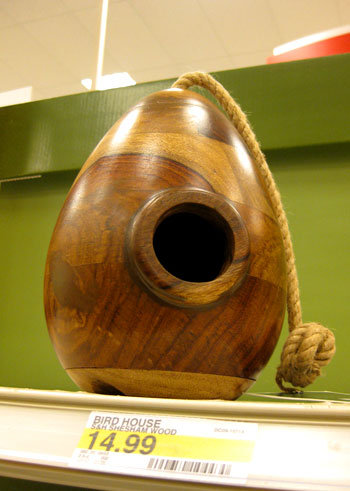 And last but not least we couldn't leave without snapping a photo of these fun spring-y floral napkins. Aren't they like a romantic watercolor painting? Heck for $2.19 or $1.99 (depending on the size) you could probably grab a pack and frame one of them for instant painterly art anywhere in your house. Or you could use them for a festive outdoor picnic or just put them on your kitchen table for a quick dose of happy every time you wipe your mouth.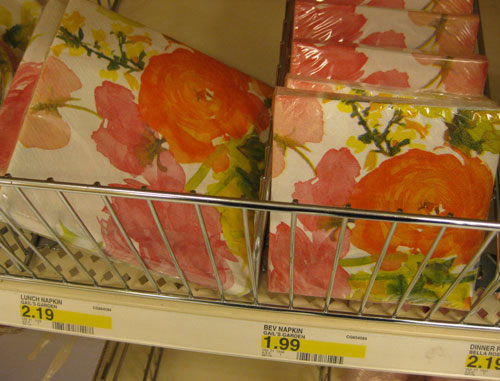 So that's what tickled our fancy at Target this time around. Oh and since our little window shopping sesh they added the new Liberty Of London collection, which is full of punchy bright spring-like fun. Definitely worth checking out in person or here online. And we'd love to know what you guys think of our latest Tarjay roundup. Any favorite finds among the bunch? Anything that you've already purchased or have been coveting for a while now? Is there something else you've seen there (or anywhere else) that makes your heart go pitter-patter? Let's talk about window shopping and what you're digging these days.
Oh and p.s. – We have no affiliation with Target nor were we paid or otherwise rewarded for this post by those fine red-shirt-wearing folks. We just love sharing affordable items that appeal to us and we hope that you enjoy our little window shopping excursions. If you'd like to check out more of our window shopping adventures, click here for a plethora of past virtual shopping sprees.