They say a penny saved is a penny earned. And who doesn't love keeping some money in their wallet when the aforementioned discount is listed under a bodacious eighties-inspired title like "Discount-O-Rama." Eh? Who's with me? High five? Really, no one? Shaft would like it. (Sherry literally laughed in my face when she saw what I entitled our new sidebar feature, then rolled her eyes and said "we have to change that" and then slowly agreed to "leave it for now"- a veritable naming victory).
Okay, so you may have already noticed the newest addition to our sidebar (bearing that what-were-they-drinking title) when it popped up last week. But just in case you didn't- or you get your fill of YHL on an aggregate site like Google Reader- here's your official notice.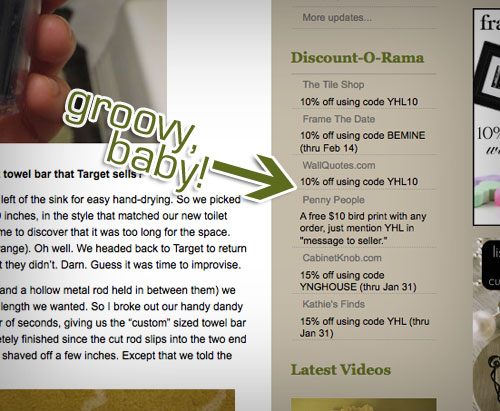 Since so many of our sponsors generously offer up some pretty sweet price breaks, we figured we'd make it easy on you to see where you can save dough (rather than having to scroll through old posts like our monthly sponsor shout-outs to hunt them down). So be sure to check out that ever-changing list on the regular. Who knows, you might just save some green. You dig?