After last week's big nursery reveal we got a bunch of emails and comments from people who wondered if the room could be adapted for a little boy… and the answer is a big screechy and overly enthusiastic yes!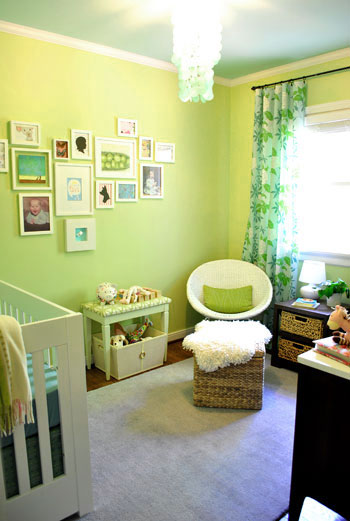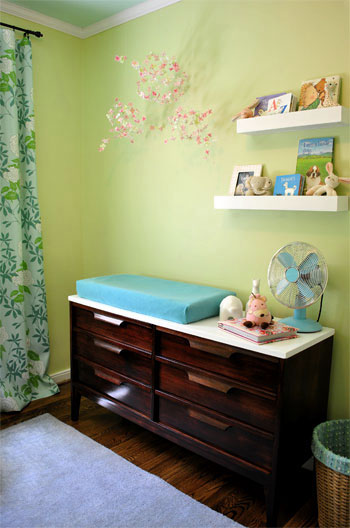 Thanks to many gender neutral decisions when it came to pretty much all of our major pieces (the wall and ceiling color, the dresser, the crib, the chair) it would just take a few accessory switcheroos (buh-bye floral curtains!) to easily change this room into something fitting of a little man.
So just for fun we whipped up a quick mood board to toss out a handful of adaptation ideas for anyone who's looking to boy things up: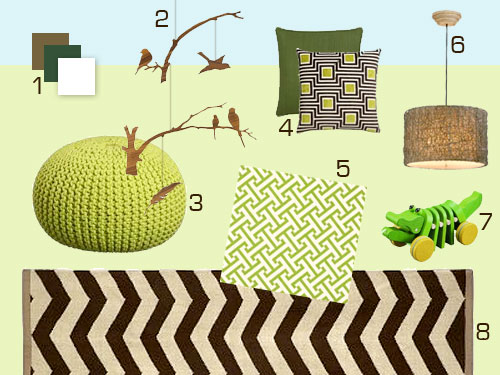 1. We took a cue from our two toned crib & dresser and decided to stick with graphic and modern fabrics (while keeping the wall and the ceiling the same pear and light aqua tones). And as for the color palette, we think the white and brown colors derived from the crib & dresser, along with a few hits of olive green would keep things looking fresh and lively without feeling too sugary sweet for the little guy.
2. This amazing wood mobile is nothing short of a work of art. And if we were feeling particularly inspired we could probably try to DIY our own version of something similar with a jigsaw, fishing wire, thin birch wood, and a bit of rich wood stain.
3. Switching out the woven ottoman definitely wouldn't be a must, but this lime green pouf could be really fun- especially when it's paired with the lively graphic lime & white curtain fabric that we dug up (stay tuned for more on that in a bit).
4. The deep olive tone in the solid colored pillow is meant to represent the changing pad cover and the crib sheet that could be introduced in place of our bright aqua ones. The effect would be more handsome than sweet, and the other more geometric pillow could add interest and pattern to the chair (in the place of the daintier light green lumbar one that we chose for the beanette).
5. Here's the punchy lime and white patterned fabric that we think would make dynamic and masculine curtains while still keeping things energetic and fun (since this isn't a man's office, it's a little boy's nursery!). At just $8.98 a yard it's cheaper than the fabric we picked up for our girl, and if it was layered into the space with the new pouf and the chocolate and olive accents it would really create a totally different look than the one that we whipped up for Baby P.
6. This woven pendant could take the place of our delicate aqua capiz chandelier, and it would still cast interesting squiggly shadows on the ceiling for any baby boy's viewing pleasure. The loopy woven design will also keep things feeling kid-ish (it's reminiscent of a coloring book) without going overboard with anything too baby-centric that won't evolve and grow with your little man. And of course if it's a bit beyond your price range, hunting down a woven shade and using a cheap light kit to create a pendant lamp would easily work on a dime.
7. We couldn't leave out a fun wooden toy from Plan Toys (sold at Buy Buy Baby) to remind people that the space should really be all about function and livability. Many of the decisions we've made above (and in our nursery for the beanette) offer subtle function (for example: patterns hide stains). But the end result has to take storage and usefulness into account as well as style and eye-pleasing appeal. That's why we think keeping the center of the room open for playing (as opposed to placing the crib so that it juts out into the middle of the room) and keeping baskets and bins of toys on hand (along with the added storage in the drawer under the crib and the double dresser) is a must. And working in a few feisty wild animal toys like this guys is the icing on the cake. Full disclosure: the beanette actually has the same alligator. Who says only boys can play with toys with big teeth?
8. Here's our big statement making zigzag rug in the some two tones as our dresser and crib for cohesion with a bit of extra zing (thanks to the graphic pattern). We think just this rug and the curtain switcheroo alone would have our nursery looking guy-ready and super stimulating. Plus you could even attempt to DIY something cheaper by purchasing a simple brown wool rug and using white fabric paint to "stencil" on some zigzags of your own.
So all in all, keeping larger items (like furnishings and wall colors) a bit gender neutral in your nursery can always help if you're anticipating that it'll ever be occupied by the opposite sex someday. But then again, if you're willing to repaint the walls and alter everything for your future bambinos then it might just be more fun to forget about how a room will transition from he to she or she to he and just do whatever you want. Goodness knows we live for major makeovers like that, so we're definitely planning to reimagine this space as Baby P grows (and possibly redo it all if she ever moves to our guest room and another bean comes along…
Psst- Wanna see our nursery progress from the very beginning? Here's our painting post, our big shopping spree, our crib hunting rundown, our curtain-making tutorial, our fun little chair search, our mirror-painting extravaganza, our DIY faux sheepskin project, our big dresser makeover (and subsequent drawer lining project), our closet makeover, our homemade crib skirt undertaking, our DIY mobile, our shelf-building adventure and our art wall makeover. Oh the memories…