That is, we've got magazine issues. Two, in fact! You guys have probably spotted these already since we're a little late in mentioning them here, but our most recent issues of Do It Yourself magazine and Richmond's R. Home magazine are both currently on newsstands. But of course we'll give you a peek at both of them right here…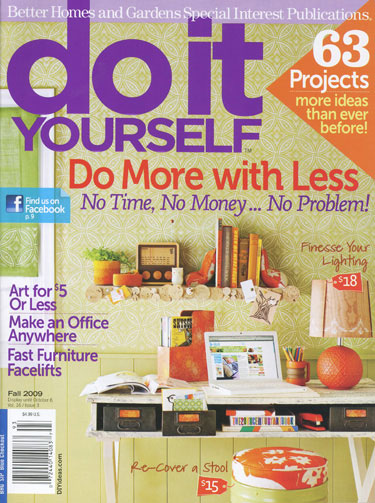 Let's start with Better Homes & Garden's Do It Yourself mag. It's the third and final installment of our before & after series. They covered our living/dining room and kitchen transformations in their Spring issue and followed up with our sunroom, den and laundry makeover in the Summer issue. Now, in the Fall (woah, already?) issue we're sharing a few bedroom before and afters. Check out the spreads below, and click here to read the text over on DIYideas.com
We especially love this spread on our dining-room-turned-third-bedroom because they drew in a white dotted line where the doorway to the kitchen used to be. Why hadn't we ever thought of doing that to illustrate the change? Guess that's why they're the pros…
And although this is the last of our three-part series, it doesn't mean you won't be seeing our permasmiles in Do It Yourself in the coming months. We're thrilled to announce that we're actually kicking off a regular column with them! It'll be called "He Said, She Said" and we'll be helping couples solve their home-related disputes from both sides of the gender line. So if you and your honey aren't seeing eye to eye about a home improvement project or a decorating idea, DIY is already accepting questions for our column via email at: diy [at] meredith [dot] com.

And now for the latest issue of Richmond's R. Home magazine, which actually hit newsstands about a month ago (again, we know, we're a bit behind). How beautiful is their latest cover, btw?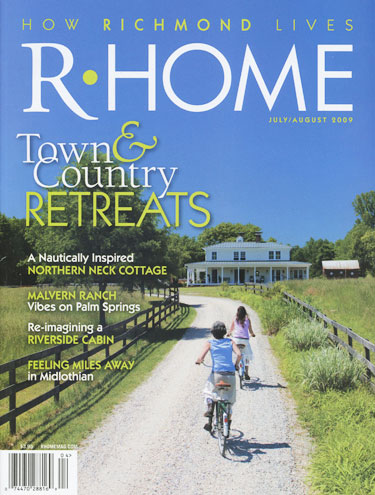 This issue's theme was all about everyone's favorite summertime activity – vacationing! So we whipped out some of our favorite ideas for commemorating your travels once you've returned home and are looking for an excuse to daydream about being somewhere else again. From using vacation maps as photo mats to collecting matchbooks everywhere you go (and popping them into a glass apothecary jar) there are so many ways to keep your travel adventures alive once you get back home. Heck, you can even send yourself a post card about all the fun you've had and keep them displayed in a decorative tray or glass bowl so you'll never forget that amazing dinner or scenic hike you've enjoyed. For more ideas, just click on the spread below to see our column at a readable size:
So that's a glance at our latest glossy adventures. You know we're still kind of in shock to get the opportunity to write for such amazing publications, right? Thanks Do It Yourself and R. Home magazine for letting us have so much fun! We hope you guys have a chance to check them out in real life sometime soon (so you can truly enjoy them in all of their glossy glory). And we'd love to hear some of the ways you display your travel keepsakes or vacation photos. We're sure you've been to far more exotic places than us, and we'd love to hear how you brought little pieces of those trips home with you each time. Share and share alike.
Scans courtesy of Do It Yourself and R. Home magazines.