When Wendy came back for a second mood board (the first one's still in progress) we were itching to tackle her dining room. Here's her letter:
We're excited to work with you again! We think this room has a lot of potential, but don't know where to start. We like transitional rooms and clean lines. We'd like the dining room to feel a bit dressier than the rest of the downstairs, comfortable and warm, but not fussy. Just a bit of sparkle. I REALLY liked the tone of the dining room mood board you did for Alissa a while back (I especially liked the dark brown table and the idea of two plushier end chairs). If it fits, we'd really like a hutch for storing and displaying tableware. Nothing stays. We'd love new paint (a chair rail?), a table & chairs, curtains, a new light fixture, a rug and maybe some additional mood lighting. We like dark brown, creams, and golds with red-ish orange, green, or bronze accents. We like eye catching accents, but also neutral main pieces. Oh and the area by the garage door is a natural dumping ground for family shoes. We'd love a creative solution (maybe a small console that shoes can be tucked under?). Thanks a million! -Wendy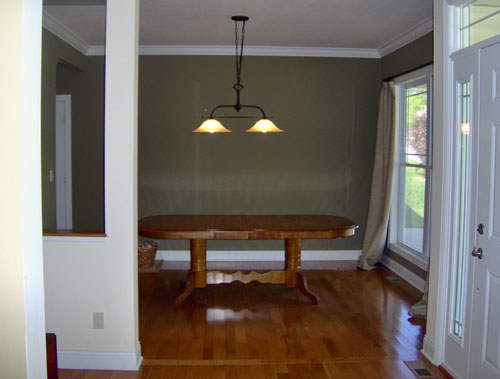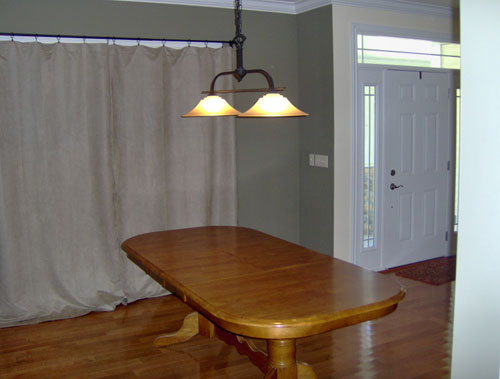 Here's the plan:
And here's the new layout suggestion: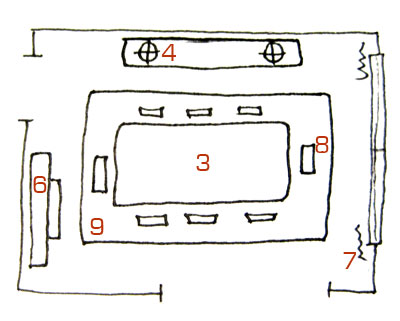 Now for the mood board breakdown.

1. When it comes to the color scheme, we'd love to see a mixture of rich chocolate brown furniture along with luxe pops of red and warm wheaty gold. For the walls, the crisp white chair rail that Wendy mentioned would look great, and the areas below it and above it could get a super soft dose of posh cucumber sage (Benjamin Moore's Nantucket Breeze 521) which has a smidge of a khaki gold undertone to tie into all the other warm tones we'll be bringing in. Oh and the ceiling can be painted a lighter cucumber sage tone (Benjamin Moore's Olive Tint 519) which will really allow that crown molding to pop since the ceiling will no longer be the same stark white color.
2. Here's the crystal chandelier that we dug up for the room (with a swatch of our new wall color in the background- just to help Wendy picture it). We love that it's classic and elegant without feeling too fussy, and the warm lamp shades will really work with all the other wheaty tones we'll be adding to the mix.
3. This spacious 60″ table (at a pretty amazing price) will add a rich dark hue along with some classic and clean lines to the whole room. Plus it'll feel especially interesting when we introduce a layered mix of chairs to the equation (more on those soon).
4. Wendy also requested a hutch to display and store dishes, and we think this upscale and timeless buffet will look great on the back wall in the first photo. Then bringing in two of these stately mirrored lamps (on sale!) for either side of the buffet will add even more sparkle (especially when combined with that crystal chandelier overhead).
5. This gorgeous art piece has all of the colors in our scheme, and will look stunning when it's hung on the back wall above the hutch (with the two mirrored table lamps framing it on either side). For just $50 it's sure to make quite a statement (talk about bang for your buck).
6. Wendy requested some sort of console table that shoes could be stored under, and we think this charming Ikea basket slipped below this clean-lined console table will give her lots of function near the door that leads out to the garage- all without compromising the elegant and polished look that she's going for in the dining room.
7. These swanky wheat colored silk curtains will really add warmth and welcoming style to the room while creating height and making that spacious wall of windows look even larger (hanging them just an inch or two below the ceiling and extra wide on each side will accomplish this effortlessly).
8. One of these lush red parsons chairs pulled up to each end of the new table will tie into the wall art and add infinite interest and classic polish to the entire room. Meanwhile, the rest of the chairs at the table can be a bit more understated (these are affordable and the lines will be perfect with the rest of the furnishings in the space).
9. This luxurious 8 x 10 rug (on sale for more than half off!) will add sophistication and a bit of subtle pattern and texture, all while grounding the dining area and tying in with our color scheme. The design is a bit traditional but definitely with a contemporary spin, so it's the best of both worlds. It'll look great paired with classic touches (like the crystal chandelier) and more contemporary accents (like the red parsons chairs and the dimensional wall art above the buffet). Plus the design is practical for a dining room since patterns and varied tones are better for hiding stains.
So there you have it. A dining room full of polished yet comfortable style. We can't wait to see what you guys think!
Update: We sadly can no longer find the time to take on client commissioned mood boards (and just whip up general inspiration boards instead) but if we ever reinstate them we'll make a big announcement on the blog!