Wendy's ready to spiff up her living room in a major way. Here's her letter:
Thanks so much for your help with our family room- we definitely need it! We like clean, fresh, traditional/contemporary looks. The cream TV cabinet and the leather recliners need to stay. We'd like to replace the couch and have toyed with a sectional because we could use the seating space. Everything else can go. We're open to wall color suggestions. We like the green in the kitchen (it's from the previous owner), but we're not sure it works with the more natural colors we'd like to see in the rest of the house. We like earth tones & natural colors – calming creams, browns & greens with a few splashes of red for contrast. We need curtains to diffuse sunlight and add interest. We're thinking of adding built-in white bookshelves below the bar in the kitchen with baskets for kids stuff and I don't know what to do with the space in front of the large family room windows. And although we're focusing on the family room, I'd LOVE a suggestion for kitchen chairs (I have a new table for the space but no chairs). We're very excited to see your ideas! Wendy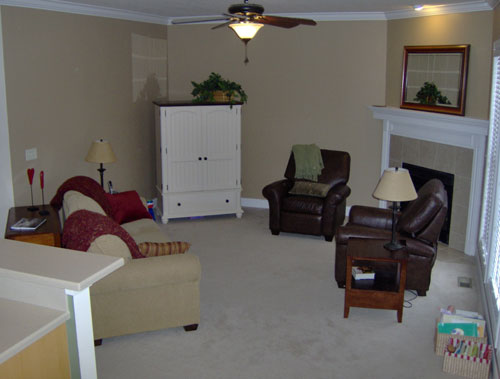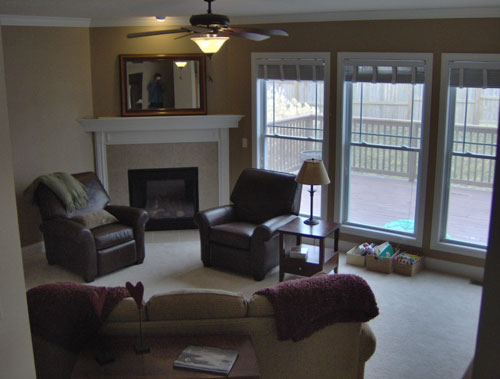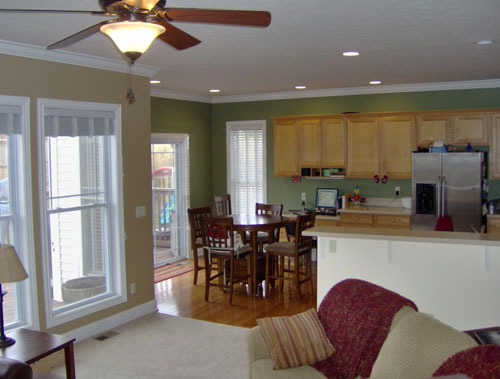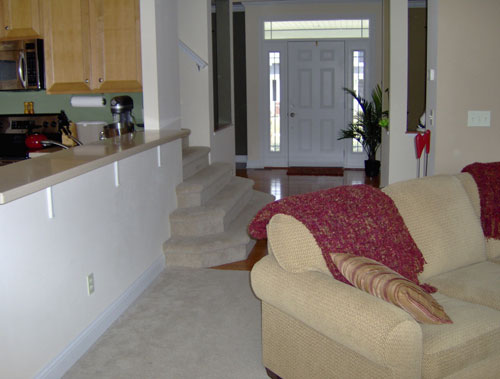 Here's the plan:
And here's the new layout suggestion: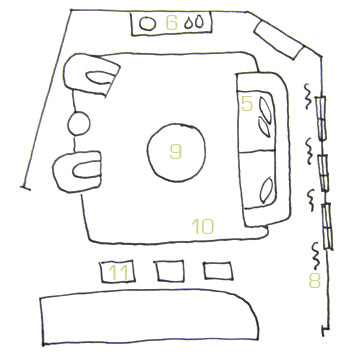 Now for the mood board breakdown.

1. Our color palette will be full of all of Wendy's favorites: inviting neutrals like tan, cream and mocha paired with pops of green, saffron and canary red. And as for the walls in both the kitchen and the living room, we think painting them all a cohesive soft khaki greeny-tan (Benjamin Moore's Dune Grass) will keep both spaces feeling open and expansive.
2. We'd love to see these three mirrors (on clearance for over $120 off!) hung above the fireplace (in the same pattern as the mood board) for some modern and asymmetrical appeal that works perfectly with our new color palette. The rounded shape of each mirror will really counterbalance the angles of the room and the crisp rectangular mantel for a nice effortlessly chic effect.
3. For the wall across from those three windows (where Wendy's leather armchairs will soon live with this simple side table between them), we think this nature-inspired canvas will fit right in with the lovely garden view beyond the living room and kitchen. Plus the fact that it's ready to hang and easy on the budget (especially for such a large piece which will instantly polish that whole wall) makes it even more of a score.
4. Wendy mentioned that she'd love for the kitchen to better relate to the adjoined living room and we think these upholstered dining chairs (on sale!) will look lovely with the trestle table that she already has in her formal dining room (not shown) which she could bring in and paint a soft cream color to further connect it to the nearby living area.
5. We wish we could find a way to add a sectional to the living area as Wendy mentioned, but no matter how we tried to plan the space it seemed to block something that needed to be open to keep the flow of the room intact- especially since Wendy wanted to keep both armchairs and the TV cabinet. So instead we hunted down this lovely soft tan sofa (on clearance for $700 off!) that looks cozy and clean-lined without feeling too stark or cold. And once Wendy adds some accent pillows to both the sofa and the existing leather chairs they'll all feel visually connected without looking too matchy-matchy.
6. As you'll notice in our diagram, we thought the TV cabinet needed to move to the center of the back wall, and to fill out the space above it we thought adding some decorative objects with some height in our accent color would really draw the eye up and introduce some nice balance to the space. This bronze oversized vase will look amazing on the top left of the cabinet while these two green glass vases will add height and interest to the right side for a polished and welcoming effect.
7. Here's the assortment of pillows that will add ambiance and cozy warmth to spare. We'd love to see one saffron textured pillow on each of the armchairs along with one red, green and textured green pillow on the sofa across from the room for balance and interest.
8. These airy curtains won't overwhelm the living room (which thick weighty curtains could threaten to do since the windows are so close). Plus they'll add some great height and softness while diffusing light in both the kitchen and the living room. We'd love to see one long curtain rod hung at ceiling height above the living room windows with four panels on that rod (one for each side of the bank of windows and two for the middle of the rod to cover those slivers of wall space). We'd also love to see them hung on a long rod at the same height in the kitchen to flank those sliders as well as on either side of the long tall window nearby. By hanging all the rods at ceiling height it'll also make those three areas of glass (which are a few different heights) feel a lot more cohesive and balanced.
9. Wendy mentioned that she wouldn't mind more storage in the living room and we think this stylish storage ottoman (on sale!) will add some nice color to the room as well as offer up a bunch of hidden stash space for Wendy to enjoy.
10. This 8 x 10′ area rug will absolutely make the space since it will effortlessly define the floating seating area while grounding the celery green storage ottoman and adding pattern and interest to spare. Seriously, without a rug this seating area will always feel listless and unfinished, but it's amazing what a difference this addition will make to the entire room. We love that it has nearly every color in our palette (lots of neutrals and soft greens along with red and saffron tones) and it'll tie in with everything from those new striped kitchen chairs to the pillows and even the mirrors above the fireplace. Plus the plush and cozy ambiance that it will add is nothing short of amazing.
11. Wendy was thinking about adding built-in bookcases under the kitchen bar on the living room side, but we couldn't help but picture three charming upholstered stools (on sale!) for added hangout space (our friend has a similar layout and the padded bar stools are everyone's favorite spot to perch- they're great for everything from casual entertaining and homework to low-key dinners and bill paying). Of course if built-in bookcases are more functional for Wendy we also think those would look great, especially if they're painted the same crisp white tone as the trim and the fireplace mantel. And she could fill them with books and storage baskets in brown, cream, green and red to keep them related to the rest of the room.
So there you have it. A family room full of warm and inviting style. We can't wait to see what you guys think!
Update: We sadly can no longer find the time to take on client commissioned mood boards (and just whip up general inspiration boards instead) but if we ever reinstate them we'll make a big announcement!