Many of you have asked how my mom and stepdad enjoyed their stay at Casa Petersik after driving seven hours south from NY to pay us a visit.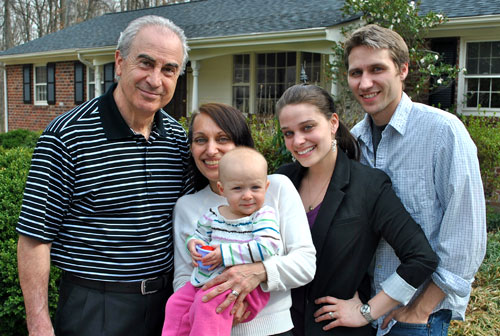 Well, true to grandparent form they barely noticed their surroundings. All eyes were on the beanette of course.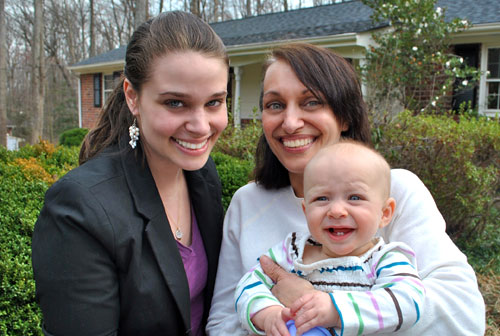 But when Clara was napping or asleep for the night they definitely made a point to say how much they liked the guest room and the rest of our house for that matter (it was their first time seeing our new place) which was really nice to hear. The weekend consisted mainly of oohing and aahhing over everything that Clara did, eating our way around town (we went to The Boathouse and Crab Louie's along with getting takeout from Joe's Inn), exploring the petting farm and zoo at Maymont, hanging out at Stony Point Fashion Park…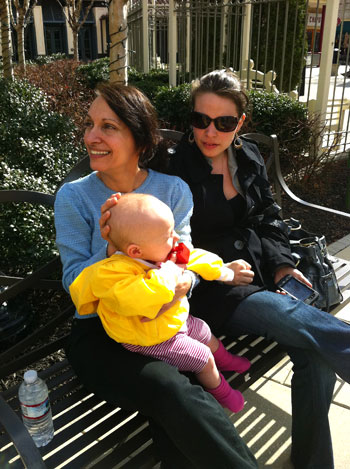 … and doing our fair share of yard work.
Yup, my mom is one of those people who can't sit still. So if Clara was napping, mom was outside raking. I kid you not. At one point I stuck my head outside to see her raking the neighbor's yard. Seriously, it wasn't even our property. So I gently redirected her towards our house and counted down the seconds until Clara would wake up so I could lure her back inside using my offspring as bait. It was pretty much one of those sitcom worthy situations. There was even a random neighborhood dog who came by to see what mom was up to.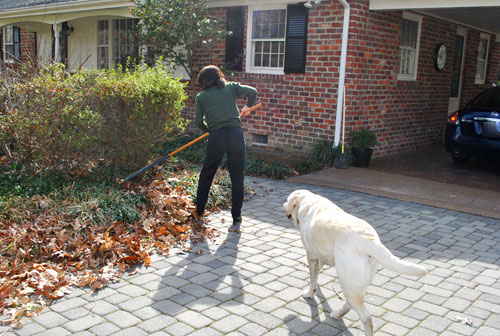 And yes, she's wearing heels while she rakes. My 4'11" mom is never caught in flats. Ever.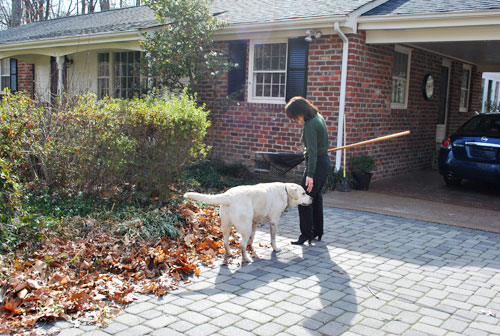 For a bit of time during a particularly amazing nap on Clara's part, John stayed inside while she slept… which gave mom and I the opportunity to clean out the area to the right of the carport: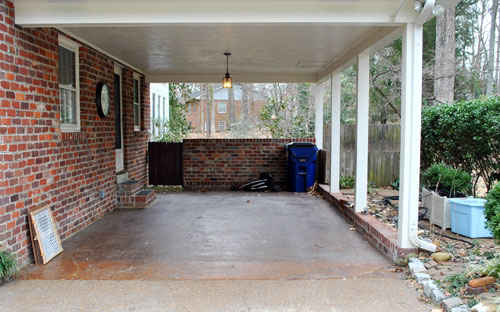 Here's what it looked like before: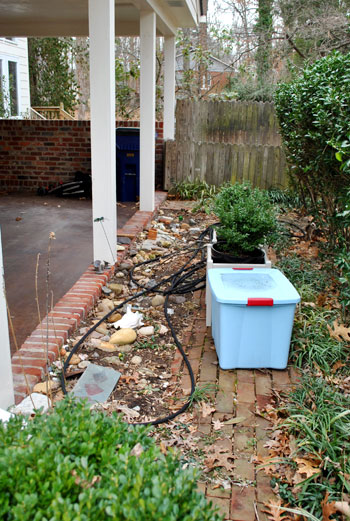 And here's a close up of some of the things we "discovered":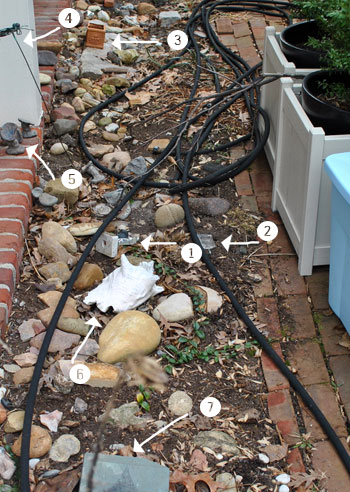 Pulling out all of the random items in the dirt (in the hopes of planting something pretty there someday) was like an archeological dig. Here are a few things that we found among the dirt and leaves:
An old trophy with the arm broken off
Hunks of glass and broken pottery
Small empty plant pots
Various metal yard ornaments
Homemade concrete mushroom statues
Various shells and coral pieces
Slabs of slate and other rock fragments
We also found fishing line weights, 41 cents, three bricks, two arrowheads (which I totally want to save and frame in a shadowbox) and a giant steel arrow along with the number 29 stamped out of metal. Here's what it looked like after my mom and I finished cleaning things up: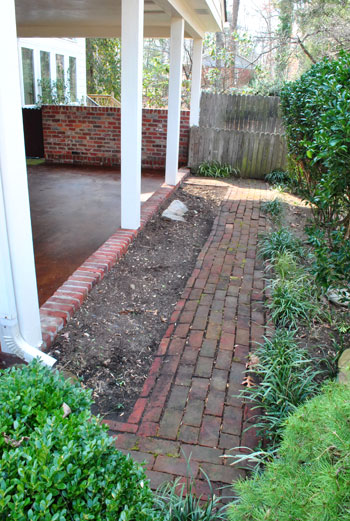 Go Team Shorty.
Here's an after shot of the whole carport after we did some decluttering in there too: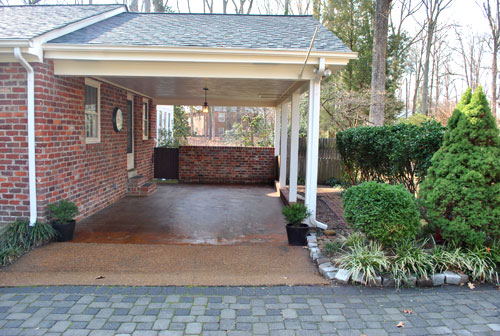 It's amazing how just cleaning out that area to the right of where we park makes the whole space feel a lot less crowded and tight (and tucking the big garbage pail into the fenced area that was built behind that walkway to obscure it definitely looked better than keeping it out in the open). Although the real change will definitely be converting the carport to a garage sometime down the line.
Oh and we realize that we haven't shared pic of our house's gorgeous cobblestone driveway yet (we still have so many unseen nooks and crannies to share with you guys!) so here's what it looked like after mom was done with her crazy raking spree: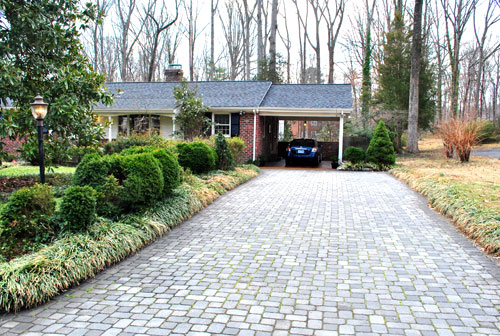 We still have to cut back all of that liriope (also known as Monkey Grass) that lines both sides of the driveway, so it'll grow in all fresh and green in the next month or so.
John's sister Emily, her husband Todd, and their 16 month old son Emanuel also dropped by one night for dinner after their power unexpectedly went out. And guess what we got to take for a spin? Our new dining table. John, mom, Jack, Clara, and I added up to five, and with the addition of Emanuel, Emily, and Todd we were a group of eight! It's funny how quickly our family multiplies, which is exactly why we wanted such a big honking table to begin with. So we brought in all six of our dining chairs from the kitchen along with our two thrifted office chairs and this is what we were left with: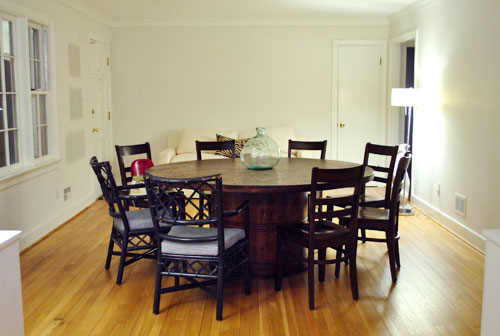 Of course the room is only about 5% done, but that didn't matter. We had a blast gathered around the new table eating take-out Italian food (from Joe's Inn) and watching Emanuel toddle around (that's Emily chasing him in the background).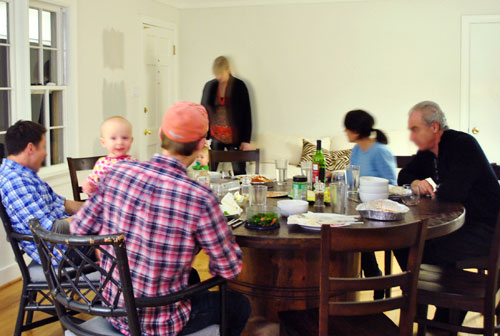 And those of you who mentioned that round tables are great for conversations were totally right- everyone talked to everyone! So our weekend with mom and Jack could best be summed up as a rootin' tootin' good time. It was really fun to "break in" our house (give our guest room some traffic, test drive our new table, and even squeeze in some much needed yard work). Some of the best memories in our last house are tied to times when it was full of people – and stuffing this house with laughter, food, and family definitely made it feel even more like home to us.
Psssst- We're answering one of our most commonly asked questions over on BabyCenter. What do you do when you get a home related gift that you can't stand from a friend or family member? It's not an easy situation, but we're sharing how we handle it – and we'd love to know what you guys do.