We loved helping Tiffany with her global family room makeover, so you can imagine our excitement when she and her husband Jim came back to us for help with their home office. Here's their letter:
We were so excited with the results of our family room that we've decided to beg for your help with our home office. It's a small room (10'x10′) and we're hoping for some new ideas to make it feel bigger, less cluttered, chic and still functional. We scored an awesome new Crate and Barrel desk at an auction for 30 bucks. So now it needs a beautiful new room to live in. We need to tone everything down big time, the super bright walls (& yes, the ceiling- yuck!), the crazy curtains, the floating shelf that is too big & in a really bad spot. We need some grown up sophistication and some organizational ideas. Our style is definitely clean, modern and eclectic. And although we need new curtains, a new wall color, and a new armchair, we'd love to be able to keep the art in the room (which we love- although we don't want an entirely Asian themed room!). Our office has started to become a place where we dump a lot of things because we don't like to spend time in there anymore. It needs rescuing. Help! Can't wait to see what you guys come up with. -Tiffany & Jim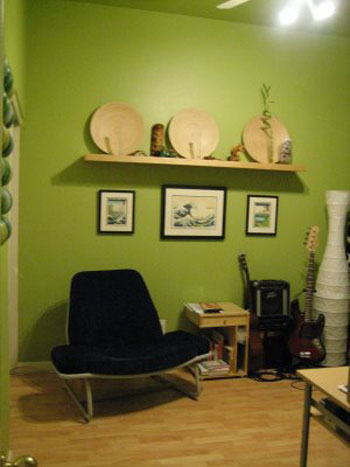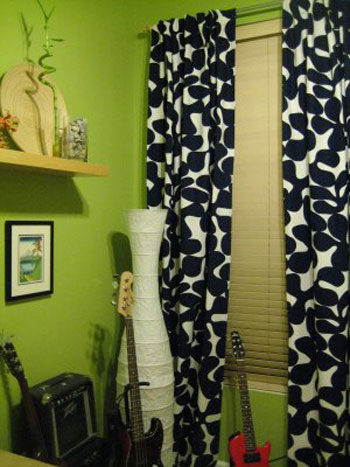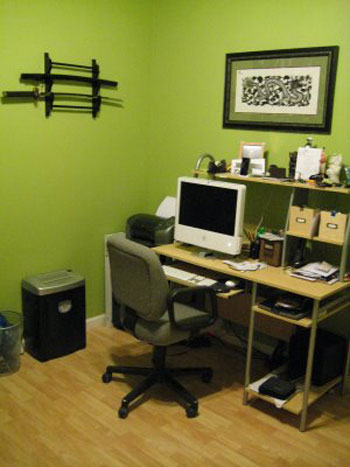 We love that Tiffany snagged such a swoonworthy desk for thirty beans. And we adore her idea to work in her existing art work. So without further ado, our swanky and sophisticated home office mood board:
Here's the mood board breakdown.
1. Our color palette will be sophisticated and clean with rich chocolate wood tones, tan upholstered pieces, and some airy blue on the walls to keep things open in such a small space. The blue wall color (try Glidden's Warm Breeze or Afternoon Siesta) will make the wood tones in the desk pop while keeping the space bright and cheerful (and working with all of our other blue accents from the asian art to the new curtains, lamp, vase and pillow).
2. The new vase is fun and punchy fiestaware that will look great on the desk or the dresser.

3. This chair is similar to some of the other pieces Tiffany already has in her home and we thought unifying the office and tying in the worldly and textured look would really keep the office feeling oh so her. It would work perfectly as a desk chair to take this home office from ho-hum to textured and fun.

4.  This fabulous lamp (in yet another rich and gorge blue tone to work with everything from the art to the accessories) is unbelievably affordable (and from Walmart!). We love how the steel arm will play off of the steel side table you like (and keep your desk looking modern and sleek).

5. This is one of the lovely art pieces that Tiffany and Jim already own, and we wanted to include it in the moodboard to show them how lovely it will look when painted with rich dark woods, tan and cream accents, and a subtle greeny-gold wall color. Delish.
6. We brainstormed for a while to come up with another furniture piece for the back wall (where the floating shelf currently lives). We came up with the idea of a chest thanks to the functional storage drawers that it will add to the space, along with the display area on top and the relatively narrow footprint. After the blond shelf comes down, we think positioning this four drawer chest (with eclectic steel drawer pulls that work with our steel based side table) against the wall with a seating area to the left will add function and form to boot.
7. When we came across this steal of an end table, we couldn't wait to bring it into Tiffany's space for that clean, modern, and eclectic feeling that she's going for. Instead of keeping all the furniture in the dark wood category, we love adding a dash of gleaming steel to the space to keep things looking open and to ensure things didn't feel too matchy-matchy. We also thought the modern lines and the curve of the tabletop would balance some of the boxy Asian lines of the desk to keep the room eclectic as opposed to strictly Asian.
8. This is definitely our find of the day. Check out this chic and sophisticated $240 chair from Walmart. Then look at this virtually identical chair from Crate & Barrel for almost four times the price! Gotta love a deal like that. And thanks to the dark wood legs and the perfect warm tan tone, it'll work beautifully with our fabulous desk chair above.
9. This $37 pillow will tie all of the rich blue hues together and add geometry and pattern to keep things interesting. Gotta love an accessory with va-va-voom.

10. We finally get to that stunning desk that Tiffany and her hubby scored for a mere thirty dollars at an auction. Amazing! It's definitely a piece that will add sophistication, function, and a whole lotta richness to the room- and with an original price tag of $399, Tiffany was beyond lucky to snag it for $370 less.
11. These silk curtains (in dusk) will add dimension and height to the room while working with all the moody blues that we've introduced. One of our fav design tricks is using curtains in the same color (even if they're a bit lighter, brighter, or deeper) as the wall to make a small room look bigger and more inviting and cozy.

So there it is. Tiffany and Jim's chic and modern mood board makeover. We can't wait to hear what you guys think!
Update: We sadly can no longer find the time to take on client commissioned mood boards (we now whip up general inspiration boards instead) but if we ever reinstate them we'll make a big announcement!