So you saw how we made way for grass in the backyard (not quite ready for an "after" picture yet) but we never mentioned that we were also reseeding the front yard. Consider this your official notice.
I'm experiencing yard déjà vu because it was just last fall that we did our major front yard makeover by removing the jungle that completely obscured our house and replaced it with much-less-obstructive grass. It made a huge difference, as you can see here.
Now, we've been forced (somewhat unwillingly) into growing grass again because of a dying tree. That big, forked tree that you can see on the right side of our main blog photo was on its way to splitting in two. Since one half falling on the power lines and the other half falling onto the house didn't seem like a good plan, it had to go.
The tree removal wasn't cheap – although our go-to guys at Shady Tree Service took down some smaller pines for free while they were here. It also left us with big holes where the stumps were ground and a lot of uneven soil where the heavy equipment sat overnight. Fortunately, the Shady guys helped spread some mulch and topsoil to level things out and got us ready for seeding.
It's been about 3 weeks and progress has been a little slow due to the drought and our county's mandatory water restriction (watering only allowed 3 days a week). But here's where we were this weekend: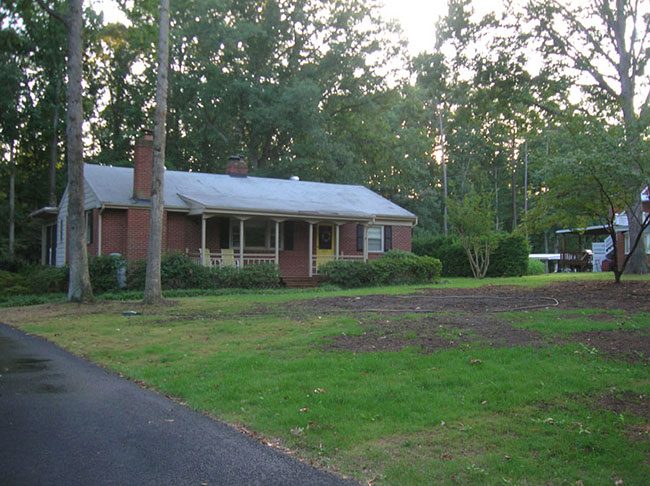 It's still spotty in a few places so we overseeded this weekend and are hoping the many inches of rain we're getting this week will speed up progress before it gets too cold. And get us closer to having backyard "after" pics too.