File this under "sometimes you just have to splurge." We know we've promised you guys steals and deals, but when we came across Designers Guild, we fell head over heels in love with their rich materials, uncompromised quality and showstopping pieces. And before we knew it we'd ordered not one, not two, but three magnificent items for our ever-evolving third bedroom. So of course we'll stick to passing along every $14 lamp and $12 vase that we sleuth out (that's a promise!) but sometimes there's nothing like a high-end piece (or three) to elevate the entire look of a room- and make you smile every time you see it in your home.
Here's a reminder shot of the third bedroom before our little shopping spree. Simple and sweet, but nothing too memorable in the way of bedding: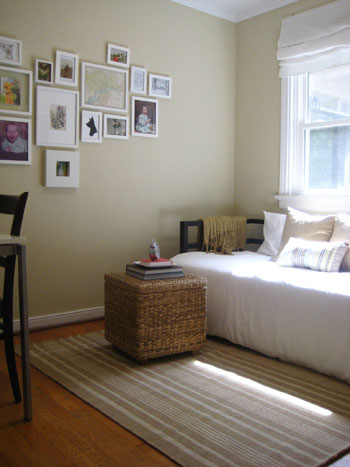 And here's an after shot of our brand-spankin'-new duvet cover. We love how it the neutral pattern works with our striped jute rug, and we adore the pops of turquoise and lime (two of our favorite accent colors) which add a whole lot more of that certain "je ne sais quoi" factor that we were going for: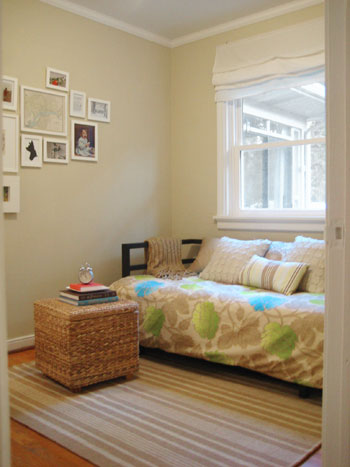 But we couldn't just stop there. Not a chance (once you visit their website you'll see why- you can seriously spend hours there). So we also snagged this lambswool throw. We've never really had one of those luxurious throws made of sumptuous materials, and we thought it was high time we snatched one up in tones that perfectly complemented our new bedding. And that fringe makes me smile every time I walk by the room.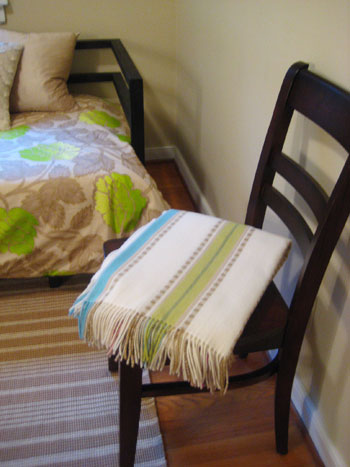 And because three is always a better number than two, we also had to have this 18×24 inch reversible pillow, which looks fantastic with all the subtle neutral patterns going on in our daybed…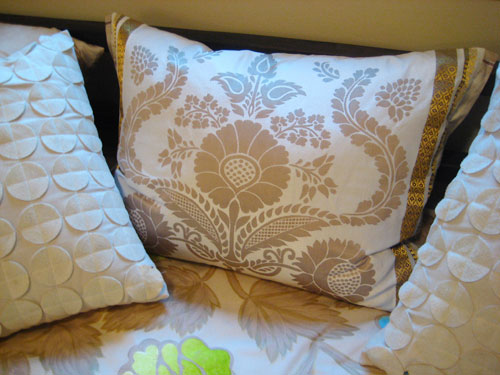 … but also looks great on our slipper chair in the living room. A pillow this stunning shouldn't stay in one place anyway, so we're psyched to have discovered at least two places to gaze at it when we're passing through each room.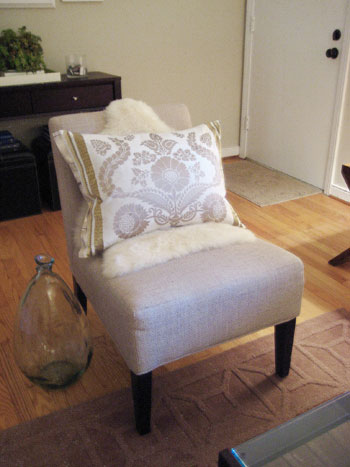 Steals and deals definitely have a place in every home, but it's really nice to think about all the money that you've saved (say on the rug and the lighting) and put it towards something amazing like a great accent piece that looks like a million bucks. This entire shopping experience has reminded us that there's nothing quite like a special accessory (or three) to refresh your entire home and make it suddenly feel about 98% more decadent and fabulous.
And who says something gorgeously crafted can't also be a bit of a steal? We convinced the amazing people over at Designers Guild to offer up an exclusive deal to Young House Love readers. Cha-ching! To score 10% your order, just enter the discount code "young" when you're checking out. And be sure to send us pics of your gorgeous new swag so we can live vicariously through all of you guys!