Of course we were excited when Susan contacted us for a second mood board makeover (her living room is still in progress, but you can check out that mood board right here). Here's her letter:
I'm so happy to be working with you guys again! My office is in need of a makeover and it's one of the first rooms you see when you enter the house. Our style is mainly traditional, but we do like a touch of color. We don't like things to look too traditional though. We love Pottery Barn, Target, IKEA, JC Penney, and West Elm. Everything in this room can go! The paint can also be changed if you feel it is necessary. We want to hang a lot of photos of our family and friends in this room. I would also like to find something I can use to display my son's schoolwork, etc. We also need some type of shelving system for our books/pictures. Any organizational ideas for our desk would be very helpful. I would love to have a chair in here so people can sit down (I like the printed chairs from Target). I would also love an area rug suggestion for the nearby foyer (which could tie into our office). Thank you sooo much!!! I can't wait to see what you come up with. – Susan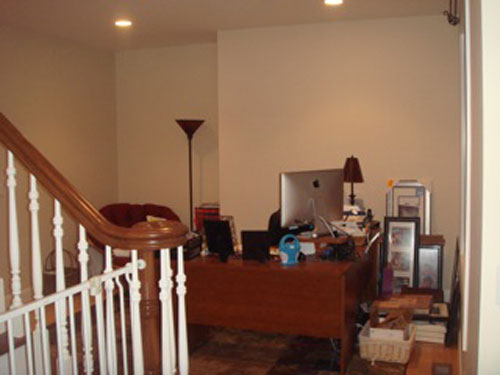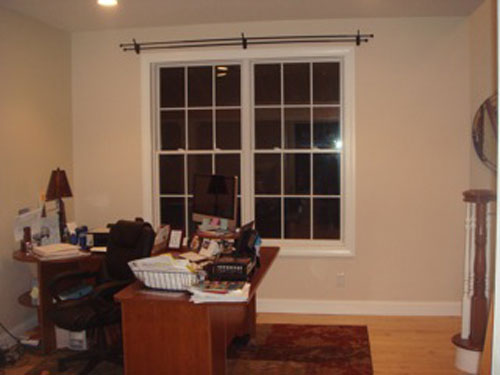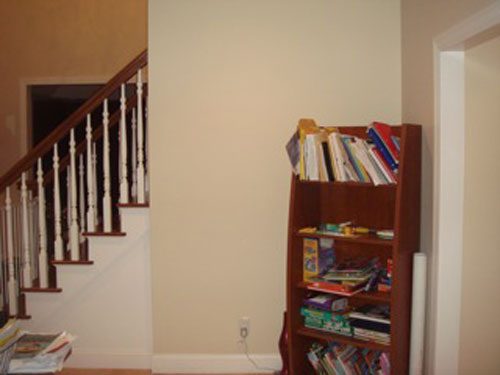 Here's the plan:
And here's our new suggested layout: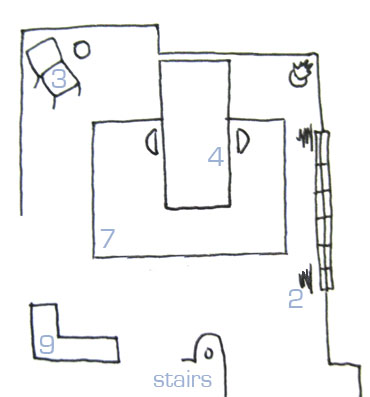 Now for the mood board breakdown.
1. Our color scheme for the space will be warm and inviting with rich browns, tans, and crisp whites. For fun we'll add punches of blue and a few textures and patterns to keep things interesting in this office right off of the main foyer. When it comes to the walls, Susan mentioned she would change the color if we thought she should, but since the foyer shares the same tone and it's such an agreeable neutral we think it can stay put and the furnishings and accessories can be used to bring in dimension and layered style.
2. We'd love to see these chic yet rustic leather tabbed linen curtains hung high and wide around the large picture window in the room. The leather accents at the top are charmingly rustic but the overall effect is nothing short of luxe and elegant.
3. This patterned slipper chair (on sale with free shipping!) has classic neutral colors but a crisp and current print that keeps things interesting. It'll really pair well with the patterned rug we'll be bringing in, and it'll tuck right into the corner of the back wall with this round side table next to it for easy reading and relaxing.
4. We like the idea of using this sleek white desk (with tons of functional storage) to make a peninsula in the room. Not only will this create a lot of available workspace from both sides, it'll also help the room feel more balanced when Susan lines up the desk with the indented back wall. Suddenly an awkward architectural detail (that dual-planed back wall) will look intentional and interesting once the desk is placed to make more sense of it. And pulling up a few of our favorite desk chairs (leather parson's chairs that we actually use in our own office) will really help to establish the mix of white and brown furnishings that we'll be combining to add richness and seemingly effortless style.
5. Susan mentioned that she'd love a way to display her son's art in the room and we thought grabbing a few bland store-bought clipboards and covering them with decorative blue patterned paper (snagged from a craft store or even on etsy.com) would create quite a noteworthy wall arrangement. Hanging them in a grid would create an instant gallery that feels modern, fun, and totally fits within our color scheme. Plus any of the art or paperwork by her son can be easily switched out thanks to the clipboard "frame" behind it. We'd love to see a collection of four or six clipboards (either two over two or three over three) hung on the wall opposite the window for a charming gallery-esque feeling. And simple Mod Podge can be used to adhere the decorative blue paper to the clip boards for a seamless end result.
6. Susan also wanted a way to showcase a number of family photos, and this elegant and polished framing system will look great hanging on the un-indented plane of the back wall behind the desk. She can opt to display black and white images, colorful ones (with some bright blue backgrounds to tie them in even more) or even a mix of the two for a casual yet sophisticated vibe. And as for art to balance things out on the indented side of the back wall, that's coming up in a moment.
7. When it comes to adding more textiles to complement the tan leather topped curtains and the patterned brown on cream chair, a blue accent pillow (for the chair) and a plush 5 x 9′ rug (with an amazing traditional-meets-modern pattern) will really warm up the space and layer in lots of style and comfort. We also love the idea of placing the rug under the desk peninsula- to ground the work area and add even more balance (the fact that the desk is turned one way and the rug is turned the other way will really create a great overall effect).
8. Here's the aforementioned art (just $29.99!) for the other side of the back wall that's indented. Since the right side of that wall will feature the framing system, we loved the idea of adding a bit of the blue from our palette in a large nautical photograph that will mimic the family photos on the other side of the wall while adding depth and interest to the little reading nook created by the slipper chair and the round side table. Hanging it in a black frame to mimic the framing system will keep things looking cohesive and tied together.
9. We really like the idea of adding a new L-shaped bookcase system to the corner of the room where the old bookcase lives in the before picture above. Something that looks built-in (like this totally customizable system from Ikea, which even accommodates glass doors and a corner configuration) would really crisp things up and add an insane amount of function and storage (lidded baskets and lacquered boxes can be slid in among books and accessories in our color scheme). Plus if Susan decides to add the glass doors (which are totally optional thanks to the customization options that are offered) she can opt to cover them from the inside with the same patterned blue craft paper that she used on the decorative clipboards for even more concealed storage. Here's how we took a similar approach when it came to concealing the stuff we stored in our basement.
Oh and since Susan mentioned she'd love a coordinating rug for the nearby foyer, we think this chic little feathered version with all the colors in our palette and a lot of plush texture will fit right in.
So there you have it. An inviting office full of fun, function, and interest. We can't wait to see what you guys think!
Update: We sadly can no longer find the time to take on client commissioned mood boards (we now whip up general inspiration boards instead) but if we ever reinstate them we'll make a big announcement!