We jumped at the chance to help Susan redecorate her living room. Here's her letter:
I'm really open to new ideas for my living room. I just want a look that is more 'put together' and cozy. I like comfortable, modern and casual style. I would like to keep the furniture, but need slipcovers (my cats have scratched the upholstery). The rest is open to whatever you think. I have a lot of books & magazines so I really like having a large coffee table – it doesn't have to be the same one, just similar in functionality. I'd like to replace the white cube bookshelf– but would still like to have room for books and other items I collect from my travels. Please help with the vertical blinds which look very 'apartment-like'. I like the functionality of the verticals but I'd really like some ideas on how to make them more beautiful. I also have tons of marketing postcards (those free postcards you can get at restaurants, bars, etc) that I have collected from all over the world on my travels – I think they look cool but I really don't know what to do with them… any ideas? I entertain a lot (as many as 50 people in my 1000 sq ft condo) so I clear the bench against the wall behind the sofa and use the pillows under the coffee table for extra seating. When it comes to a new wall color, I'm open to whatever you think would be beautiful and cozy without being too dark. I seem to really like orange for decorating – I also like blue and brown. Thanks! -Susan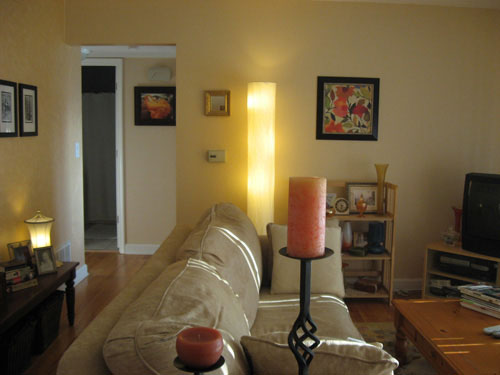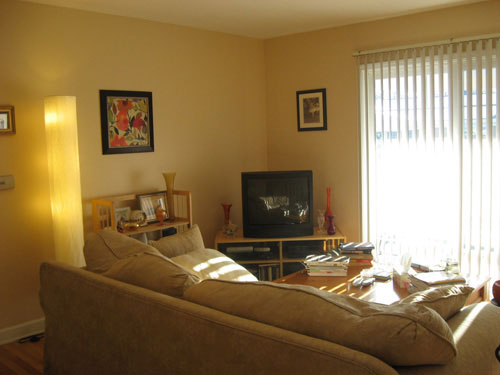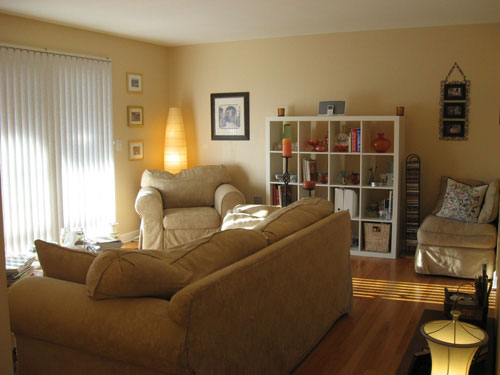 Just look at that space! The gorgeous floors and large glass patio doors really add to the potential, so we'll shift a few things and bring in some new accessories to spiff this space up in no time flat. Here's our plan:
And now for the mood board breakdown.
1. Thanks to Susan's love of orange decor (and her world traveling tendencies) we were inspired to create an exotic and warm retreat for entertaining and relaxing alike. Our color palette will include some hits of amber and burnt orange along with some gold. We'll also introduce a bit of greeny-gray to temper all the warm tones in the room, and we'll further balance the orange and gold with mocha covered slipcovers. Although we're bringing in some spicy tones, this room will still feel restful and inviting- and for the walls we'd love to see a golden-amber color (Benjamin Moore's Goldfinch 187) to keep things feeling open, airy and oh so enchanting. Painting the existing TV stand and bookcase to the left of it a rich chocolate brown will also integrate them a lot more seamlessly into our new plan.
As for the furniture arrangement, we'd love to add even more seating and function to the space while bringing in some cohesion for that "put together" effect that Susan longs for. Because she said she'd like the white cube bookcase to go, we're bringing in a bench (which can be used for stacks of books and magazines when no one's around but can also double duty as extra seating) in its place. And since we're taking away the storage that comes with the white bookcase, we'd like to replace the low wood bench behind the couch with a green storage cabinet with lots of space to stash everything (pretty stuff can be on display while clutter can hide in woven baskets and boxes). By moving the extra seating to the side of the room that's more open to everyone on the couch and in the chair, guests no longer have to sit on a bench behind the back of the couch, so no one will feel cut off or out of the loop. And we'd also love to replace the coffee table with a gorgeous piece that also doubles as seating for four more people! Stay tuned for those details…
2. Here's that amazing distressed gray-green cabinet (on sale!) to add storage space and a hit of cool, unexpected color in a room that's full of warm rich hues. Thanks to the fact that it's only 13″ deep, there will still be plenty of room to pass through between this new piece and the back of the sofa, and it adds so much character and charm to the entire space.
3. This lovely 8 x 10 rug will ground the seating area while adding such personality and punch. The abundance of gold in the center ensures that it won't overpower the room, but the brunt orange border adds so much drama and warmth, while tying in with our color palette perfectly.
4. We're in love with this gorgeous print that will add interest and eye candy when hung on the left wall above the wooden bookcase (with the white border on the bottom cut off so the entire piece looks like a collage of squares). We'd love to see it in a dark wood frame just like the print that's hanging there now, which we'd like to see moved to the adjacent wall above the TV.
5. Here's the aforementioned bench (on clearance!) that we'd like to see in the place of the white cube bookcase. The fact that it can serve as a "side table" of sorts for both of the upholstered pieces on that wall while also becoming extra seating in a pinch makes this piece a great fit for a multifunctional space. Then above the bench will be the perfect place for Susan to display her travel postcards on a large square cork board (just like this one without the hefty price tag). Instead of dishing out a few hundred dollars she can snatch up inexpensive cork squares from Michael's or Target and make a 4′ x 4′ cork square centered above the bench for all of her glossy cards and travel memorabilia. And she can even get a piece of burlap or linen fabric at a local fabric store and wrap the cork if she wants an even more polished look- just like that Pottery Barn pin board.
6. Here are some warm and plush pillows (here's one of them and here are the others) that will look lovely on all the newly slipcovered pieces. And speaking of slipcovers, we'd love to see these durable and affordable mocha covers (they call the color "dgld") on the sofa and the chair for a cohesive look that's fresh and inviting.
7. Here are the lovely golden patterned panels that we'd like to see on either side of the sliding doors. By hanging them high and wide, they'll still allow for maximum light without obscuring the view, but they will obscure the vertical blinds when Susan wants them out of the way (since she can pull them all to one side and "hide" them behind one of the panels. This still allows for them to be fully functional whenever Susan pulls them out from their hiding spot, but it also allows her to beautify that amazing glass door in a snap.
8. Here's a functional (and fabulous) coffee table that comes with four pull out leather ottomans for even more seating! It's not a drop in the bucket, but it is on sale and when you think about the fact that it's actually a coffee table plus four ottomans, it's really quite a deal! Having a round table will help with the flow and eliminate bumping into corners, which is especially useful when there are 50 people milling around!
9. And last but not least, we couldn't help but bring in some natural texture for more of that exotic and worldly appeal. And these rattan stools from Ikea fit the bill without breaking the bank. But where in the world can two of these fit in this room that's already full of furniture? Why on the wall of course! We'd love to see them hung on either side of the large pin board which will hang above the bench on the wall with the chair in the corner. They'll add balance and dimension while creating a nice little focal wall on a budget. Plus by hanging them right on the wall they're also on hand to create even more seating if Susan every finds herself desperate to add two more places to perch (even out on the patio).
So there you have it. A fresh and exotic living area for entertaining and relaxing alike. We can't wait to hear what you guys think- especially you Susan!
Update: We sadly can no longer find the time to take on client commissioned mood boards (we now whip up general inspiration boards instead) but if we ever reinstate them we'll make a big announcement!