Is Christmas in the air or what? Now that it's our second "winter" in Richmond we're used to the milder temperatures and the fact that some of our annuals are actually still blooming. But even though there's been no morning frost (let alone snow) as of yet, we still hear the Christmas songs on the radio and see the Christmas trees at Lowe's so we know that the 25th of December is just around the corner.
And we've come up with a fun ornament theme for our tree this year that makes us feel mucho sophisticado: all silver. Not stuffy sterling silver ornaments or anything, just a firm rule that anything silver goes.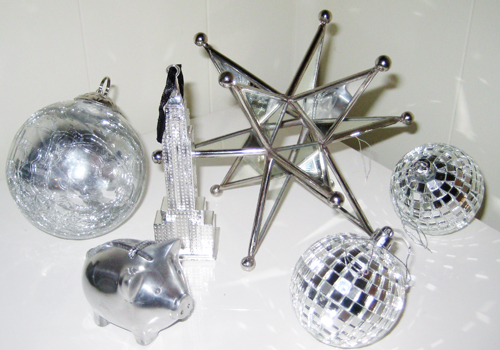 We already picked up some fun mirrored disco ball ornaments at CB2 and found the coolest silver starburst ornament at Z Gallerie while we were in NYC last weekend. And Target has been a great resource for silver balls of all sizes along with some fun shapes like a silver piggy bank ornament and a mini Empire State Building to hang in honor of our old hometown.
Anyone who's asked us what we'd like for Christmas knows about our special ornament request, so hopefully our tree will be noticably more full of silver ornaments of all shapes and sizes by next year. I actually read something that said that the perfect number of ornaments for a six foot tree is 120-140. So far we only have about 40, so we better get cracking!