Possibly my biggest local inspiration, Williams & Sherrill can be summed up in one word: swoon. From furniture to fabric, they always provide fresh and fabulous ideas that really come in handy when decorating our own abode and solving design dilemmas for our lovely readers. And now even if you're nowhere near Richmond they can serve as your long distance inspiration thanks to my trusty digital camera.
Does this not look just like a Parisian cafe? The gorgeous pale colors and natural infusions of wood, metal, and porcelain make me crave mismatched dining chairs, a wire chandelier and antiqued peeling walls. W&S lesson #1: muted colors allow a variety of materials to work together to set a sophisticated scene.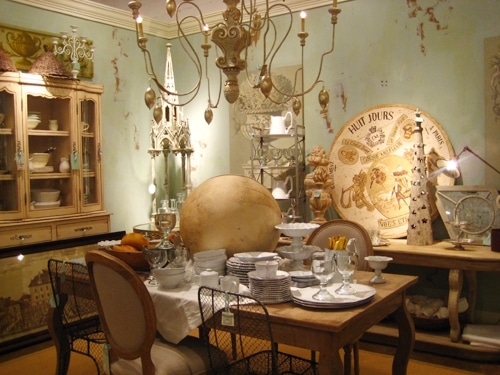 And it's official. I'm über obsessed with crisp, clean stripes. That posh couch paired with the gorgeous piped chair actually makes my mouth water. And I love the unexpected introduction of the painted wood table in a lighter shade of blue along with the beachy glass objects. Makes me wanna nurture a fern just to harvest sprigs of it for the glass vase on my very own living room coffee table.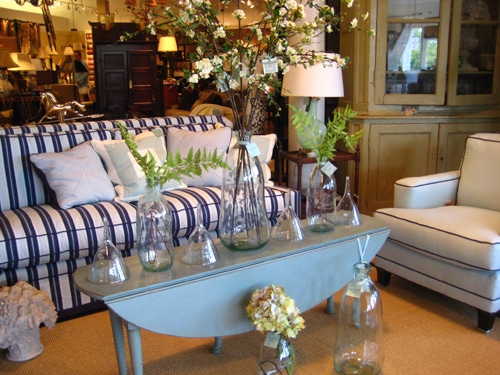 Again I'm inspired by how stylish a simple stripe can be- a good reminder that it doesn't always take busy damask, chevron or houndstooth to spice things up in a major way. And the palette with white, grass green, lime and black is even more unexpected thanks to the pale robin's egg blue lamp in the side table- genius. Another W&S lesson: matchy-matchy isn't nearly as sophisticated as a scheme that works together in a less obvious way.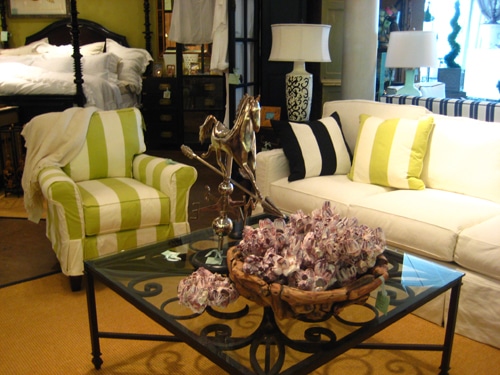 Conversely, Williams & Sherrill managed to remind me that pure white or linen colored furniture is the best canvas for a splash of ornate pattern in a rich tone. And what might be too much on a curtain or a couch works perfectly as a pop of pattern in the form of pillows. Delish.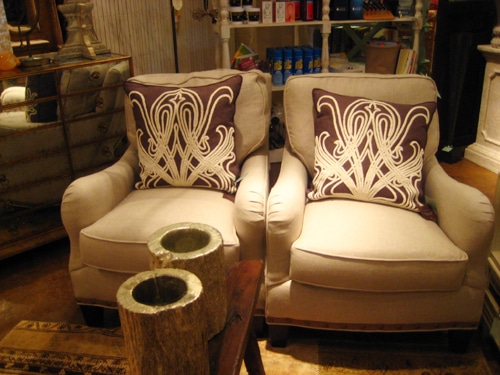 If you're a fabric lover like me, wipe that drool off your keyboard. Boasting over 3,000 bolts of fabric, I'm like Alice in Wonderland (or a kid in a candy shop) among the yards of polka dots and paisley. And I'm NEVER EVER a purple person, but something about this rich eggplant chair that makes me change my tune…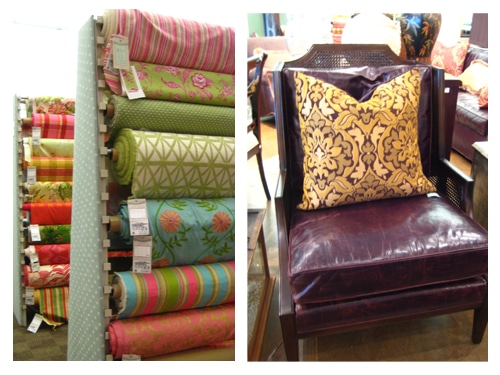 Here's more pale muted furniture to make me wanna paint everything in our house a weathered taupey-gray. And that inspiring tablescape makes me yearn for a lemon tree atop some striped books along with some pretty antique seltzer bottles. Yummy.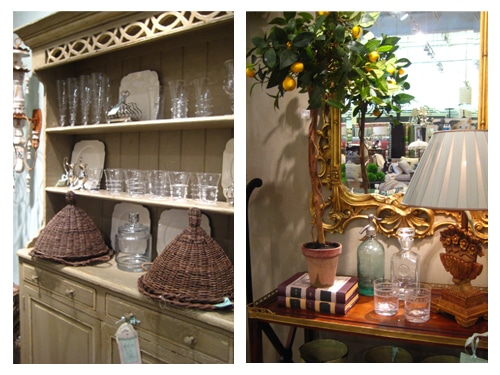 W&S is to chairs as Brad is to Angelina- one hotttt combination. This square leather arm chair makes me wanna hammer nail heads into something around the house- the chic line of silver studs on the bottom edge positively melt my buttah. And speaking of melt my buttah, the burlap pillows printed with everything from Italian phrases to graphic numbers and letters are cuddly and covetable.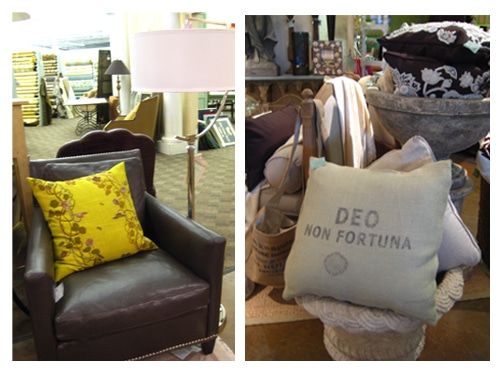 The overall takeaway: stripes can be surprisingly neutral, embrace patterns in moderation and give eggplant a chance. Add a dash of old world charm for character-a-plenty, and bring something unexpected into every space to push the design envelope from safe to sensational. Thanks for the inspiration, William's & Sherrill. Feel free to make our month by sending us a pillow or two for this glowing review. Just kidding. Not really.