When we heard that Sheri needed some serious color assistance for her open living and eating area, we couldn't wait to spring into action. Here's her letter:
LOVE your site, and really appreciate the inspiration. We need help with a color scheme for the living room/kitchen area. It's very open- you can essentially see everything when you walk in the front door. I love bright colors like a gray-green or turquoise, but I'm not sure how that would fit in. The color has to work with the current couches for now, but be flexible enough to accommodate new seating next year. In the living room, we'd also like to paint the 1970s brick. I think the room's too crowded, so removing things is an option. In the dining space, we want to keep the table and chairs but possibly replace the chandelier. And we're planning to add a tile backsplash in the kitchen but need help choosing a tile color. The pendant lights & ceiling fan must stay but anything else is up for grabs. Oh and we like a casual and modern look- we shop a lot at Crate & Barrel. Thanks so much for your help! -Sheri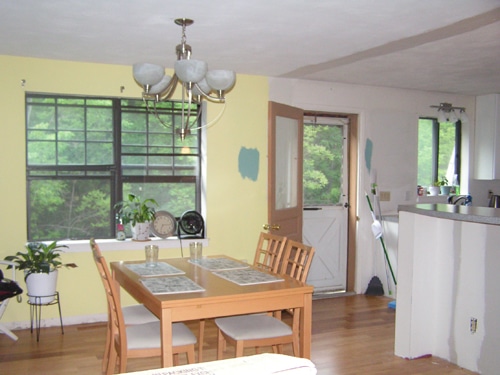 So without further ado, our fresh and colorful mood board to keep everything in their open space cheerful and cohesive.
Here's the mood board breakdown.
1. Our color palette is a range of happy blues, from the navy that we see in the existing couches to a punchy aqua color that we'll bring in as an accent. The pale blue-green tone would look great on the walls of the entire space (try Glidden's Gentle Tide). Since it's all one big open area, it makes sense to coat each wall in the same hue and layer in some brighter accents after everything looks cohesive. Sheri will be amazed how big it'll look when there aren't different colors breaking up each area, and unifying the space will allow us to be more bold and playful with accessories. As for painting the brick fireplace, we think it will look fab in crisp white, and we also think the back door in the kitchen would look really fun in a bright turquoise color (try Glidden's Tropical Tides). Of course the brown in the palette represents the deep wood tones, and we have an idea to work the lighter dining furniture in with the darker tones in the living area so stay tuned…
2. Sheri's counter is actually a few inches higher than average, which makes stool-searching quite tricky. She actually found this stool herself and liked the industrial edge that it brought to the space (along with the price) and we agree that a few of them would look great lined up at the island. And if she's feeling really daring, painting the front of the island the same bright turquoise color that we suggested for the kitchen's back door (Glidden's Tropical Tides) would create a truly stunning background for those cool industrial stools.
3. We thought this classic faux candle chandelier by West Elm would look pretty above the dining table (and the polished nickel will tie in with all the existing fixtures in the kitchen that Sheri wants to keep). We also fell in love with the cutest little burst of sunshine in the form of a yellow pendant lamp, so we thought we'd throw that out there as a brighter and bolder option (the yellow would look fab with all the aqua accents that we're bringing in). Which one do you guys prefer?
4. This is an existing piece that Sheri already has in her living room to the right of the fireplace. She'd like it to stay (and so would we!) but she asked that we edit a few of the other pieces in that room for a less crowded feeling. We would suggest getting rid of the papasan chair on the left and throwing down a light area rug (maybe a white flokati or a shag for some comfy cozy texture- even a pale jute rug would do the trick) to keep the space feeling open and airy.
5. Initially Sheri might feel confused by my pale blue-green wall color suggestion with those navy couches, but the wall color is almost a neutral if you can believe it (especially once it's on every wall) and since the lighter wall color is in the same color family as the deeper navy, they'll actually work quite well together. This discounted blue-green throw pillow will tie everything together on the navy sofa, especially when paired with a striped pillow (for under ten bucks!) with some darker brown tones along with the pale blue color. And of course this color palette will accommodate a new couch down the line, and the current couch can even be slipcovered in white or tan to completely update the space and open things up even more.
6. We think that the deep wood tones of Sheri's tv cabinet and leaning shelf (see #4) might look mismatched right next to her lighter wood dining table and chairs, so we thought introducing the deep brown tone in the form of a chocolate table runner will keep things feeling balanced and make the different wood tones appear more related. For extra credit, we'd also suggest reupholstering the seat cushions in brown velvet to really tie the two spaces together (if you can wrap a present you can upholster a chair- honestly, it takes like five minutes). Sheri can even pick up a pair of brown velvet curtains which would supply enough fabric to recover all four chairs.
7. Moving on to the kitchen, we thought this fun turquoise colander would look adorable if Sheri used it as a fruit bowl for a playful punch of color (and a place to put her produce).
8. Get ready for the ultimate dose of cheerful color that Sheri's craving. Her backsplash is just the place for a statement (especially since it's not visible from the door- you have to round the corner to see it) so it's great to surprise people and draw them into the furthest area in the space with a bold dash of style in the form of ethereal blue-green glass subway tiles. The shape of the subway tile is timeless and the dreamy glass texture of these will provide the bang that her white kitchen needs to make it the most fabulous feature wall in her home.
9. The icing on the cake that is this makeover is definitely these dreamy Ikea curtains that will finish off the space the minute they're hung in both the living and the dining area to create balance and add another hit of happy color.
There it is… Sheri's aqua oasis. What do you guys think? Do you like the yellow light fixture better than the chandelier in the mood board? Any other ideas to throw into the mix? Do tell.
Update: We sadly can no longer find the time to take on client commissioned mood boards (we now whip up general inspiration boards instead) but if we ever reinstate them we'll make a big announcement!