Sara's kitchen is about to get a major facelift. Here's her letter:
Hi again John & Sherry! Well, it took some blood, sweat, & tears, but I got to be one of the lucky 3 mood boards you're taking on this week (I stalked your order page until you were accepting people again!). I want to spruce up my eat-in kitchen and I can't take the oak cabinets- lets brighten them up with some paint! As you know my style is casual/trad with touches of modern. The appliances stay and floor stays but with limited light my dark-ish wall color (even though I love it) needs to be brighter/lighter. I have been trying to decide on a new blue-gray color like Glidden's Satin Sheets/Winter Harbour or a light tan like Glidden's Sand White/Contemporary White (keep in mind my living room is Water Chestnut). Do I keep the chair rail? Does it make a room look smaller? I want to stick to blues or green accents since the living room has both of those. Things I need: artwork for that long bare wall, kitchen rugs/window treatments (yea I made the curtains, but I wont be upset to see 'em go), a dark wood dining table, and ideas for new counter (we've been looking at the HD Corian/Staron options). We will be doing a row of floor to ceiling curtains to conceal the laundry area so the utilities will get tucked away. Love you guys. Thanks a million! – Sara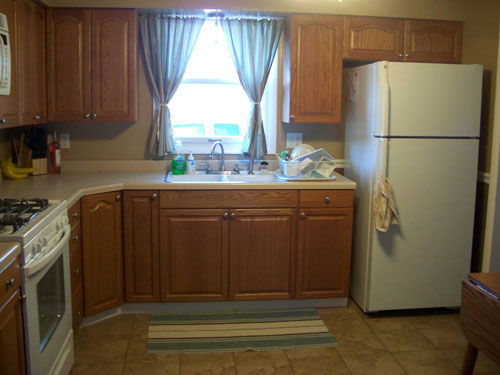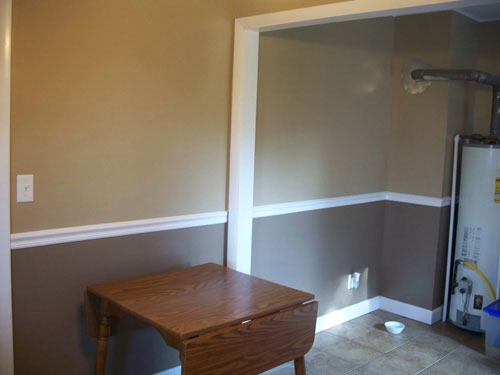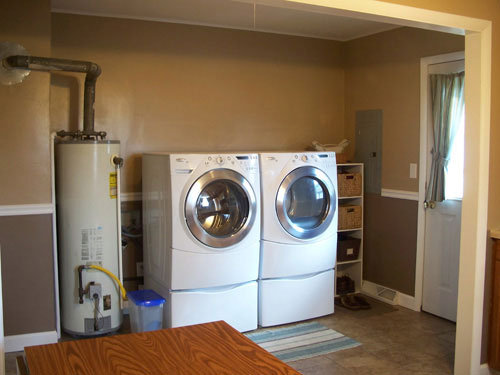 This space is primed for a serious makeover. Here's the plan:
And now for the mood board breakdown.
1. Our color scheme will be oh so light and cheerful in the formerly dark kitchen thanks to bright white painted cabinets and a soft khaki-ish green tone on the walls (Benjamin Moore's Guilford Green). Then we'll bring in a rich chocolate brown table and a few more hits of green, tan and white for a cohesive room that feels happy and alive.
2. This pretty recycled glass hurricane is the perfect accent color for the room and we'd actually love to see a few of them on the countertops holding everything from serving spoons and spatulas to candles (or even jelly beans- how fun would that be?). And these seeded glass lovelies are only $19.99 each, which is an especially fabulous price for recycled glass.
3. We checked out Corian's offerings and were thrilled to find so many amazing varieties. Although there are many warm tan tones that would definitely work with Sara's crisp white cabinets, we especially loved "Granola"- and the fact that it's partially made from recycled content is the icing on the cake- er, counter.
4. Our big idea for the space is definitely off the beaten path. We actually agree that Sara should remove the chair rail since it fragments an already divided room and creates an X on the wall where the large white doorway and the chair rail intersect (see second photo above). Removing the chair rail will instantly unify both spaces and create a more expansive feeling. Then, placing a table in the middle of the room (centered under the doorway) will actually enable Sara to hang a candle chandelier (no wires!) from the center of the white doorway above the table (this will also unify the divided space and make it feel a lot more open and cohesive). But not just any candle chandelier will do, so we searched high and low for the perfect piece that would add just the right amount of interest and style- especially once Sara spray paints it a vibrant green tone and hangs it up above her new table.
5. Although we adore Sara's existing homemade curtains above the sink, we think something a bit more linear and neutral will really tie into the new color scheme and make those white cabinets and tan countertops look stunning.
6. These affordable deep-toned table and chairs will look right at home under Sara's stunning green chandelier while adding tons of function and form to this eat-in kitchen.
7. For an extra pop of green and a bit of fun tone-on-tone texture, we'd love to see this 2 x 3′ rug (just $19.99!) in front of the sink. Plus it's reversible so it can be brighter or more subdued depending on Sara's mood.
8. Yet another piece of stunning recycled glass, this oversized green bowl will look amazing in the center of the dining table full of green apples, brown pears, or even a bunch of oranges for another pop of color in the kitchen.
9. And as for the wall that's divided by the doorway (see second photo above) we thought adding two similarly toned and identically sized prints (one on either side of the doorway) will add more balance and cohesion to make this divided layout feel like one expansive space. We'd love to see each of these prints (here's the first one and the second one) framed with a thick white mat for more presence- and we love how appetizing they are!
10. Lastly, Sara mentioned that she'd be bringing in a floor-to-ceiling wall of curtains in front of the utilities in the back of the room so we thought we'd toss out these crisp white Ikea ones that are thick enough to fully obscure everything behind them (and they can still be removed and laundered so they'll stay nice and white).
So there you have it. A fun and fabulous kitchen full of mouthwatering style. We can't wait to see what you guys think!
Update: We sadly can no longer find the time to take on client commissioned mood boards (we now whip up general inspiration boards instead) but if we ever reinstate them we'll make a big announcement!