Sara begged us to rid her of her butterfly chair and spiff up her living room on a beer budget. Here's her hysterical letter:
We need help with the furniture arrangement for our long, narrow living room! I want to lose the country blue and make this casual, modern, and neutral. I love what you've done with your home- we're also the proud owners of a 1950's home! I'm more of a Target/Walmart gal but I like what I see in Pottery Barn/West Elm stores (with more of a beer budget). The couch, loveseat and wall color (water chestnut-love it!) are the only things that must stay for now.  However, we'd like to see your ideas for new couches as they will be a future purchase and I also like a cool color palette for the room in general (red and orange just isn't our thing). My hubby also mentioned it would be nice for some type of additional seating (please help rid us of the butterfly chair). The picture window has defeated me in battle (I did manage to hang the curtain rod high and wide but curtain hunting has left us with temporary curtains that are making me dread messing with the other window). Some wants/wish list items: a new tv stand, a console table (if it works in the space), new end tables & a coffee table, curtains, and a new area rug (my cheapo 5×7 doesn't seem to work). Thanks again for taking the time to fix this sad room. I love your blog and can't wait to see what you come up with!  – Sara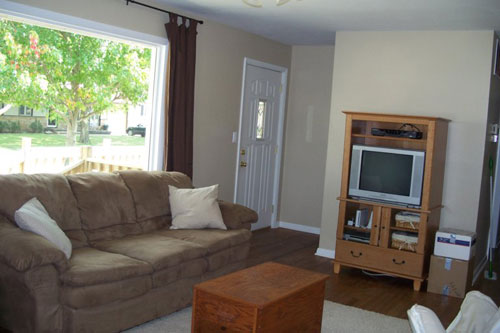 So we searched cyberspace for some stellar deals and cobbled together this casual and modern mood board with easy breezy style to spare:
Here's the mood board breakdown.
1.You'll notice our proposed makeover is really crisp thanks to an abundance of cozy white pieces. We'll also be bringing a few pale blues and greens into the space and the brown color represents the medium wood tones while the lighter tan color represents Sara's existing wall color (Glidden's Water Chestnut) and a swanky new rug for the room. While Sara's walls will happily remain unpainted, we actually think she should whip out her roller and prime and paint her existing TV armoire, which will look clean and current in crisp white (for extra credit, Sara can add sleek brushed nickel hardware). It fits really well in the space so instead of replacing it she'll save some green by repurposing it.
2. As for the current furniture arrangement, we think it actually works really well aside from the fact that the loveseat looks too far back. Instead of placing it against the back wall, we think moving it forward a few feet (to create an L shape next to the current sofa) will allow the room to breathe and look sophisticated and inviting. By moving the sofa away from the wall, there will be room for a console table behind the loveseat, which can bring balance and light into the space with two matching lamps on display (see #8). And at only $109, it's a total steal (you know we adore that x-detailing on the sides).
3. Sara wanted a suggestion for a new couch that she can snag down the line, and we just couldn't get over the warm yet modern lines of Ikea's new Karlstad sofa with a floorlength slipcover. It's a dead ringer for the PB Square from Pottery Barn (at about a third of the price- it's just 499 beans!). And the matching loveseat is just as dreamy (and easy on the wallet). With prices like that, Sara may even be able to snag that new seating area sooner than she originally thought.
4. And speaking of super fabulous steals and deals, this sleek white coffee table will definitely finish off the entire seating area with West Elm style on an Ikea budget. Coming in at only $29.99, this table will ground the couch and the loveseat in style (while saving Sara some much needed benjamins).
5. We loved the fresh Crate & Barrel look of this neutral patterned rug and adored the fact that it injected a bit of the wall color into the center of the space. No one will believe that it actually hails from Walmart (and comes in well under $150!). The measurements are also perfecto. At 4.5 by 8 feet, it's longer and thinner than Sara's previous rug, so it will really anchor the narrow room's seating area thanks to the fact that it's wider than the couch (a definite rug rule of ours).
6. Another no-brainer for the space were these swanky glass side tables which will add to our light and bright feeling while breaking up all the white furniture in the space and adding a bit of sparkle. At under $69, these showstoppers are almost too good to be true.
7. Here's our pop of personality for the space, which also echoes the subtle leaf pattern that we introduced in our rug. This sophisticated slipper chair will happily replace the ol' butterfly chair while adding a splash of those pale blue and greens that Sara admittedly adores.
8. We mentioned that two matching table lamps would swankify the console behind Sara's loveseat to no end, and two of these beauties would take the cake. Clocking in at $30 a pop (how can lamps this gorgeous be on clearance?!) they have to be our favorite deal of the day (and possibly the decade).
9. To finish off our subtle and soft leaf motif, these understated and effortlessly elegant curtains are IT. And at just 29 beans for two (!) Sara can win the battle with her picture window and still have enough moolah to snag a matching pair to flank the window behind the loveseat.
And that about sums it up. Sara's leafy and luxurious living room makeover on a dime. We can't wait to hear what you guys think!
Update: We sadly can no longer find the time to take on client commissioned mood boards (we now whip up general inspiration boards instead) but if we ever reinstate them we'll make a big announcement!