This open floor plan is primed for a major makeover and we're all too happy to help. Here's Samantha's letter:
Is there a way to make the living room and office into ONE cohesive room to make the house appear larger? We would also like to make the living room work as a multifunction space, since there will be a dining area placed right outside the kitchen (how can we define each area?). I am open to getting rid of EVERYTHING and starting over (our Ikea sofa/chairs are beginning to feel a little too modern but we're open to new slipcovers if you think you can make them work and to replacing them if you can't). We'd also like new colors for all the walls (in the front door hallway, the living room, the office and even the fireplace that's currently painted white). We're putting in new wood-panel flooring in about 2 weeks and need to repaint before they're in. We like colors that will give the room a warm and cozy feel. We have a huge TV that doesn't seem to work with the room. We're not big fans of large armoires or entertainment ctrs, but if you think you can make it work… (or we'll just move it to the bedroom and save up for a flat screen). The styles that most appeal to me are modern meets traditional with LOTS of comfort and nothing that's too sleek or cold. Also, if you can suggest pieces with storage that can help hide toys and still look good, please do (although it's not a priority). Once we complete this space, we will definitely send you pictures and will probably begin enlisting your help for other rooms in the house in the near future! Thanks! -Samantha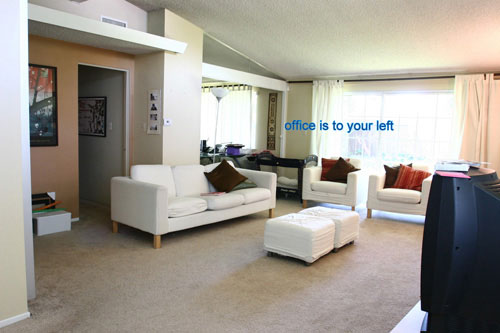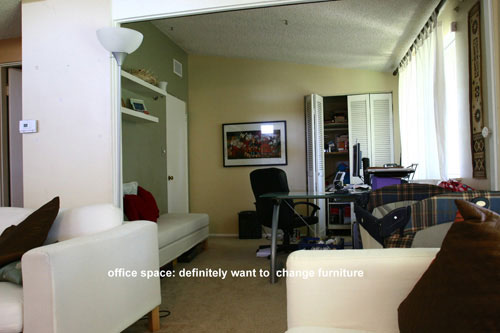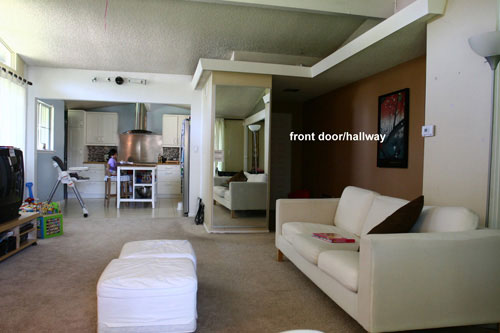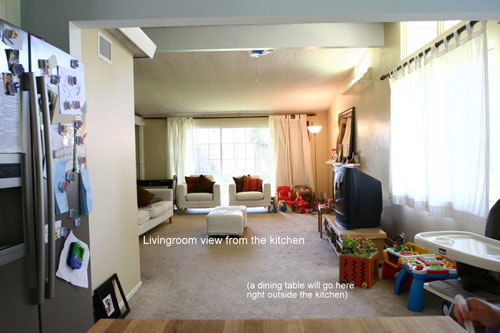 This open and airy space is bursting with potential. Here's the plan:
And now for the mood board breakdown.
1. It's clear from the pillows in the living room and office area that Samantha is drawn to warm and cozy red tones, so we decided to spice things up and add function and cohesion to her open floor plan with some rich garnet red hues tempered with some chocolate and tan. Adding a dash of orange and yellow (introduced through the rug, which we adore!) will really polish things off and create an inviting retreat in no time flat. To unify this open floor plan we would actually suggest painting the office, living room and hallway all one color: a soft soothing tan (try Sand White by Glidden or Benjamin Moore's Cedar Key). This soft neutral will work with the existing wall color in the adjoined kitchen while complementing our red and chocolate accent tones so the room isn't loud and chaotic but warm and enveloping. For the fireplace (hidden behind the big TV) we'd suggest a lighter creamy tone (not quite white since creams and tans work better with this palette). To find the perfect fireplace color, Samantha should pick the lightest tone on the color swatch that she decides to paint her walls (which will be a tone or two darker than the fireplace for some gentle contrast).
2. Baskets are our favorite way to deal with clutter (while adding some chic texture) and these affordable options from Ikea are a great resource for that toy storage that Samantha mentioned. We'll explain how these can tuck into another furniture piece that we dug up in a moment…
3. These sophisticated curtains (in "camel") will add polish to the open floor plan while working perfectly with our deliciously warm color palette. We'd love to see them in the dining area, living area, and office to instantly tie everything together and create some great drama and height. We also love the brown blinds that they're paired with in the picture, so if Samantha wants to control the light even more, she can pick up something similar at her local Target, Walmart, or JC Penney.
4. Samantha really emphasized that she wanted her new space to feel homey and welcoming, so we thought these soft little bird's nest prints would warm up her nest. At just $9.99 for each of them (here's one, here's the other), these prints are quite a frugal find! And they'll look lovely (framed in dark wooden frames with a crisp white mat) hanging on top of one another on the wall behind the sofa.
5. Any open floor plan usually needs things to help magically pull it together and define different zones. The answer: a coffee table and a big area rug in the living space. These two things never fail to ground a seating area and create a little room within a room with obvious boundaries (which makes placing other furniture pieces a breeze). This x-detailed coffee table is a handsome piece that will add polish and sophistication to the space while neutralizing some of our brighter items (like the rug and the slipcovered chairs) so the space feels cozy and not crazy. Plus remember those baskets that we mentioned above? A few of them can tuck right into the lower shelf for easy and accessible toy and remote storage.
6. Samantha indicated that she'd like the office and the living room to feel more cohesive and the best way to accomplish that is to keep the color palette consistent in both spaces. By adding a red slipcovered parson's chair to the office area, along with this new dark wood desk (on clearance!) centered under the window, it will feel tied in to the nearby living area in a snap. And speaking of the office layout, we'd also love to see the mirror that's leaning by the front hallway in the third picture brought into the office and leaned up against the back wall to the left of the bifold doors. This will reflect the living area to tie them together even more (while bouncing around a lot of light).
7. Here's the item that will MAKE this space. This amazingly warm and cozy 8 x 10 rug is extremely reminiscent of a Pottery Barn version that's selling for $200 more, and it will tie everything together while creating a seating area that will feel separate from the nearby dining area while still allowing for a nice open flow.
When it comes to the furniture placement, we'd love to see the sofa scoot forward about two feet from that back wall (this will all make sense on the rug with our coffee table in the middle) and the red chairs moved about two feet to the right so they appear more centered under the window and more connected to the seating area thanks to the rug. The best way to approach a seating area in an open living space is to use a rug to define the boundaries of the area and create a floating arrangement, which looks a lot more cohesive and balanced than pushing everything back against the walls in the expansive space. And since the TV is completely blocking the fireplace (and a bit far from the seating area- almost infringing on the dining area actually!), we'd love to see a corner unit like this (it's just $164!) in the back corner of the living space (where the floor lamp currently lives) so the TV can be tucked in there so it's less of a focal point (eventually replacing it with a flat screen is definitely the way to go).
8.We definitely think Samantha can keep her current Ikea sofa and chairs instead of dishing out some serious loot to replace them. Thankflully there are tons of great slipcover options out there, so we dug up this handsome mocha linen one to transform the existing sofa in a snap (well, a zip actually). We also think using a deep gel stain to make the sofa legs dark brown like the rest of the furnishings we'll be bringing in will really help to create something that looks more West Elm meets Pottery Barn than straight up Ikea. We also loved this cheerful orange pillow on the sofa to tie in with some of the rich warm tones in the rug.
9. Here are the aforementioned red slipcovers for Samantha's existing chairs. We think they'll look casual yet sophisticated while bringing out the clean lines in the chairs without feeling stark or cold. Again using a gel stain to darken the legs of the chairs will create a more rich and polished feeling to fit the cozy and warm vibe that we're going for.
And when it comes to the dining area, this great round table (in black brown) will keep things feeling chic and open while accommodating more of those red slipcovered parson's chairs that we suggested for the office (again to keep things feeling cohesive and comfortable). A big orange vase (made of lacquered bamboo so it's kid proof!) in the center of the table will complete the dining area makeover.
So there you have it. Samantha's modern meets traditional space with lots of cozy touches. We can't wait to hear what you guys think!
Update: We sadly can no longer find the time to take on client commissioned mood boards (we now whip up general inspiration boards instead) but if we ever reinstate them we'll make a big announcement!