When Ruth contacted us for help with her expansive living room we were super excited to get down to business. Here's her letter:
This is great! We moved here a year ago and need some help with our living room. It's a huge rectangle with a sitting area near the balcony doors and then another large area where the piano and chair are. We entertain a lot so we need a good livable space but without clutter. The TV is in this room and I don't anticipate it moving out of the living room but it sticks out like a sore thumb but neither of us like large entertainment centers. Though the place gets plenty of sunshine it looks dark and heavy with the big pieces of dark furniture and dark upholstered furniture. Our style is beachy, modern (but not cold) casual (but not frumpy or filled with too many things) and spare lines (but with softness). Spare, elegant but warm and inviting. Crate & Barrel is our favorite store. The piano must stay as does the TV (but I'd love to camouflage it) and I'd love a new wall color (we like warm sunny colors like yellows, peach, dark raspberry pink, taupes, browns etc). Good luck!!  -Ruth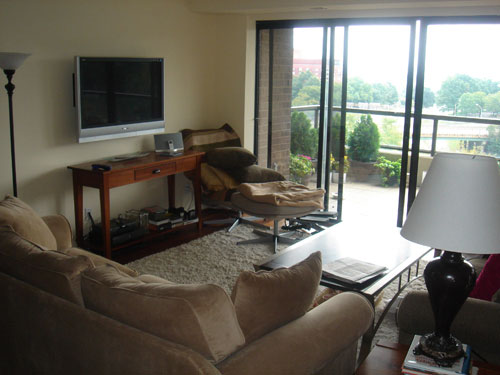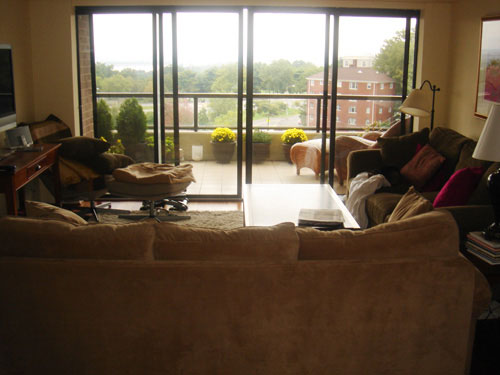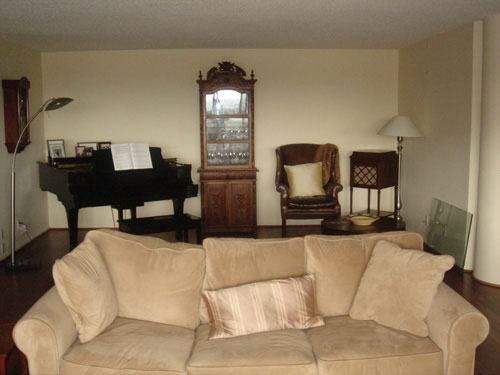 Is this space not to die for? Those rich floors! That view! The spacious and open floorplan! Without further ado, our warm and casual (yet utterly clean and current) living room mood board:
And now for the mood board breakdown.
1. Our color palette is warm and inviting with lots of rich reds, burnt oranges and the perfect yellow tone on the walls (try Hawthorne Yellow by Benjamin Moore). The brown and the black swatches in the palette represent some of the furnishings that we'll bring in (and keep in the space) to balance the big black piano and the large black TV screen. A pretty simple decorating trick when you're trying to blend something big and dark is to sparingly use the color in other parts of the room (like in a round pedestal table and a handsome black TV stand to take the focus away from the large piano and the big black flat screen). But don't worry, the room will still seem airy and light thanks to some other pale neutrals and all the light and bright yellow orange and red tones that we'll pepper throughout the space. Oh and that amazing view. Swoon.
2. We don't usually start with accessories but these amazing 22 inch candesticks in orange blown glass were too delicious to resist- and they'll look right at home in our warm, golden toned room (whether they're placed on the new round table in the back of the room, the adjoining dining table nearby (not pictured) or even the new TV stand to detract even more attention away from the black hole that is the TV).
3. This sunflower yellow runner (for less than $20!) will also gussy up Ruth's adjoining dining table (not pictured) and keep the entire open floor plan feeling fresh and sunny.
4. A handsome and well accessorized TV table is the solution for anyone who wants to avoid an oversized armoire but would still like to keep their television from sucking the life out of a space. By taking the big TV down from the wall where it's currently floating and grounding it with a low but substantial media stand it will immediately look more like it belongs in the room. A much larger table beneath the TV will immediately make the flat screen look less overwhelming and top heavy, and other accessories beside and beneath the flatscreen will keep the eye moving around the space. And this fabulous piece even happens to be on sale, so Ruth should snatch it up while she can. The bottom shelves are styled to perfection, so taking Pottery Barn's lead and using everything from colored books and throws to detract attention from the TV will work wonders in the space- and by choosing black as the color for the piece it will again detract from the big black screen and balance the large black paino on the other side of the room. Oh and removing the recliner in the corner will block less of that gorgeous view while allowing a wider piece to ground the TV.
5. Pillows are another super easy way to breathe new life into a room, and we adore the look of these flirty orange throw pillows from West Elm (on sale for $19.99!) in a perfect copper color for her existing sofa that's positioned against the wall.
6. We won't stop at just removing the recliner in the corner. We actually think that replacing the second couch in the space (the one that visually divides the room) with two low-backed super-comfy chairs will make things feel more open and allow for a much better flow (and for more of that gorgeous view to boot). And in between those two fabulous new chairs we think this gorgeous set of accent tables from Ruth's favorite store will keep things open and serve as functional drink holders as well as amazing sculpture to add a luxe look to the entire room.
7. And speaking of those low-backed super-comfy chairs, here they are. Two of these velvet beauties (in "Earth") will fill in for the oversized sofa that divides the room. So Ruth and her frequent guests can take a load off in style.
8. Here's the round black pedestal table for the area next to the piano that we've mentioned a few times (we can't help it, we're in love). It will help to create balance next to the giant black piano while the open base will keep things airy and the round shape will take up less visual space. This table will add a while new usable zone for everything from an appetizer & drink serving area to a game table or even an impromptu office if the need ever arises. And it's an absolute steal at $199!
9. This red glass based lamp is yet another way to add some warm and glorious color to the space and keep things spicy and warm while providing a super flattering pale red glow. And popped atop one of Ruth's existing side tables it will instantly freshen and brighten things up.
10. Lastly, these fantastic striped silk curtains will tie everything together and frame that gorgeous view in a way that begs every guest to stare outside as soon as they step into the room. And to avoid blocking even an inch of light or sight, Ruth can hang the curtains high and wide to frame things without taking away from the view itself. Since the curtains miraculously have a number of colors from our palette intermingled, they'll work seamlessly with our color palette while adding some serious style by the mile.
So there it is. Ruth's warm and cozy living room makeover. Whaddya think? We can't wait to hear your thoughts!
Update: We sadly can no longer find the time to take on client commissioned mood boards (we now whip up general inspiration boards instead) but if we ever reinstate them we'll make a big announcement!