Rebekah's entry & dining room is bursting with some serious potential. Here's her letter:
I'm SO excited for your help! We bought our 125-year-old house and redid it, and after all that work I'm stuck on the decorating part. Our dining room and entry room feels SO empty! I'd like it to flow with the adjoining rooms and feel cozier. I like comfortable modern with a touch of traditional. I'm loving your home's neutral style with white accents and pops of color/pattern. The paint has to stay, as do the light fixtures and the dining table/chairs (I do want to replace them someday, so a suggestion would be great- I'd love a dark wood table that can expand to seat 8 people). The curio cabinet and rug can go. I'd like a bigger buffet and some of the icons/art above the curio have to stay, but the ones on the adjacent wall can go. I'd also like something else to store dishes in, even just a few. I need a little mudroom action like you have to store coats and shoes and we need window coverings (but don't want to cover the original trim too much). Oh and I'm planning to paint the living room a different color (any suggestions?) because the red is just too dark for that room. Thank you! I know it will be great!! – Rebekah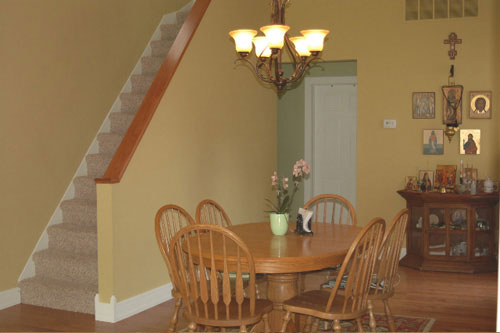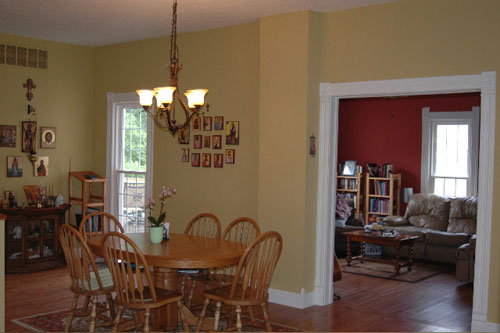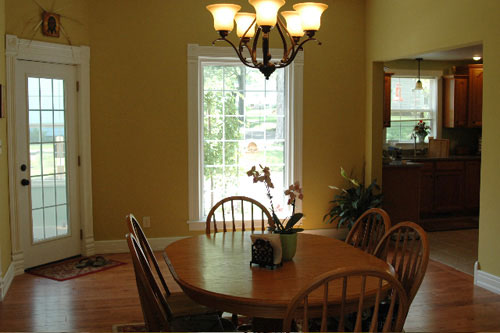 This space is primed for a major makeover. Here's the plan:
And now for the mood board breakdown.
1. Our color scheme will incorporate chocolate brown tones (in the furniture), warm wheat hues (to keep things cozy) and pops of green with soft cream and white for a fresh and crisp feeling that says welcome home. Rebekah also mentioned that she'd like a recommendation for a living room wall color in place of the red so we think a soft goldy-green (Benjamin Moore's Sesame 381) will add to the flow and feel serene and inviting in the adjoining space.
2. Here's the handsome deep-toned buffet that we'll bring in to replace the small curio on the back wall. It has tons of concealed storage for plates and dishes as well as anything else Rebekah would like to keep tucked away, and it's about $300 cheaper than anything else we could find. Score.
3. Rebekah mentioned that the table and chairs must stay for now, but down the line she'd like to replace them. We think painting the table and chairs a deep chocolate brown tone would be a quick and inexpensive way to tide her over in the meantime, and tossing down this vibrant green runner will freshen things up even further.
4. Rebekah wanted to keep her windows relatively unadorned to show off that crisp original molding so these white faux-wood blinds will look perfect (inside mounted) on each window for privacy and a bit of horizontal texture.
5. This is the top part of Rebekah's mini mudroom which will be located to the right of her front door as you face it. We love the dark chocolate color and the semi-industrial vibe of these slide-able and oh so functional hooks.
6. Two of these gorgeous ivory ceramic based lamps (on clearance!) will look great on the buffet on the back wall to draw the eye back from the door and provide a gentle ambiance when they're on in the evening.
7. Here's the bottom component of our mudroom to the right of the front door (as you face it) that Rebekah requested. Of course she could go for a padded storage ottoman but we loved the price and the tiered shelves on this baby (which actually comes in blond wood but would look great stained or painted darker to complement the other furnishings in the space).
8. We couldn't help but add these leafy green dishes (on sale!) for more of our vibrant accent color. They'll look chic stacked on the buffet, laid out on the table, or even displayed on the wall in a clean-lined plate rack like this (also on sale!) which could be hung between the doorway & window on the right wall as you face the buffet.
9. With two matching lamps and a larger buffet on the back wall, one substantial piece on the wall above everything will feel more cohesive and inviting. We love this big round mirror to bounce light around the room, add texture, and bring in some soft curves to balance all the angled pieces of furniture in the space.
10. Here are the table and chairs that we dug up for Rebekah to snag down the line. The price for such a stunning table (which comes with an extendable leaf to seat 8 per Rebekah's request) is nothing short of amazing. And the padded chairs are chic & cozy, plus they'll look great with the new rug.
11. And speaking of the new rug, here she is in all her glory. We love the warm tone on tone colors and the interesting and textural pattern that will add boundless warmth to a space that once felt sparse. Plus the 8 x 10 size will work beautifully and really ground the table in the center of the room.
12. No space is complete without the little touches that make it feel like home, so a sweet welcome mat by the door (which ties in with the tones in the dining room rug) and a few leafy green plants on the table and the buffet will really polish things off for a cozy and welcoming entry and dining area that'll make Rebekah smile every time she walks through the door.
So there you have it. A whole new room full of clean and inviting style. We can't wait to see what you guys think!
Update: We sadly can no longer find the time to take on client commissioned mood boards (we now whip up general inspiration boards instead) but if we ever reinstate them we'll make a big announcement!