Thinking about roofing isn't my favorite thing in the world. Mostly because we're in need of a new roof (but it's not the cards right now) so thinking about it just kinda aggravates me. But one thing that I'll put my frustration aside for is a free online decorating/personality quiz. Enter this Roofing Color Compass Personality Quiz, stage left.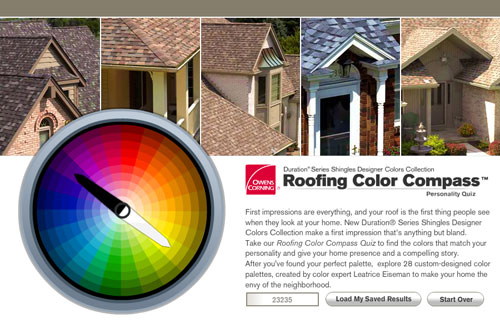 I was a bit skeptical about spending my time to find out my "roofing color personality," but the quiz is pretty well done as far as these things go. The questions are unique and the interface for answering them has nicely mixed things up from your usual check-the-box format. For example, you can drag a stamp that represents your favorite type of vacation into a passport…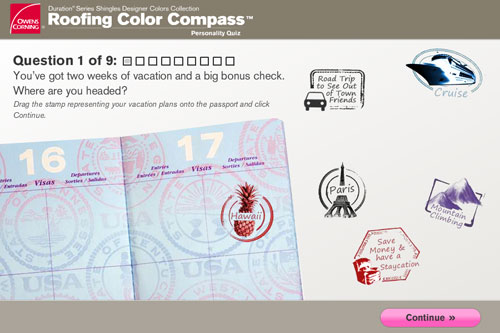 …and sort a crayon box to indicate your favorite colors by order of preference…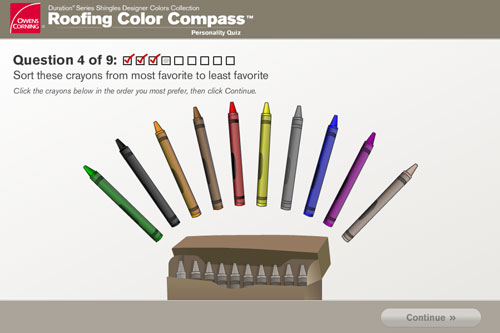 In the end, I was told that my roof color personality was brown and gray (which, btw, I put in the middle of my crayon box- so the results weren't that predetermined). They're fairly traditional and safe as far as roof colors go, but I'd say that the description sounds enough like me to be considered moderately accurate. Hopefully people agree that I'm a "down to earth person with a subtle sense of humor." And even though I'm not a wine drinker, I guess I could entertain the idea of installing the "Merlot" colored roof that they suggested.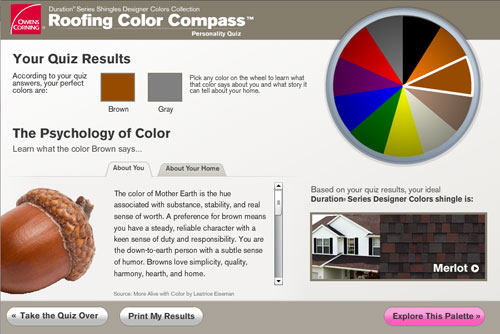 Sherry's results, on the other hand, had us laughing out loud. Not because purple and red are terribly inaccurate (although they were Sherry's last two selected crayons) or because the description was particularly off base (she was described as highly creative and artistic- and she did get a bachelor of fine arts). But we have this running joke about purple and red being Sherry's favorite pre-teen color combo because she often built outfits around these hues in grade school. Think purple leggings and a red bodysuit. Awesome, right? She doesn't pair them so boldly anymore, but her closet does still feature a few deep purple tops (and she recently picked up a red bathing suit). As for the "Summer Harvest" roof suggestion, Sherry pleads the fifth (she dreams of a slate roof, a metal roof, or even a recycled tire roof, which looks surprisingly slate-like).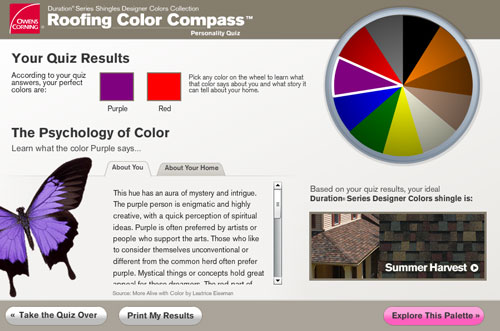 But enough about our results. We wanna know what you guys think. Was the quiz dead on? Completely and utterly wrong? Oh, and if you're in the mood to explore other decorating quizzes of yore, you can find links galore right here.
PS: We were in no way paid or perk'd to mention this quiz- we just like free online entertainment (and talking about leggings and bodysuits apparently). But speaking of free, if you're so excited by your results that you order a new roof, be sure to enter your before & after pics in the That's My Roof contest for a chance at $500 or a full roof cost reimbursement. Not too shabby, eh?