We couldn't have been more excited when Phuong and her husband Jeff came back for another mood board after we made over their bedroom (see those photos here). Here's their letter:
We are once again in need of your help! As for what styles appeal to us, our overall taste is simple and understated focusing on comfort and timeless design (clean lines and contemporary style). In order of preference, we like to shop at Mitchell Gold + Bob Williams, Room & Board, Crate & Barrel, and West Elm. We don't use the dining room (too far from kitchen & we have a dining area next to kitchen) so we would be very interested in repurposing that space. We like the two rooms to become one connected space that is inviting, comfortable, and usable. The items that have to stay are the arm chairs, couch, and the window blinds. Everything else (the dining set and other side table are happy to leave). The ceiling lamp can also be replaced. We do want to keep current color which is Benjamin More HC-26 olampsn top and HC-21 on bottom. We really like the look of a room with a neutral background and pops of color. Our biggest problem with the space is that it just isn't used. Whenever we have guests, people always loiter in the foyer or quickly make their way to the kitchen and family room… we just cant figure it out why and don't know how to fix it! We cant wait to see what you come up with! – Phuong (and Jeff)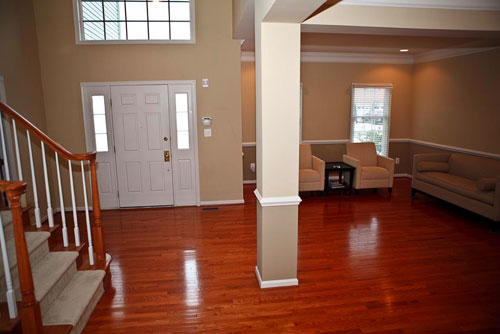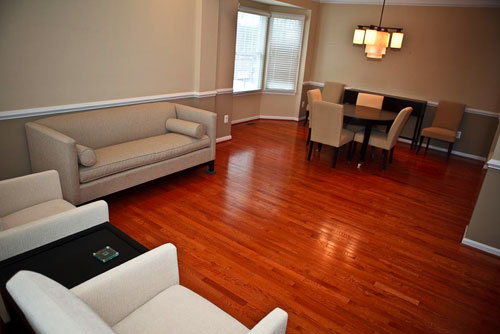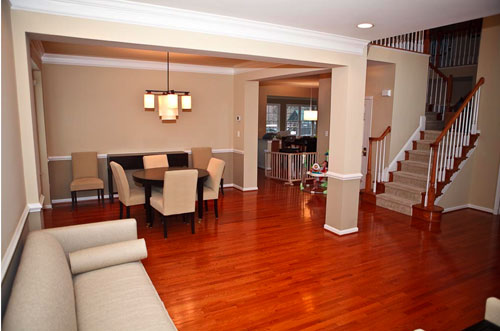 Here's the plan:
And here's the new layout suggestion: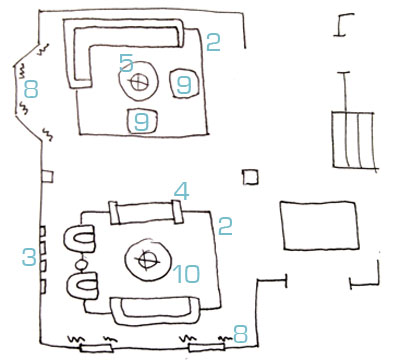 Now for the mood board breakdown.
1. Since the wall color and much of the neutral furnishings will remain in the space we'll be bringing in some deeper mochas and chocolates to complement a lot of the tans and creams while adding a splash of amber-honey and icy blue-gray as our modern and crisp accent colors. Phuong and Jeff will be amazed to see just how much interest and layered style a few items like large patterned area rugs and moody blue curtains will add to the entire space.
2. And speaking of those area rugs, we'd love to see two of these 8 x 10 beauties defining each side of the room for balance and interest without feeling too tame (the asymmetrical pattern and varied tones will really keep things feeling fresh in each of the adjoined seating areas). And since Phuong asked for a coordinating high-traffic-ready rug for the foyer, we love this one by Flor (on sale!) especially laid in a parquet pattern.
3. The long expanse of wall on the left side of the room (to the left of the bay window) is calling out for some art and interest, so we'd love to see a grouping of six to eight of these amazing convex mirrors hung in a nice tight grid (just four or five inches apart from each other and centered on the rug, which should be floated in the middle of that seating area). Oh and here's a tip, we've seen similar versions at TJ Maxx so Phuong might be able to sniff down some cheaper alternatives if she'd like.
4. This soft mocha chaise lounge (in "coffee") will keep both seating areas open to each other (since it doesn't have a back to close off one zone from the other) so everyone can mingle and relax together- which will especially come in handy when Phuong and Jeff entertain.
5. This graphic and linear pendant is just the thing to further balance this double entertaining area, so we'd love to see one hanging centered in the middle of the first seating area and another one hung at the same height (again centered) in the second seating area. Keeping things like the pendant lamps and the rugs coordinated (yet interesting, thanks to some pattern and movement) will really tie both areas together so they don't look like they're competing, but instead feel like two cohesive zones within one expansive space.
6. Tossing a slew of cozy and inviting velvet pillows (in cream, blue, and honey) in both seating areas will further add layered interest and color throughout the space. We'd love to see one blue pillow on each of the existing armchairs along with a blue pillow and a honey pillow on each end of the existing sofa. We'll also be introducing a clean-lined sectional (in "Sable") in the second seating area that we'll be creating in place of the unused dining zone and we'd also love to see a few cream and blue pillows tossed on that to add balance and seamless style.
7. The back wall (to the right of the bay window) is also calling out for art, and we thought this amazing blue and amber forest print would look stunning. The color palette is perfect and the modern lines of the trees will complement all the crisp furnishings while drawing everyone in from the moment they step in the door.
8. These moody blue velvet curtains (on sale!) are both cozy and luxe- plus they add so much texture and interest while breaking up all the neutral tones in the space. We'd love to see them hung as high as possible inside the bay enclave between each window (for a soft and gauzy effect) and we'd also love to see them hung extra wide- around 18″ past the trim on each side of the windows near the door (to make them look as expansive as possible). As for the height over there, matching the same height as the ones in the bay wndow will keep things nice and balanced in both spaces- so nothing feels lopsided or disjointed.
9. Tossing down two plush and inviting floor pillows in the second seating area (we actually have theses exact pillows in our sunroom so we can attest to their comfort and crisp look) will encourage more casual relaxation and may just turn that ottoman into a game zone during more low key gatherings since people can relax on the sectional and the floor cushions to easily surround a game board. It's also nice to vary the height of furnishings when there are two seating areas in the same large room- again just to keep things interesting and far from matchy-matchy.
10. Here's the ottoman that we dug up (on sale!) which is super easy to wipe down- so it's perfect for worry free entertaining. We'd actually love to see one of them in both seating areas for just a bit more balance (the rugs, ottomans and pendant lights will be the thread that binds each area while things like sectionals and chaises and floor pillows and art differentiate each zone so nothing is too perfect and formulaic. And of course a large tray can be placed on one or both of these ottomans for even more layered interest (and to serve as a place to rest drinks and appetizers). Gotta love a piece that can multitask like that- all while grounding each seating area and adding effortless flow thanks to its corner-less design.
So there you have it. A spacious yet inviting living room full of crisp and clean-lined style. We can't wait to see what you guys think!
Update: We sadly can no longer find the time to take on client commissioned mood boards (and just whip up general inspiration boards instead) but if we ever reinstate them we'll make a big announcement!