After nearly three years of work our first book came out in November of 2012! Here's a look back at the process in timeline form: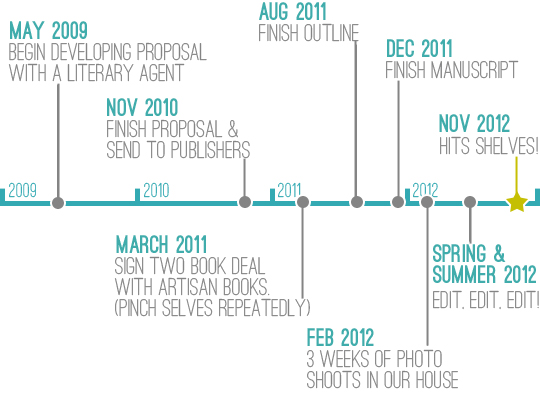 Wait, did we mention that we packed the book with over 400 photos and illustrations that have never been seen before on the blog? I guess we just did. In fact, none of the tips in this book are just regurgitated from our blog posts (zero cutting and pasting here!). Some of the general ideas and basic tutorials may be familiar (how could we not include must-have how-tos like painting furniture or upholstering a headboard?) but we wanted to present them in a new way. So instead of seeing the same table that we painted three years ago for the blog, you might see a brand new dresser makeover that we secretly completed back in January. Sure it was extra work, but we really wanted the book to look fresh and be full of different "takes" on a ton of decorating ideas – both classic and unexpected (and pretty much everything in between). Here's a little sneak peek at some of the things we crammed in:
And now we'd like to send out a huge thank you for all of the encouragement you guys have shared with us along this wild three-year book journey. We hope all the love that we smashed into this book comes pouring right back out at you when you crack it open.
****************************************************************
Wanna keep clicking around? Here's some other book stuff for ya:
****************************************************************
Want to get your mitts on our book? Click any of the affiliates below to order (or click here to get an autographed copy):