When we heard that Paul was trying to gussy up his pad in time for his daughter's October wedding we jumped at the chance to help him complete the transformation. Here's his letter:
Hi and HELP! My daughter is getting married at on October 25th and I'd love to give the room a new look. Currently the room has a mauve carpet (that can go) and mauve furniture (also can go). As for the built-in wall unit, my wife would like to see the whole thing go but for the meantime it will stay with the TV (although we don't know whether to paint the paneling behind the unit, and/or change the color of the built-in). The coffee and end tables are rosewood and match our dining room so they should stay but the lamps can go. We are also hoping to sell the house in the near future so we don't want to go too individualistic. The walls and ceiling will definitely be painted any day now and the new carpet and furniture will hopefully be in place by October 25 (but we'd like the wall color to work with the mauve carpet just in case we can't get it replaced in time for the wedding). Thanks!  -Paul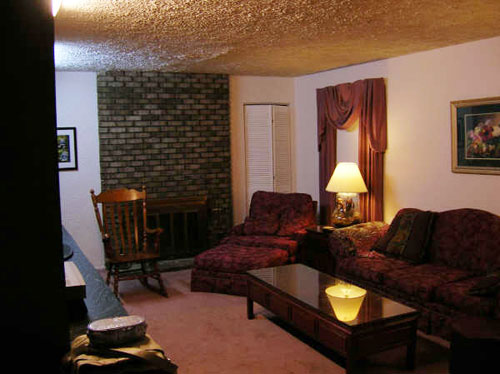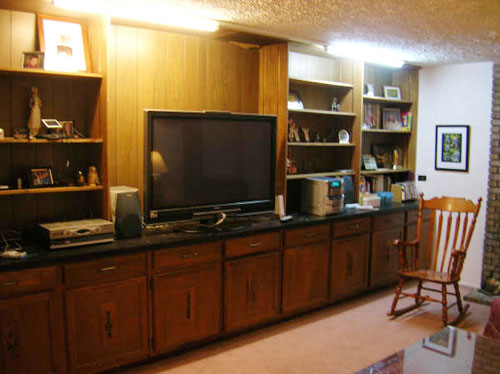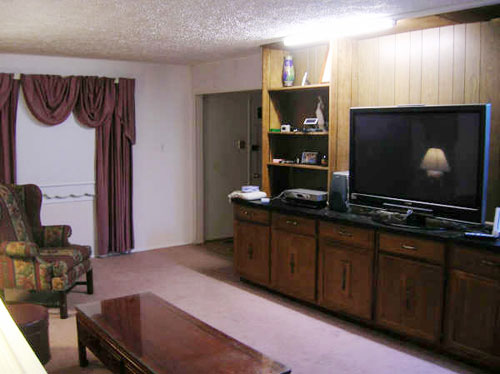 This is one of those rooms that will completely transform with some new furniture and a fresh coat of paint. So without further ado, our clean and current mood board (just in time for here comes the bride):
And now for the mood board breakdown.
1. Our color palette is cozy and welcoming with some warm yellow and green accent colors along with stainless steel accents to sleek things up and lots of gentle neutrals to keep the room restful and buyer friendly when the time comes for Paul to put the house on the market. We think washing the walls with a pale warm golden hue (with some green in it to keep things interesting) will work with the existing carpet and look even better when paired with a new sand colored carpet in the future (try Glidden's Brocade Cream). As for the bookcases, we think painting them the same exact color as the wall will help them blend in and look a lot more integrated and light. Then painting the backs of the built-ins with a creamy white color (along with all the room's baseboard, ceiling, and trim) will make everything feel fresh, new and oh-so-lovely (try Glidden's Ready Mix White). The finishing touch on the built-ins would be to switch out the old hardware for some new chrome pulls to take the oversized bookcase from blah to bellisimo!
2. And just as the chrome hardware will update the bookcase (along with a few coats of primer and paint), two identical chrome and glass table lamps will add balance and sleek style to the existing side tables which will flank the new couch.
3. This slipcovered designer couch is cozy and inviting- and the price is to die for too. With some fresh paint on the walls and a new place to relax this room will already be halfway there. Plus, by investing in such a timeless sofa that will literally last for decades without ever looking dated, Paul can easily move this piece to his next house once he sells without any worry that it won't fit in with his new decor. Gotta love a classic with a fabulous price tag to boot.
4. And to add a bit of fun and dimension to our neutral palette, we'll bring in some warm yellow and green tones- like this fun patterned green pillow from Pottery Barn.
5. One of the major drawbacks to the space is the florescent tube lighting above the bookcase, but John once again leaned over my shoulder and saved the day. While I was busy thinking about how expensive it would be to have the fluorescents converted into recessed lighting (which is sometimes impossible due to the depth of space between the first and the second floor) John mumbled something about switching them out for track lights from Ikea. Genius! So now instead of a major lighting project Paul can trade those 70s fixtures for something updated and ambient in an afternoon. Imagine these babies shining down on the freshly painted and nicely decorated built-ins! And for just 25 bucks a pop it doesn't get much better than that.
6. And now for our piece de resistance. Actually pieces de resistance. Two of these amazing patterned chairs (on sale no less!) will add just enough interest and texture (not to mention amazingly plush comfort for reading and relaxing) on either side of the couch. My heart beats for these chairs. Seriously they slay me. And they're sure to win over wedding guests and interested buyers when the time is right.
7. Sometimes we feel lame noticing when a store adds something new because we usually realize this within 24 hours. For example, yesterday when we hit up West Elm for curtains, these gorgeous floorlength silk drawstring curtains simply didn't exist. But today they're up with the word "new" next to them. Lucky for us beause they're perfect for Paul's soon to be fresh and fabulous living room.
8. And now we get to that fireplace. There are three things that will take it from drab to fab in no time so without further ado, thing number one: a gorgeous chrome fireplace screen. Removing the dated brass fireplace doors and replacing them with our sleek new screen will result in a bevy of gleaming metals throughout the space that work together (our table lamps, the track lighting, and the hardware on the new built-ins). Plus it will dress up the fireplace and make it warm and inviting by softening the big black hole on the bottom of the hearth. And speaking of the hearth, what's a fireplace without a mantle? Thing number two on Paul's fireplace makeover checklist is to add a gorgeous wood mantle (any handyman should be able to build one with some wood and a few pieces of molding for a truly amazing result). It will break up all that dark brick and create a place to display some much needed art). Which brings us to fireplace makeover thing number three: some fabulous art… but you'll have to wait a bit for the details. Patience, friends. Patience.
9. And now for one of many pops of punchy yellow and green that we'd like to see displayed beautifully on the shelves of those built-in bookcases. This cute yellow vase is a steal at only $20 and it will look great among other playful dashes of color and colorful books on the built-ins (to keep all eyes from going straight for the TV).
10. Ok, you've been so kind and patient and I promised to elaborate on the art above the fireplace so here it is: a heart-stoppingly cheap $12 print from Ikea. In a handsome wooden frame (to complement the gorge existing cherry side tables and end tables) this poster will look like high-end art and create a stunning focal point in the space for next to nothing. Plus the beautiful yellow blooms tie in perfectly with our warm and cozy color palette. Victory! And we know many people are expecting us to instruct Paul to paint the fireplace but we actually think it will work wonderfully thanks to the muted gray undertones which match those not only in the art work but in the whole new color scheme in general. And since painted brick is hit or miss with buyers, leaving it unpainted and allowing them to make the call if they'd rather paint it once they purchase is probably the way to go.
So there it is. Paul's swankified living room. We can't wait to see what you guys think!
Update: We sadly can no longer find the time to take on client commissioned mood boards (we now whip up general inspiration boards instead) but if we ever reinstate them we'll make a big announcement!