Yup, I did it. Last night I looked lovingly at John and batted my eyes until he agreed to… take me back to Target's Home Design Event to snag my beloved gourd lamp! After nights of laying in bed fantasizing about the smoky glass base and the generous linen shade (which we featured at the end of the list here) I had to make at least one of 'em mine. And after walking around the house debating where my new favorite lamp could live (always an important step before the purchase) we opted for the guest bedroom, and off to Tar-jay we went.
Look how happy this lamp makes me. I didn't even bother to take off my coat before sweeping her off her feet and into the guest bedroom. Smell ya later piddly old lamp in the background, there's a new girl in town- and she's eats lamps like you for breakfast.
And now for a few more shots of her in all of her gourdy glory: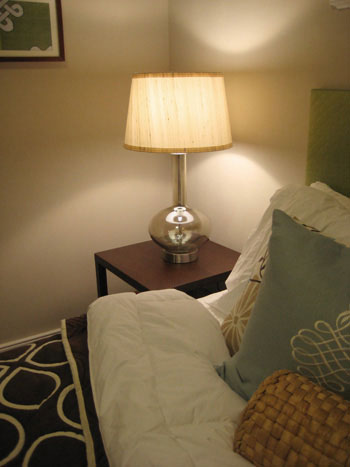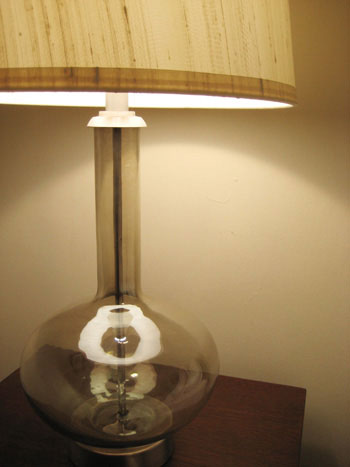 Gourd-geous, no? And get this. Our baby was marked down from her original $89 price tag to just 54 smackaroos thanks to the recent Home Design Event sale (some items are already 50% off so be sure to grab the goods before they're gone). And thanks to the fact that we just saw nearly-identical-but-not-as-cool oversized glass gourd lamps at Big Lots for $150 a pop (!) we obviously feel pretty darn good about our score.
How about you guys? Any plans to snag some Home Design Event stuff before it sells out? Anything you've already grabbed that you're loving? Tell Sherry all about it.