When Sherry and I heard that Linens n' Things filed for bankruptcy last week, we panicked. Is LNT about to disappear a la Sharper Image?
Not yet. According to reports they're just closing about 120 under-performing stores for now. You can check this list to see if your local LNT made the cut. Fortunately, ours dodged the bullet.
See, we registered at LNT for our wedding so just about all of our dishes hail from there. If they closed, you know what would happen, right? I'd break a plate or a bowl, we'd be short one place setting, Sherry would shoot me a death-look and then we'd have to replace our entire collection since we'd no longer be able to buy just one item. So we played it safe last night and purchased a few back ups: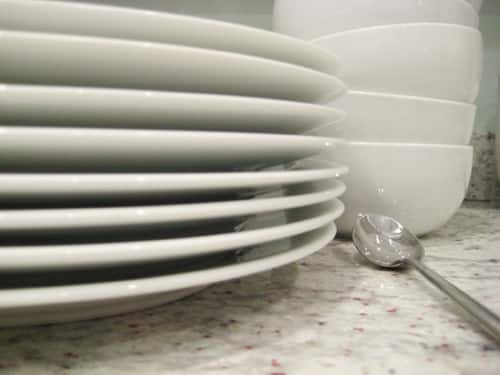 Ok, we already had the spoon.
But for those who are wondering, these are 10 Strawberry Street dishes. They're just about the perfect, nondescript white plates and bowls- and they're also pretty affordable ($4.99 per plate, $3.99 per bowl). Plus you can get them for even less since LNT honors those 20% off coupons from Bed, Bath and Beyond that seem to multiply in our mailbox (we never knew this until we saw someone in line with about ten of them and they honored them all!). And now that we have a few extra plates and bowls we won't have a nervous breakdown when one or two of them inevitably break.