As soon as we laid eyes on Nadra's entrance hall, we knew we could create something dramatic and welcoming. And we happily learned that Nadra was on the exact same page. Here's her letter:
I'm looking forward to some swankification in our entrance hallway. I want it striking, pretty, and something that says – yes, it's a home and we're modern. We love clean lines and like the look of DWR, and have a few pieces from them, but we mix in C&B, Mitchell and Gold, CB2 and Dwell and Inhabit. There's only one piece of furniture and it has to stay. The walls are white but we'd love to add some color (we never met a color we didn't like). It just feels like I'm walking through an apartment building hallway when I enter our home – it's all empty and boring, not too cold, but not personal. When you enter the home, you go into an area where our large dogs hang out in when we're out of the house (between the open red door and the wooden door, which we normally keep closed) consequently, we're hesitant to hang anything there on the walls due to the big dogs. But paint would be nice. Wahoo! I'm so excited!!! -Nadra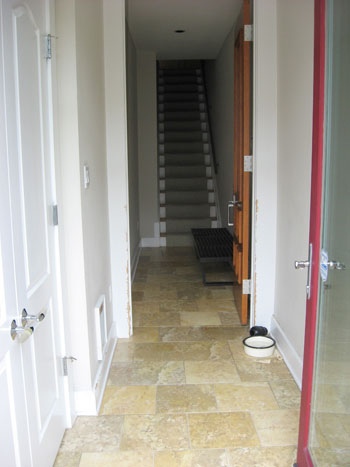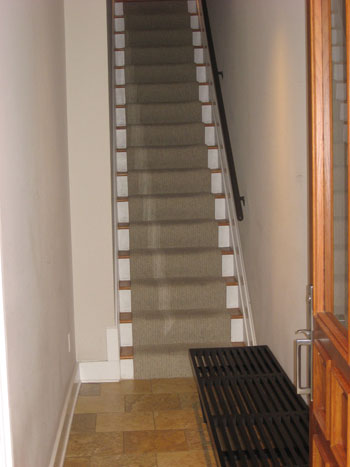 Potential city, right? We had a great time whipping up a striking and swanky entryway that screams "come on in!"  Without further ado, our crisp and modern mood board:
Here's the mood board breakdown.
1. Our color palette brings in a splash of red (inspired by the red entry door), a bit of deep brown (plucked from the dark wood bench that will remain in the space), and some light and ethereal ice blue to make those stark white walls a thing of the past (try Benjamin Moore's Glass Slipper). Keeping the trim a clean white tone (along with the stairs and the closet doors) will keep things feeling open and light- and we'll mix in some modern patterns and prints to bring on the oohs and aahs as soon as people step inside.
2. Swapping out the recessed lights for two modern pendant lights (one in each area) is one of the easiest ways for Nadra to inject stunning style to this entryway. We love these feathery light fixtures from Design Public and we think they'll be one of many ways to add some subtle texture and interest to the space (and complement those fabulous tall ceilings to boot).
3. We love the idea of some soft muted art, and this oversized canvas from Ikea fits our palette to a T (and is as easy on the wallet as it is on the eyes). We understand Nadra's hesitation to hang anything between the red door and the wood door since her big dogs hang out there when no one's home, but we think this canvas would look great above that sleek linear bench in the area beyond the dog zone.
4. And speaking of those precious pooches, we though they deserved a little upgrade too, in the form of a sweet little white swiss dot water bowl for sippin' pretty.
5. We think bringing in a bit more red in the form of some art that's hung along the right wall of the staircase would continue to add interest and posh detailing for one heck of a first impression. Using frames en mass like this inspiration image is sure to bring on the drama. Varying the sizes of the frames while keeping them all the same finish will help keep things consistent yet energized (a grouping of white frames would be super modern, while some deep wood frames would also work amazingly with the dark wood bench nearby). And all the art doesn't need to be red by any means, but a few red mats among some white ones, or even some red art work amidst some black and white images would be just enough color to keep things interesting.
6. It's not often that we find the perfect pillow, but this is IT. And while this dreamy throw pillow would look amazing on any chair, bed, or couch- we think it'll look just as fab on Nadra's linear bench near the staircase. Two of them will soften things up (and add to our reoccurring theme of repeated items- 2 pendants, multiple frames, etc). They'll also break up all that wood and create an inviting place to sit down and sort the mail (or drop the groceries) and will add even more soft pattern and texture to the space so it never feels stale. It's these little touches that will give what used to be a pass-through area some spice and some personality to make a statement the moment Nadra steps through the door.
7. This printed cream and brown rug is the peanut butter to the entryway's jelly. We think it would be heavenly on the floor in front of the wooden bench (and duplicated in the front entry area as well if Nadra dares with those dogs). Nadra, just grab it quick 'cause it's on sale for $12.49 (!) and our readers have been known to snatch stuff up pretty quickly these days.
So there you have it. Nadra's fabulously welcoming entryway makeover. Whaddya think? We can't wait to hear your thoughts!
Update: We sadly can no longer find the time to take on client commissioned mood boards (we now whip up general inspiration boards instead) but if we ever reinstate them we'll make a big announcement!