We were super psyched to whip up a warm and cozy mood board for Michele's new family room/office.  Here's her letter:
I am very excited about this – I just bought a house and feel so overwhelmed! I'm leaving/selling a lot of my furniture at my old place, so I thought I'd start new! These pictures reflect the seller's furniture, but as you can see, it needs updating. I was thinking of using this as a family room/office. The piano is going to stay. That big ficus will be leaving, but I have an even bigger one that will stay. I was thinking of getting a new desk (something dark and almost like a long- 5 foot?- writing desk) and a cozy Fifi chair to read by the fire. I will probably need a bookshelf too but I do have a fabric desk chair on wheels. The lighting isn't very good in there either. I'm confused about a color for the room because of all of that solid oak paneling and flooring. I think I'd prefer to not paint the wood because it is very difficult to undo- but I can't wait to hear what you have to say. I shop at Pier 1 and I like Pottery Barn, but Ikea can be too modern. I want it to be subtle, but crisp, clean, and sharp, while still cozy and relaxing. I was originally thinking a very light orange/yellow would do well in here. I like plants, being outside, wood, and neutral colors. I like being cozy and comfortable, but I also probably need a little shaking up! Thanks so much! -Michele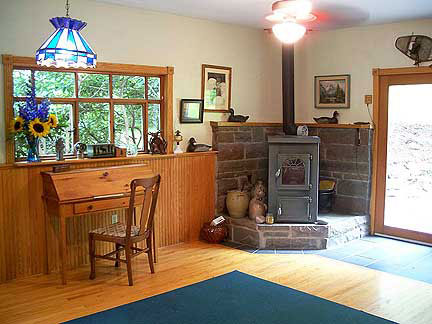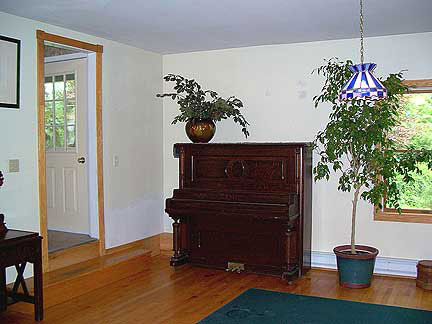 So without further ado, our warm and cozy mood board to update and integrate all that gorgeous solid oak paneling for a charming, back-to-nature look:
Here's the mood board breakdown.
1.Our color palette will be warm to flatter all the solid oak in the space (we wouldn't dream of painting that gorge trim and woodwork since it's the real deal- and especially because the paneling paired with the coal stove will really create a super cozy and warm "escape" right in Michele's home). We'll also bring in some darker wood pieces to balance out the large dark wood piano and add contrast to keep the entire space from feeling too monochromatic. Our amber accent color will inject a bit of zest and personality while the walls will be a subtle, warm golden hue (try Glidden's Boston Cream or Costa Mesa) to bring out the gorgeous tones of the wood trim while creating a candle-lit feeling for ambiance to spare.
2. And speaking of ambiance, replacing those two dated Tiffany pendant lights with these rustic and inviting woven sphere lamps from West Elm (we'd go with two large ones for a balanced and casual look) will bring more natural and textural elements into the room for boundless charm and interest.
3. Yet another way to bring more of that rustic, natural feeling into the space is to hang some scenic black and white pictures in some crisp black frames. We think creating a big black and white photo collage on the two walls above the coal stove would look spectacular and work with the gray tones in the stone surround. And starting this b&w collection couldn't be easier thanks to these three pretty nature shots from Ikea (for just $10-$12 a pop!).
4. Michele mentioned that she'd love to add a chair by the fire to create a cozy little reading nook in the room. And what's a chair without a great side table to rest a cup of hot chocolate and a good book? We love the simple shape of this dark wood side table (which will really pop against all the lighter wood in the space) and the $39 price tag is almost too good to be true.
5. We also dug up these gorge oversized glass jugs (we actually have the clear versions in our own living room) and we think they'd look stunning near the hearth to add a punch of sophisticated color and keep things interesting and fresh.
6. Here's the snuggly Fifi chair that Michele dug up on her own, and we think it'll create a fabulous little reading area by the fire. Punched up with an ochre pillow (for $6!!!) it'll be the best seat in the house.
7. When Michele mentioned that she needed a bookcase we immediately pictured a ladder-style shelf in the space for book storage (along with enclosed box & basket storage if need be). And we managed to find one heckofa deal (it's only $79- that's over 50% off!) in the perfect espresso color to work with the other wood tones that we'll be introducing to balance the existing dark wood piano.
8. Another way to add warmth and cozy ambiance to the room is to hang this pretty nature-inspired leaf sconce (we think it would look gorge over the piano). Paired with our natural woven pendant globes, the coal fireplace and the warm golden paint color on the walls- this room will positively glow with warmth and atmosphere!
9. Michele mentioned that she had a fabric desk chair on wheels, but we're huuuge fans of replacing industrial wheely chairs with comfortable and stylish occasional chairs when it comes to upgrading your desk from yawn to yesss. In fact our very own desk chair (where I'm perched right now as I type this) is a brown leather parson's chair from Target and I can personally attest that it's both easy on the back and on the eyes. So we thought pairing one with Michele's new desk (patience my friends) would add comfort and some serious style.
10. Another way to up the cozy-factor and break up all the wood in the space is by adding a warm and inviting area rug. We loved the gentle tones in this subdued square patterned rug, and although Michele mentioned that she's not really a fan of pattern we can assure her that this soft and subtle rug will add style and interest to her entire room (and the largest one- which we think would work best in her space- is even $50 off on clearance!).
11. And last but not least, one of our favorite finds for the room is this fantastic desk with insanely amazing details like those black saw-horse inspired legs. It's exactly five feet long as Michele requested and it looks like a Pottery Barn piece that could easily go for $1200, but it's actually on sale from JC Penney for just $399 (down from $739). Hooray for yet another fabulous sale item to swankify Michele's space!
So there it is. Michele's warm & cozy, nature-inspired makeover. We can't wait to hear what you guys think!
Update: We sadly can no longer find the time to take on client commissioned mood boards (we now whip up general inspiration boards instead) but if we ever reinstate them we'll make a big announcement!