Last Sunday we dodged sporadic April showers to check out the West Avenue Garden Tour in downtown Richmond. It's in a neighborhood called The Fan, which is famous for its incredible, historic brownstones and townhomes- and as much as we love gawking at the beautiful houses from the street, we love it even more when they invite us to explore their back gardens.
Which is exactly what happens each spring when West Avenue residents open their back gates so the public can view their immaculate gardens (all housed in some very small but super inspiring urban spaces).
And its actually those very back gates that made an impressive first impression on us. These people clearly see the value in making a grand transition between the communal back alleyway and their private garden retreat.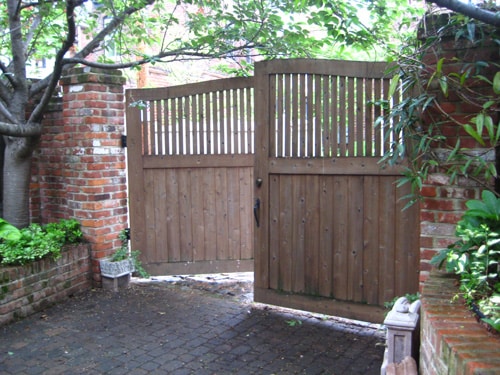 So whether they're teak and oversized or deep purple and latticed, each and every back entrance set the stage for the stunning garden just beyond the threshold.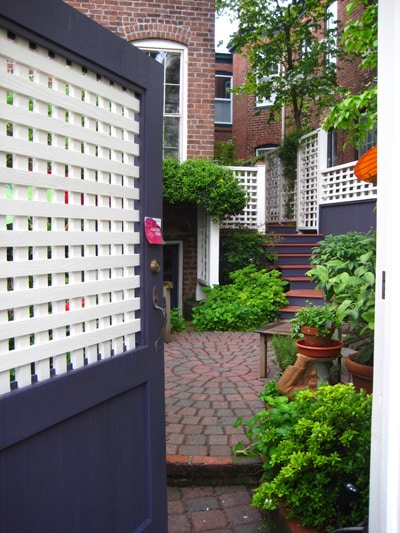 This garden's bold eggplant and raspberry color scheme might sound scary, but we felt right at home in the punchy haven in the middle of the city. And the colorful parasols wooed the heck outta Sherry.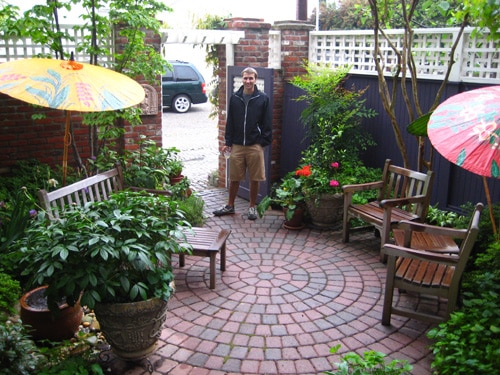 The posh home below definitely did the best job of making us forget that we were anywhere near the booming Richmond metropolis. Rather than a simple fence with a swinging door, they used an entire two-car garage to separate their house from the back alley. Then they disguised the double garage as a guest house with a stone wall, some creeping ivy, a charming tin roof and a mirror-backed fountain. Talk about a sanctuary in the city.
We were also uber impressed by (and a little jealous of) how such small spaces enabled these folks to stuff every corner of their garden with flowers and shrubs for some major impact. Imagine how many flowers and bulbs we could plant if we didn't have to spend so much time mowing!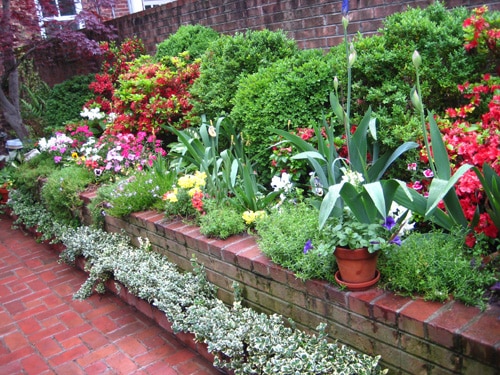 Creative space planning was another thing that we noticed throughout the tour. From an outdoor fireplace to a built-in barbecue to this serene koi pond tucked into a narrow nook, we were constantly in awe of everyones ability to add beauty and function to every last inch of their garden.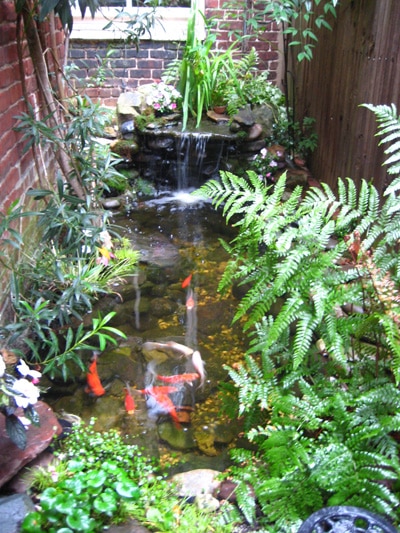 So by the end of the tour, did we pine for our own secret garden in the city? Yeah, a little bit. We're only human. But we're also pretty happy to have lots of space for Burger's daily bug-hunting expeditions. Which just might rival a koi pond in the entertainment department.