Martha's newly renovated bathroom is bursting with potential. Here's her letter:
Thanks for helping me jazz up my newly remodeled bath! I would've taken advantage of your design service BEFORE the remodel but just found your blog a few weeks ago. Due to the fact that our house is on the National Register of Historic Places, we tend to lean towards a traditional style in a clean and casual way. Because everything is brand new, it all has to stay except the Ikea piece if you think it is out of place. Basically I need MAJOR accessorizing! The wall paint is Sherwin Williams Interactive Cream and the trim is S/W Creamy (except for the new window which hasn't been painted yet). The cherry vanity is a Shaker style in a medium finish. The counter is Formica honed laminate in Sandstone and looks very much like the tile. The porcelain tile has a stone look to it and is accented with natural slate and glass tiles. The niche above the toilet is 17 1/2″ wide and is screaming for something. I may add a glass shower door someday but right now I need a new shower curtain, along with towels, art, window treatment, rug, and fun accessories. Thanks for your help. I can't wait to get started! -Martha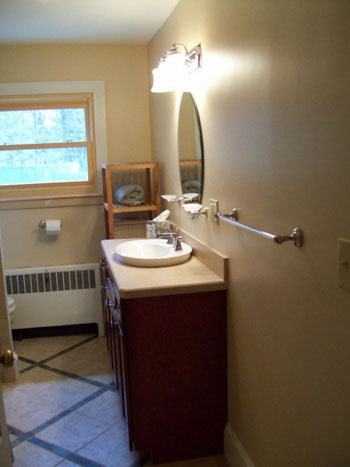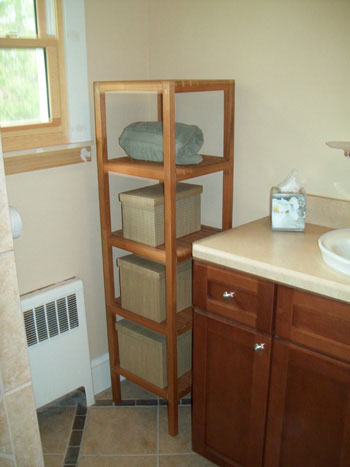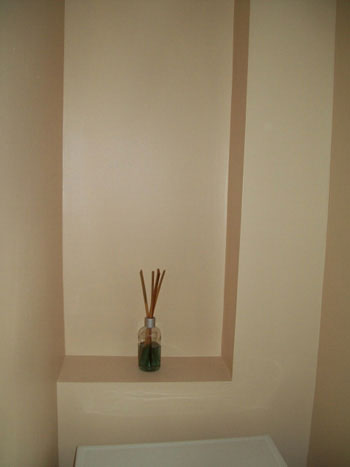 This space is primed for a major makeover. Here's the plan:
And now for the mood board breakdown. 
1. Our color palette includes the medium toned cherry color that Martha introduced with her new vanity along with some rich tan and putty tones brought in through the tile. We'd love to see a soft celadon green as the accent color in here (it'll pick up on the trim tile undertones and serve as the direct complement to the red hues in the vanity) and we'll finish things off with an abundance of cream (to work with the wall color and keep the room feeling light). We'll also be bringing in some posh glass and polished chrome accents to work with Martha's existing fixtures for a crisp and classic effect that feels luxe and inviting- as every bathroom should.
2. Martha's alcove was one of the biggest challenges in the space since it's only 17.5″ wide (and most standard shelves are 18″ wide or 23″ wide). We searched high and low to find this great double shelf made of glass and polished chrome that's 16″ wide, and two of them installed on top of each other should fit right into the alcove to create a custom looking storage system with high-style and shine. The effect will be very Restoration Hardware, but the price point will be a lot lower (they charge the same amount- or more!- for a single shelf). Accessorizing these shelves with glass jars full of q-tips and cotton balls along with some woven boxes, trays, and even a small celadon vase or lacquered box will really add to the spa-like feel in Martha's new bathroom. Heck, even some sea sponges and a few river rocks could add to the ambiance and amp up that nook.
3. For the window we'd love to see simple bamboo blinds outside-mounted a bit high and wide to really frame the window while making it appear bigger and taller. We particularly loved these pecan colored beauties because they have some reddish undertones that mimic the color of the cherry vanity, and the nice woven texture will really work well with the existing wood shelf in the corner and the tan tiles. Then, if privacy is an issue, getting the window frosted or even applying self-stick window frosting (sold at Lowe's or Home Depot) will let the light in while creating privacy.
4. We wanted a shower curtain that wouldn't take away from the intricate tile work on the floor and in the shower, but we also wanted something that would add a bit of visual interest as well (so it can really hold its own in the space). This breezy leafy shower curtain (for just $34.99!) has many of the colors in our palette (putty, cream, celadon, tan) and it will really elevate the entire room for more of that classic meets spa feeling that will make Martha's new bathroom feel like a welcoming retreat. Hanging it with simple polished chrome hooks will also keep it feeling upscale and work with the existing fixtures in the space.
5. When it comes to the bath mat that Martha requested, we'd love to see this plush celadon rug (just $16.99!) in front of the shower to tie into the other accents that we'll be bringing in with the same sagey-green tone (like the towels and even the glass accessories).
6. Nothing says classic luxury like a neat line of handsome polished chrome towel and robe hooks on the back of the bathroom door. We'd love to see three or four of these lined up for posh look-at-me style that everyone will notice every time they close the door.
7. This great set of green glassware from Ikea (it's just $9.99 for all four pieces!) will tie in with the other soft green tones in the space while adding elegance and function to the vanity and the glass shelves in the nook alike (the soap holder and pump can live on the counter while the bottle and cup can store cotton balls and q-tips on the glass shelves). Heck at that price it might be worth buying more than one set and gifting the extra pump and soap holder while stocking up on more glass bottles and cups to use for pretty storage on those open shelves.
8. We couldn't help but notice that Martha had a box of tissues on the counter, so we found her a chic bone-or-capiz-looking tissue box and wastebasket which can both be tucked over by the toilet (the tissues can sit on the back of the tank while the trash bin can be slipped next to the base of the toilet).
9. Here's the gorgeous tile work in Martha's shower. We brought it into the mood board to help her visualize how all the colors and accessories that we've dug up for her will work together. It's also easy to see how the celadon tones were pulled right out of those glass accent tiles, and how bringing more of that tone into the space will really set off those amazing tiles.
10. Here are some fluffy celadon towels that will add so much softness and freshness to the space. We love that a three piece set is just $29, and of course we appreciate that they match the bath mat perfectly.
11. Martha mentioned that she would like some bathroom art, and we agree that the area above the towel bar to the right of the sink could use a little visual interest. This clean spa-like print is just $9.99- and it will look simply amazing in a polished chrome frame with a thick cream or white mat around it hanging above the towel bar. In fact, we love that print so much that we have it in our very own half bathroom and it really adds to the calm and inviting vibe.
We also think the wooden shelf in the corner of the room could benefit from a little height on the top shelf. A nice leafy green plant in a simple tan, cream or celadon planter would look lovely. Martha could also do something like grab a polished chrome tray and arrange a few sizes of white pillar candles around it to create a little spa-like vibe. Or she could even grab a little woven basket and place a potted plant inside the basket so the woven texture of the basket serves as a sort of planter for a sophisticated, textural look. Any of those three options would really polish things off and balance the spa-like art work that will hang on the other side of the mirror.
So there you have it. A sparkling new bathroom full of soft and inviting style. We can't wait to see what you guys think- especially you Martha!
Update: We sadly can no longer find the time to take on client commissioned mood boards (we now whip up general inspiration boards instead) but if we ever reinstate them we'll make a big announcement!