This decorating doozie is all about accent pieces and accessories that can completely alter the style of a room. Manisha dreams of a lighter and more contemporary family room, and gosh darn it we love to give the people what they want. So we whipped her up a custom mood board to solve her problemo. Here's her letter:
Dear Sherry & John- Your home and design choices are really beautiful and inspiring and your blog is a favorite daily read of mine! Where I need your help is in our family room. I purchased a sofa set that had red, gold, and mustard pillows and thought I'd try for a fun global eclectic look but boy was that a horrible idea. The room started to look really confusing and gave me a headache whenever I entered it. I'd like to stick with neutral colors but move away from a more global and traditional look to something much lighter and more contemporary. With that in mind, I'd like to purchase a sunburst mirror for over the fireplace, a new rug, some lamps, window treatments and a coffee table – any suggestions you have would be great. Thanks!! – Manisha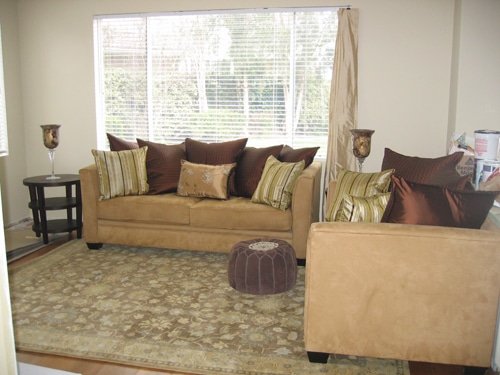 The bones are all there. The creamy tan wall color and camel couches are the perfect starting point along with the deep wood tone of the side table. And those white shelves are particularly reminiscent of our own dining room shelves– which are über clean and modern. Manisha's room is primed for a light and bright transformation, so let the fun begin.
Here's the mood board breakdown.
1. We've pined after this gorgeous Pottery Barn rug for months, and think it would be the perfect addition to Manisha's neutral family room. The geometric pattern adds a contemporary feel and the soothing blue tones immediately lighten and brighten the whole space.
2. This amazing lamp is another way to inject more of the new pale blue accent color into the room. And at an unbelievable sale price of $23, ya just can't go wrong.
3. If lightness is the goal, look no further than a sparkling reflective surface. A silver sunburst mirror over the fireplace would make the room seem more open and airy while adding a splash of glamour. Good call Manisha.
4. The white shelves would fit the new contemporary and clean feel if they sported yummy reflective accessories in tones of nickel, chrome, glass and pale blue. This gorgeous mirrored obelisk from ZGallerie would absolutely take the cake.
5. These perfectly priced Target pillows in pale blue silk would definitely work with the existing chocolate ones on the camel couches. Along with the pops of blue in the lamp bases, a few splashes of color on the couch will keep everything feeling balanced and help break up that sea of camel and chocolate.
6. The new color scheme is a classic combination of chocolate brown (in the rug and the wood furniture), camel (in the couches), pale blue (in the rug and the accessories) and creamy tan (on the walls and in the rug) along with pops of crisp and classic white. Mmm- it's one of our favorites.
7. This West Elm coffee table sports clean lines and a deep chocolate color to ground the pattern in the rug without feeling too heavy. It would be the perfect place for some big hardcover books about the ocean, the sky, the mountains or anything else with glossy blue and white cover art.
8. Here are some more light and contemporary accents, this time in the form of apothecary jars stuffed with breezy beach shells. They'd look fab on the white shelves or the existing dark wood side table.
9. Crisp white curtains from Ikea would finish things off and invite the sun into Manisha's new light and airy family room. These particular curtains rock our world (we have them in our living room as well as our sunroom) and the price (for two!) is oh so right.
That about sums it up. We'd certainly love to relax in a family room chock full of the items above, but what do you guys think? Ideas? Comments? Ready, set, sound off.
Update: We sadly can no longer find the time to take on client commissioned mood boards (we now whip up general inspiration boards instead) but if we ever reinstate them we'll make a big announcement!