When we heard that Liz was desperate for a classic and cohesive kitchen and living room makeover, we jumped at the chance to swankify her adjoining spaces. Here's her letter:
I am in desperate need of your help! My husband and I built our dream house and moved in just about a year ago right before we got married. We love love love our new home, but there is one little problem. I am CLUELESS when it comes to decorating it. So after reading your blog for months, and loving all the great advice you have given so many others I'm biting the bullet and asking for your help:)  The first area that I would like to start with is the family room & kitchen area. They open up to each other, so I feel they need to have the same color scheme. I am not attached to anything in the family room. Actually I'd really like to get all new furniture. For color, my taste is more natural with pops of color for an accent. I tend to lean toward the Pottery Barn/Ballard Design/West Elm kinda look (without the hefty price tag). I'm really interested on your ideas for a kitchen table and I've also thought about doing a backsplash but I'm really not sure what kind (or if it should go all around the kitchen). This is the first of many areas I am hoping you may be able to help me with! I really look forward to hearing back from you. Thanks in advance for your help!!! – Liz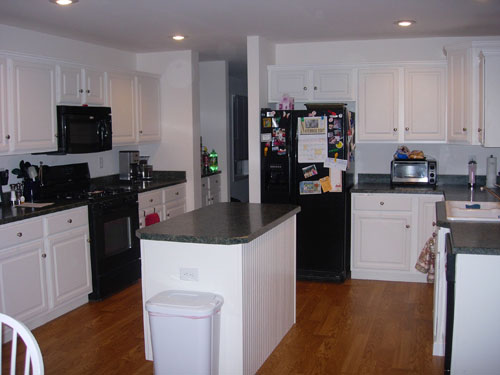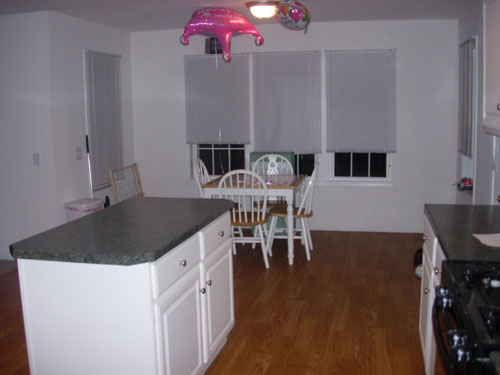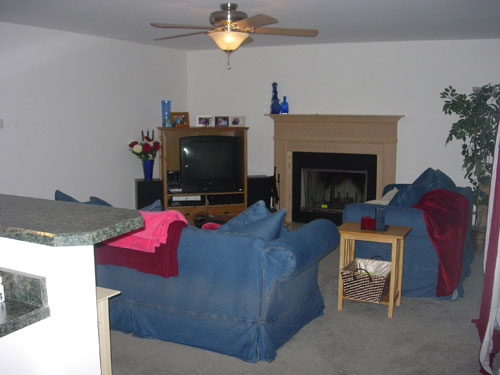 The potential is obvious, and the open floorplan will lend a nice airy feel to the soon to be swankified space. So without further ado, our classic and cohesive kitchen & living room mood board:
Here's the mood board breakdown.
1. We chose a crisp neutral palette to unify both spaces and create the perfect backdrop for any pops of color that Liz would like to add (with such a classic color palette she can even change her accent pillow and accessories out each season if she'd like). We'll introduce a few black pieces into the living room to echo the counters and appliances in the kitchen. We'll also add some rich brown wood tones into both the kitchen area and the living room, again for a sense of balance and cohesion. We also introduced a nice pale tan color for the new sectional (!) that we'll be using to swankify the living area, and of course a healthy dose of white to keep things open and bright. For the wall color, we'd suggest a classic tan that's not too dark and not too light. Glidden's Sand White is juuuuust right. It's basically the goldilocks of tan. And painting the fireplace a glossy white will make it pop even more and help bring the crisp white cabinet color from the kitchen over to the living area as well.
2. The eating area in the kitchen is crying out for a fabulous chandelier focal point, and this clean chrome faux candle version will instantly upgrade the entire space.
3. We also wanted to add some elegance to the living area, and this metal and glass coffee table (which actually echoes a much more expensive version from Pottery Barn) will infuse the space with style while the glass keeps things light and open. And at $99 it's just about four times cheaper than the PB version.
4. Here's our fresh and fabulous sectional (for under $1000!) that will happily replace those two sofas and create a cozy, inviting living room for everyone to flop down on after a long day. The ultimate layout for the living room would be for the sectional to form an L facing the fireplace (so it invites you into the space and still allows people to enjoy the fireplace and the view out the picture window on the right side of the room. And in reconfiguring the couch, Liz can move the TV across the room to the wall on the right and center it beneath the window. By nixing the armoire and bringing in a swank, low profile tv stand, she'll still be able to enjoy the view out the window and won't ever have to deal with a glare again (see #11).
5. These basic white curtains with soft and subtle grey details will work perfectly with our classic color scheme, and by hanging them on either side of the windows in the kitchen and the living room, Liz will keep things consistent and stylish at the same time. And at under $15 per window, they're pretty much a no brainer.
6. And just because we keep describing this look as classic doesn't mean it's not current and fresh. In fact, we think a sleek oh-so-now SimpleHuman trash can to replace the white plastic one at the end of the island will add some dazzle to the kitchen, and make sure every aspect of our little makeover reads as "new and improved".
7. In reconfiguring the living room's layout, the fireplace might look a bit lonely (since we'll be moving the armoire), but we think two floor mirrors leaned casually against the wall on either side of the fireplace will reflect tons of light while opening up the space and creating a dazzling focal wall that looks balanced and posh.
8. And speaking of posh, these glazed metal ceramic tiles will add more of that dazzling sheen to the kitchen in the form of an unbelievably magnificent backsplash. Along with the always fabulous SimpleHuman trash can and the romantic faux candle chandelier, these gleaming accents will add style and shine to Liz's kitchen. And at only $2.50 per tile, we can't believe our luck.
9. This kitchen table will absolutely finish off that eating area in a snap. The mix & matched look (love the black chairs with the brown table!) will add function (it seats more people) and high-fashion to the kitchen without breaking the bank (the table and four chairs are just $699).
10. We also noticed that Liz's counter has an overhang into the living room to accommodate stools for casual meals and reading the morning paper. So why not add a few sophisticated stools (for cheap cheap cheap) to create an entirely new area for hanging out and grabbing a bite.
11. And finally, we present to you the swanky low TV stand to be centered on the wall on the right side of the room for a perfect view from the sectional (and no more glare since it's centered under the window as well). We happen to adore this TV stand so much that we actually have one in our very own den. And the color will bring in the tone of the kitchen table and echo the legs of the stools to keep everything coordinated and cohesive. Score.
So there you have it. Liz's clean and classic kitchen & living room makeover. We'd love to know what you think (any favorite items? anything you'd add?).
Update: We sadly can no longer find the time to take on client commissioned mood boards (we now whip up general inspiration boards instead) but if we ever reinstate them we'll make a big announcement!