Linda's family room is pretty much a blank canvas waiting for some love. Here's her letter:
I'm so glad that waking up early paid off and I scored a mood board, woo hoo! We REALLY need some help in our family room so we actually have a comfortable space to hang out. My hubby would really like two sofas & preferably one with a chaise lounge to kick his feet up on, and maybe even a cozy chair but I can't wait to see what you think our room is actually capable of. We're a fan of classic styles (clean lines, not too overstuffed, not too modern). A touch of glamour is nice too. We like stores like Crate & Barrel as well as Z Gallerie, JC Penney, and even Target (we're not big fans of Ikea since we want items that are a bit more solid- even if that means paying more). The only think we want to keep is the TV. The our sad "drapes" and the couch can go for sure (it's way to light to survive any future kids). We just painted the walls a couple of months ago so we'd prefer to keep them. We love neutrals like browns, black, grays (our usual go to accent color is red, but we're open to anything). On the fireplace wall we're planning to have our carpenter create built-ins so we have storage for things like our DVD player. We aren't sure yet if we just want storage below the mantel or if we want a whole built-in wall unit with closed storage below and bookshelves above the cabinets that go to the ceiling (advice?). Oh and we need some sort of tile for our fireplace. Thanks for everything! – Linda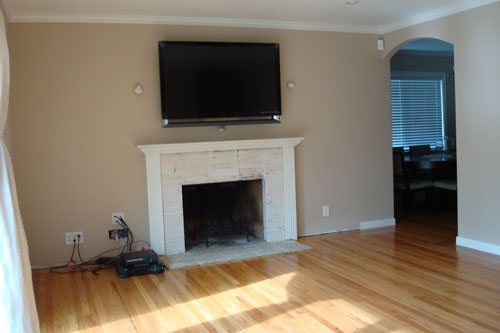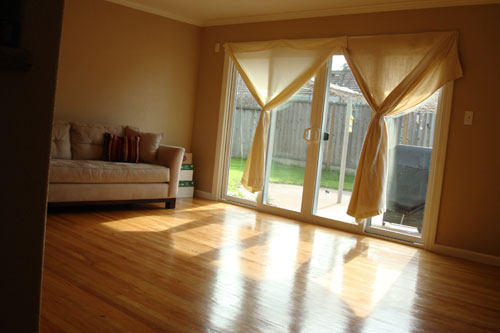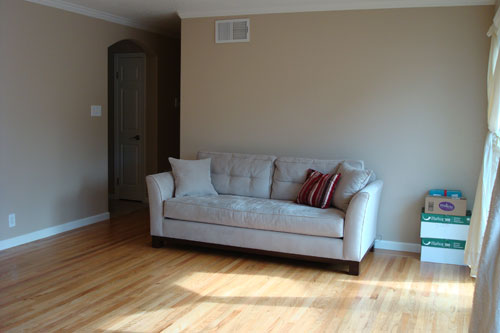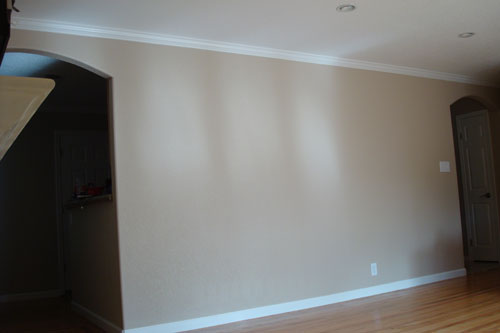 This room won't be bare for long. Here's the plan:
And here's the new layout suggestion: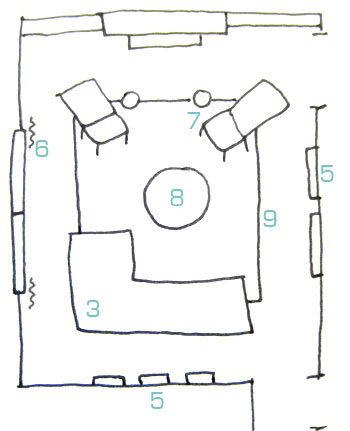 Now for the mood board breakdown.
1. Our color scheme for this formerly bare space will have lots of chocolate, tan and cream with pops of red and turquoise to keep things warm and welcoming. These layered neutrals and punches of color will really complement the soft tan walls for a dimensional and inviting effect.
2. Here's the amazing frosted glass mosaic tile that we hunted down for the fireplace. It's a little bit glam yet nice and neutral in tone (it'll go with anything) so we definitely think Linda should checking it out in person and then take home a box to do the whole fireplace in one fell swoop if it's as lovely in person as it looks online.
3. Here's the clean-lined and classic chocolate sofa that we found with a generously sized chaise lounge for kicking back and relaxing. The dark color is both kid-friendly and elegant- plus a few red velvet pillows will add even more plushness and inviting texture.
4. We'll use a few dashes of turquoise sparingly in this expansive room, but they'll definitely add to the ambiance and the atmosphere. We'd love to see three of these tall sculptural vases on one side of the mantel (to the right of the TV) and the other one on the left side for a bit of chic asymmetry. And speaking of the fireplace, Linda asked for our opinion on the built-in situation so we would suggest going all the way to the ceiling (with concealed storage under the mantel and open bookcases above it) for maximum function and height in the room. It'll really look luxe and lovely and we love that Linda will be able to hide all of her TV components for a clean and streamlined look.
5. When it comes to art Linda has two blank walls to fill in her generously sized space, so we'd love to see two of these classic and geometric votive wall hangings next to each other on the long wall across from the sliding doors and three of these handsome abstract prints (with every color in our palette) hanging in a row about 6″ from each other on the wall across from the fireplace. Oh and since they only make two different prints, ordering the first one twice and rotating it 180 degrees before hanging it will mimic the look of three varied art pieces.
6. We already mentioned that luxe red velvet cushions will make the clean-lined sofa feel both classic and cozy, so bringing in rich chocolate velvet curtains (on sale!) to flank the sliding doors will add even more of that inviting texture while tying into the sofa (and offering more kid-friendly dark colors). Plus punching up the light neutral walls with dramatic deep chocolate panels will add dimension, balance and some great height-accentuating detail to that side of the room (since there are nice tall doorways on the other two walls and those ceiling-height built-ins will be going in around the fireplace).
7. Although Linda mentioned the desire for two sofas (one with a chaise) we just couldn't make them work in the space without awkwardly blocking the fireplace, the sliders, or the entrances to the room. So we dug up two plush and generously sized armchairs to flank the fireplace which will create more eye-pleasing balance in the room while still offering plenty of seating (since most sofas only facilitate two or three guests anyway). The rich wheat color of these armchairs (in Dijon) will really layer in wonderfully with the neutral tones in the wall, the coffee table and the rug along with the deeper chocolate tones of the sofa and the curtains. Yum. Oh and for a dash of that glamour that Linda loves, we dug up these great mirrored side tables (on sale!) to be placed next to each chair for a bit of sparkle and classic-yet-dramatic polish in the space.
8. Here's the aforementioned round coffee table with a nice kid-safe and totally wipeable tufted leather top. It feels elegant and is generously sized enough to balance the large sectional and the armchairs on the other side of the room- plus it's $100 off!
9. Perhaps the most chic-infusing item on our entire mood board, this large and lovely 9 x 13′ rug will ground the floating seating area and create a warm and cohesive effect. We love that the colors in the rug tie into everything from the existing wall tone to the new chair, sofa, and coffee table. And the insane markdown (it's 75% off, which will save Linda over $1,300!) is as jawdropping as they come.
So there you have it. A family room full of classic and inviting style- with a dash of glamour. We can't wait to see what you guys think!
Update: We sadly can no longer find the time to take on client commissioned mood boards (we now whip up general inspiration boards instead) but if we ever reinstate them we'll make a big announcement!