When we heard that Leslie was in the market for a traditional yet casual master bedroom makeover, we couldn't wait to spring into action. Here's her letter:
I have been lurking on your website for quite some time now and I really like all the suggestions you've given out.  My husband and I recently bought a home in an older neighborhood and the downstairs is starting to look great but we are stumped as to how to fix up the attic master bedroom. One side of the space houses the bed and the other side is a sitting area of sorts. We're really more of the traditional casual type. I'd say we are the Pottery Barn type – I love 'antiquing' which I refer to more as "junkin" because I always seem to find something junky to fix up. We need to keep the bed and the two side tables (antique sewing tables my dad refinished for us).  We also need to keep the two dressers (one with the fan & one on left between two chairs since we need them for clothes storage.  Ignore the TV – we're working on getting that wall mounted facing the bed.  We also need to keep the computer, monitor and printer up here which are currently on the right (in the sitting area picture) where the network cable outlet is located.  Right now, we have the computer sitting on an older dresser that is not being used for clothes so we could move the dresser to another location. We are very open to new bedding, furniture, paint, accessories, etc. We can't wait to see what you come up with!  – Leslie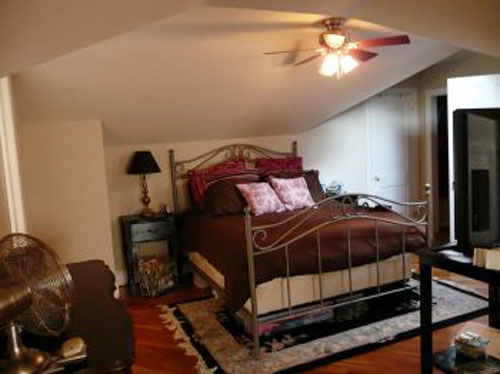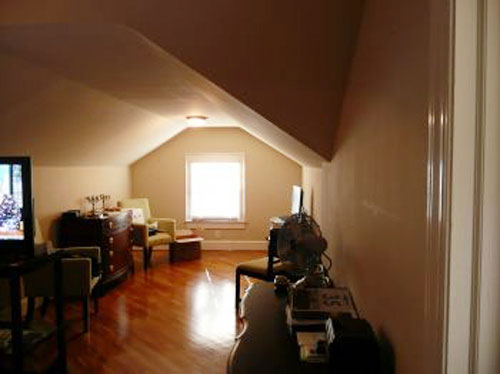 This charming attic master bedroom is about to get a cheerful dose of traditional with a twist. Check out our handy dandy mood board:
Here's the mood board breakdown.
1. Our color palette is chic and sophisticated with deep chocolate wood tones, some steely grays with a hint of silvery blue, and a dash of buttery yellow accents along with loads of soothing and soft white. As for the wall color, we think the palest, sweetest hint of yellow will keep things sunny, warm, and open in the attic space (try Benjamin Moore's Weston Flax to keep things from looking frosty and pastel, it's more of a yellow toned neutral).
2. We also love the idea of bringing a few pops of even brighter yellow to keep things interesting and layered. We love this super convincing silk orchid in a glazed ceramic vase (from Home Depot of all places) to place atop one of Leslie's existing dressers (no green thumb required). And the price is definitely right.
3. For Leslie's side tables that flank the bed, we thought two identical brushed nickel lamps (that you'd swear were from Restoration Hardware) will set the scene for a stunning & symmetrical sleeping zone.
4. The starting point for our entire color palette- this amazing Anthropologie duvet– is sweet, sophisticated… and on sale! It will absolutely make the entire sleeping area, and at over $100 off, it's our deal of the day (and maybe the month).
5. Nothing polishes off a room like some fabulous lighting, and we just love this silver-gray pendant light for over the bed in place of that fan (the switcheroo will instantly lighten the entire space). And for an extra posh feeling, Leslie can snag two of them (at only $99 each) and hang another over in the seating area across the room for more of that sophisticated symmetry which is oh so soothing and serene.
6. To work with the deep wood pieces that are already in the space, this classic wooden desk with a subtle antique appearance will fit in without looking like part of a matched set, and we love when furniture looks casual and collected over time. And the price tag (132 beans) shocked us beyond belief considering a lot of the desks we rejected were over six times the price. Love when that happens.
7. We also thought the sweetly feminine patterned bedding would look fab with a dash of glam. And these crystal candle sconces can be hung above the dresser in the right side of the room in the second picture (try three spaced about a foot apart) to inject a bit of a glam gallery feel while the repetition keeps things swanky and super romantic.
8. These striped silk curtain panels work perfectly near the seating area on the other side of the room with the window. We'd love to see them hung high and wide to make the window appear even bigger. And on clearance for $29 (they're silk, people! that's insane!) they are definitely another steal. Score.
9. Of course Leslie can go with a chocolate rug, a steely gray rug, of even a pale yellow shag to define both the seating area and the sleeping area, but we thought this soft, striped rug (also a perfect fit with our color scheme) would add a bit of that sophisticated pattern on pattern style when paired with the duvet. We think one 5.3 x 7.8 inch rug (for just 99 smackaroos) will look great under the bed, while another can be used to ground the seating area on the opposite side of the room. Once again the symmetric sense of order and balance will ensure a stunning yet soothing sanctuary for Leslie to escape to every evening.
So there it is. A happy & serene mast bedroom retreat loaded with classic and sophisticated details and some chic pattern to boot. We can't wait to hear what you guys think!
Update: We sadly can no longer find the time to take on client commissioned mood boards (we now whip up general inspiration boards instead) but if we ever reinstate them we'll make a big announcement!