Leena's basement family room may not look like much now, but we'll just have to wait for her after pictures to see the big presto change-o. Here's her letter:
Sorry for the overcrowded pics, but you can tell what we are dealing with: an orange-tinted, super shiny, knotty pine panel-filled basement family room. The plan is to gut it – take out any remnants of knotty pine, take down the built in shelving (behind the couch and behind the big TV), get rid of the carpet, put in drywall and start over. We like traditional, but comfortable. We don't like white walls.  We're willing to go more modern and casual in this space as it is the less formal space in the house. The staircase down to the space is somewhat problematic. We pulled the carpet off the stairs and they are utility stairs. My current thinking is that we could paint them black and transition into modular black and another color carpeting on the floor, and it wouldn't be too awful, but I definitely need help figuring out what to do with the stairs and the flooring. The ceilings are somewhat low and there is not a lot of natural light, so we need to account for that as well. We like clean lines, solids, simple patterns. This will be the pseudo-man-cave because we don't have enough space in the house to have a true one, so keeping things masculine, or at least not feminine, would be ideal. I'm super excited about your recommendations! Thanks! -Leena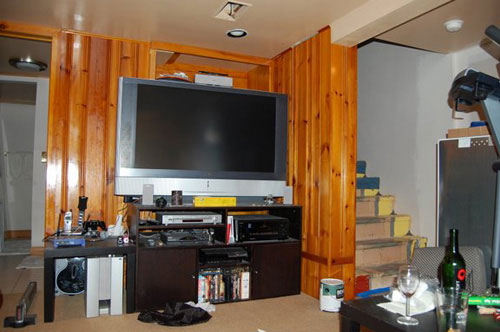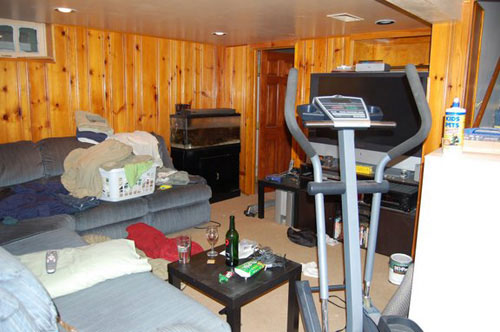 This space is primed for a major makeover. Here's the plan:
And now for the mood board breakdown.
1. Our color scheme will be plucked from the amazing color block rug that we'll be bringing in to ground the seating area and set the scene. Some cool blue tones will be injected with pillows and even oversized art while the walls will feel airy and open with a warm buttery yellow-cream tone (Benjamin Moore's Fresh Air). Dark furnishings will amp up the crisp ambiance while adding lots of function to the space.
2. Speaking of dark furnishings, this clean-lined coffee table will tuck right in front of the smaller-scale sectional that we'll be bringing in for easy living (curved tables create effortless flow).
3. This long and low chocolate media cabinet will easily house Leena's TV and all of her components for a current and organized look (and the low line of it makes it perfect for a basement with low ceilings- it's all about proportion).
4. This amazing oversized ready-to-hang canvas map from Ikea will really add interest and style to the room when it's hung behind the sectional facing the TV (that built-in shelving and paneling will be removed and replaced with drywall for a finished and updated appearance).
5. A throw or two for the sofa in some bright and festive colors that are found in the rug will really add warmth and inviting ambiance to a room that once felt, well… basement-ish. We love the blue one and the orange one for in here- oh heck we like them all!
6. This smaller scale brown sectional (in "otter") will slide right into the corner and feel a lot more accomodating thanks to the modest footprint and the new round coffee table that will go with it (not to mention the added square footage that will be freed up when the shelving is removed).
7. This is the amazing 8 x 10′ rug (on clearance for $700 off!) that will make the entire room when it's floated in the middle of the living area with the sectional and the coffee table on it to ground the seating area. And speaking of the flooring, Leena mentioned that she needed a plan for the stairs and the ground in the basement so we think deep chocolate porch and floor paint (we like Brownstone by Behr) coupled with deep mocha wood or laminate flooring in the basement would be the bee's knees (and Lumber Liquidators has some amazing deals on hardwood for $2.50 a square foot and even less for laminate!). Of course Leena could also go with a tight weave wall to wall carpet like a tan berber, and we still love the rug thrown down right over it to define the seating area.
8. Here are some cool blue pillows to break up all the brown in the sectional and tie in with the tones in the rug and the map. Other blue-gray accessories (like vases for the TV stand or even a round tray for the coffee table) will add even more punch in a snap.
So there you have it. A basement family room full of casual and inviting style. We can't wait to see what you guys think!
Update: We sadly can no longer find the time to take on client commissioned mood boards (we now whip up general inspiration boards instead) but if we ever reinstate them we'll make a big announcement!