When Laura contacted us for some living room first aid, we wasted no time doling out some decorating CPR. Here's her letter:
I've been reading your blog for a month or so and love what you've done with your house! I am hoping you can help me with my living room. We recently painted (the color is Restoration Hardware "latte" which we had color-matched at Sherwin Williams) and got new window treatments (from Pottery Barn Outlet- love them). As much as I would like to replace the burgundy sofa and chair with something light and slip covered, we can't afford to right now. So my dilemma is trying to work with them even though they're not the look I'm going for. We are pulling up the yucky carpet to install hardwood but have not chosen what kind. We also need an entertainment center with lots of storage to house our TV . Your ideas would be greatly appreciated. – Laura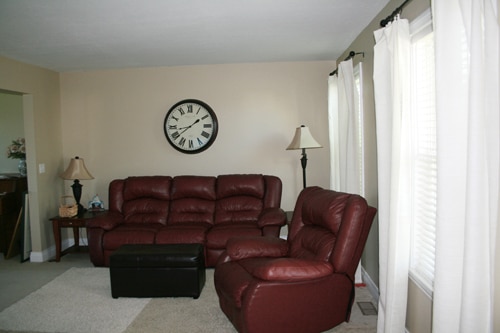 Well Laura's space came with just about the perfect base. Latte colored walls and breezy white curtain panels are some of our all time favorites, so the challenge was to find items that work with the current sofa and chair but will also compliment a new lighter slipcovered version down the line.
Here's the mood board breakdown.
1. This timeless media hutch from Pottery Barn (with free shipping) will certainly store Laura's TV in style while providing lots of concealed storage and a fair amount of display space as well. And the deep espresso finish will begin to introduce the new color palette for the room- a scheme that will work with the deep red sofas as well as without them in the future.
2. This classic and warm color palette includes the current "latte" wall color, the deep burgundy from the sofa, a rich gold that we will introduce with some throw pillows and the deep chocolate color that we're bringing in with espresso colored wood pieces.
3. This stunning round coffee table would work better than a rectangular one since the chair takes up some of the space in front of the couch. Keeping things open with a glass version reflects light and showcases the amazing x-based design.
4. One of our favorite ways to balance a living room is to use two identical side tables with matching lamps. Two of these sleek table lamps (marked down by $50) will add balance and order to the space by injecting a touch of modernity to keep things looking fresh.
5. Touches of gold in the form of patterned and textured pillows (on clearance) will tone down all the burgundy in the couch and add a rich, warm tone that works with the deep wood and the latte walls.
6. When it comes to wood floor recommendations, we always mention Lumber Liquidators. They supplied our new oak floors in the kitchen and den, and we think their brazilian walnut flooring would look amazing in place of Laura's old carpet. The sophisticated variations and rich tones will add so much traditional elegance to the space while allowing the deep wood furniture to pop. And the wholesale price can't be beat.
7. These trunk-style side tables will offer storage as well as some visual weight to either side of the rather hefty looking couch to keep everything balanced. And the sleek lighter lamps will be the perfect compliments to the chunky side tables.
8. You just can't beat the price for two of these metal & glass candle sconces (under $15 for two) and we think one on either side of Laura's clock will fill out that big wall and provide some ambient light whenever Laura decides to light 'em.
So that's what we came up with for Laura's living room reinvention. Whaddya think? Share and share alike.
Update: We sadly can no longer find the time to take on client commissioned mood boards (we now whip up general inspiration boards instead) but if we ever reinstate them we'll make a big announcement!