When we heard that Kristin needed help with a full bathroom overhaul, we couldn't wait to whip up something serene and swoonworthy. Here's her letter:
I've been a huge fan of your site for a while and I love seeing all your ideas. My husband and I just recently purchased our first home and we are in need of some design help for the bathroom. We have found a beautiful glass mosaic tile for the tub/shower area but that's as far as we got. We need help on everything else. Currently the bathroom is a mismatch of different colors, yellow and black tiles on the walls and gray tiles on the floor. The vanity is totally busted and the light fixtures are ugly. The only thing I would like to keep are our white towels but everything else can be changed. This is our only bathroom in the house so we want it to make a statement. My husband says our style is transitional and we love clean lines and brushed nickel. I really look forward to your ideas. Thanks! -Kristin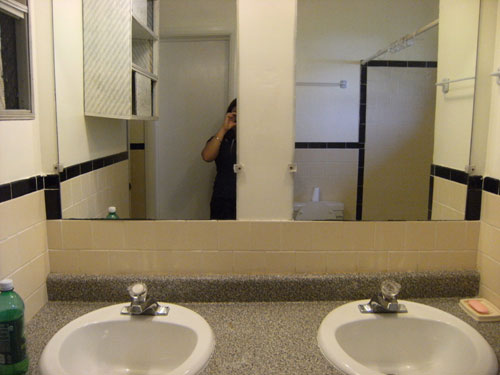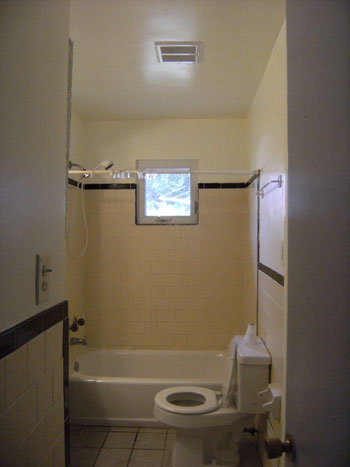 That bathroom has definitely seen better days, but with a bit of work it'll blossom into an absolute showstopper. So without further ado, our handy dandy bathroom mood board makeover:
Here's the moodboard breakdown.
1. Our color palette will be serene yet crisp. Cool with a dash of warm. The ultimate balance for the ultimate bathroom. The dreamy pale green mosaic tiles that Kristin discovered herself were the starting point for our entire scheme. And we added cream (which we'll bring in with some fab floor tile) rich brown (to represent the gorge double vanity that we dug up) and an understated tan (which we'll work in with a super long and super luxe DIY shower curtain project). When it comes to the wall color, a soothing and subtle hint of green will add a fresh, spa-like feeling to the room and, of course, complement that amazing tile that Kristin adores (try Glidden's Enchanting Land).
2. Since all the mismatched tile will be getting demoed in favor of something a little more current (and a lot more coordinated) replacing the wall tile around the room with drywall will make for a cleaner and more contemporary feel (and save Kristin tons of money since she won't be bringing in tons more tile). The pale green paint that we suggested for the walls will be easy to wipe in a semi-gloss, and the amazing shower tiles will really wow without an abundance of busy wall tile competition. We also think Kristin should carry her shower tile all the way to the ceiling- a current trend that looks oh-so-luxurious and really adds height and drama to any space. And laying down some creamy 18 x 18 inch ceramic tile on the floor (we liked Crema) will add to the spa vibe and look rich and oversized (especially in comparison to the small green mosaic tiles in the shower). We also found these glass subway tiles to complement Kristin's green mosaic tiles, so she can really create a high end look by tiling the whole shower to the ceiling with these and adding a stunning green mosaic tile stripe if she so desires. There are lots of ways to combine the glass subway tiles and her striking green mosaic tiles, so whether she wants to use the green mosaic tiles exclusively or combine them with the glass subway tile, the outcome is sure to be nothing short of spectacular.
3. Here's we get a little creative. Since we suggested that Kristin extend her new shower tiles all the way to the ceiling, we think a ceiling height shower curtain is paramount as well. But we decided to go a little nontraditional for an unexpected and elegant effect. These flax colored opaque linen panels are meant to be window treatments, but threaded through a shower rod they can become a stunning and extra long shower curtain (they come in lengths like 96 inches and even 108 inches!). The addition of an extra long shower curtain liner will keep everything protected (try Bed Bath & Beyond for a 96″ version, which should be long enough to tuck into the tub)- and Kristin can just hang another shower curtain rod behind the one with the linen curtains on it to hold up the liner for two layers of luxury and a pretty fantastic bathroom focal point.
4. We couldn't believe the price of these brushed nickel light fixtures from Home Depot, and think one above each of our his & hers mirrors will really add sparkle and a light, airy feeling. We love that some of the elements in the room are more modern (the tile, the vanity, and the mirrors) while other elements are more polished, refined and traditional (these light fixtures, the shower curtain, and the faucet). Everything comes together to capture that transitional feeling that Kristin mentioned in her letter, and we love that this bathroom is a fusion of contemporary elegance.
5.These $29 mirrors from Ikea will look fabulous above our double vanity to create two symmetrical sink areas with style to spare. We loved that the white frame made them sparkle and of course the price had us at hello.
6. To say that we looked at a lot of vanities for this bathroom would be an understatement. We searched high and low for the perfect combination of elegance and modern style. But nothing took our breath away quite like this magnificent double vanity complete with clean lines, open shelving, sleek sinks, and a gorgeous white granite top- and the fact that it's $700 off (!) is the icing on the cake.
7. We chose these widespread brushed nickel faucets (now 63% off!) to bring more of Kristin and her husband's favorite accent metal into the space while balancing the modern feeling of the sink and vanity with the more polished light fixtures and the refined shower curtain. The sleek sophistication that they'll add is the perfect finishing touch for Kristin's new his & hers sink area.
8. Kristen mentioned that everything should go except for her plush white towels, so we added them to the moodboard to show her just how pure and inviting they'll look in her new bathroom once it all comes to fruition.
9. We'd also definitely suggest removing the dated towel bar above the toilet and bringing in three of these gorgeous glass shelves (with- you guessed it- brushed nickel hardware) to hang on top of one another to create a sophisticated and airy storage area for cotton balls and q-tips in clean and classic white ceramic or clear acrylic containers.
So there you have it. Kristin's chic and modern bathroom makeover. We can't wait to see what you guys think!
Update: We sadly can no longer find the time to take on client commissioned mood boards (we now whip up general inspiration boards instead) but if we ever reinstate them we'll make a big announcement!