As soon as we received this basement man-cave makeover challenge, we couldn't wait to dive in. Often times the basement can become a confused mish-mash of muddled man decor, so we'll see if we can bring some order and efficiency (along with a whole lotta swoonworthy style) to Kelly's soon to be extinct man-cave. Here's her letter:
Please help me transform the 'man-cave' which has taken root in my basement into a less masculine place that we can all relax and enjoy. We have lived in our house for 4+ years, but this room has been the 'last frontier'. My objective is to make it more cohesive while maintaining its functionality as a TV room, computer room, music room & soon to be toddler play area. The flat screen TV might be going on the wall (not sure if Husband has the courage to try to hang it) and the furniture can definitely be moved around. The futon can go into storage but the couch, computer desk, CD case, and stereo must stay in the room. Style wise we're casual, and we like the Pottery Barn / Crate & Barrel look. I'm definitely open to a new wall color (as long as it works with the blue-gray tile on the floor) so hopefully you can come up with something. Can't wait to hear your thoughts! -Kelly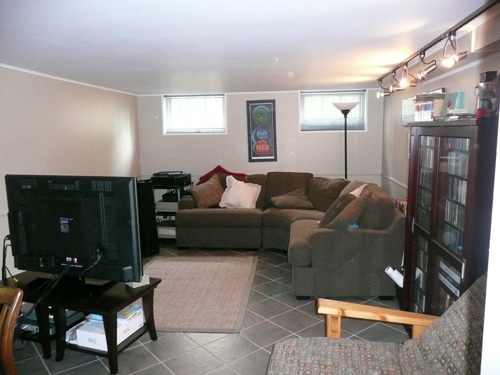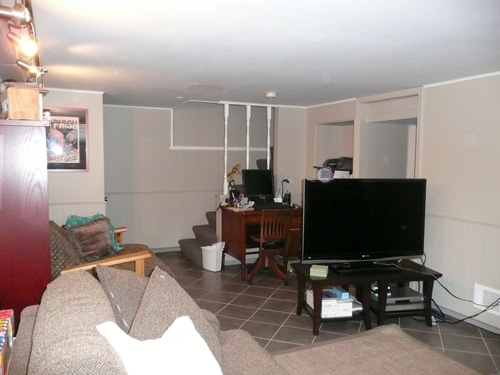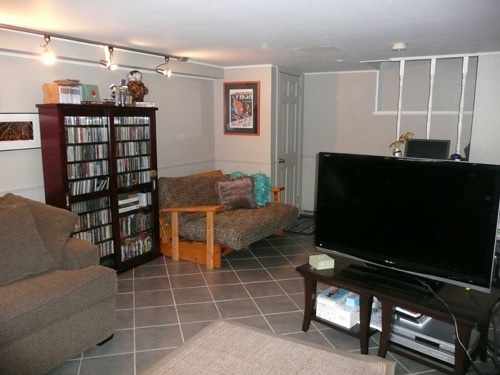 Ok, it's certainly a challenge, but there's nothing about this room that a little Young House Love mood board can't solve. We're excited to introduce something wife-friendly and kid-friendly with a whole lotta functionality folded in for Kelly's TV lovin' hubby.
Here's the mood board breakdown.
1. Here's Kelly's new color scheme. The red-brown color represents the wood tones of the media cabinet and the desk while the medium brown color is plucked from the couch and the blue-gray color represents the tile floor. With all these subtle gray, blue and brown undertones going on, a pale pale pale ice blue (not a baby blue, a silvery-gray-almost-white-pale-blue like Glidden's Snowbell) would look amazing on the walls, the trim, the moldings, the banisters, and even the ceiling. By coating the room in one subtle silvery color you'll blur the boundaries of the room and keep everything feeling open and fresh (while complimenting the couch, floor, and existing furniture pieces). Some people might think painting the ceiling could close in the space, but since it's such a pale, cool color it will actually make the space feel less defined, less claustrophobic and a whole lot less beige.
2. Hanging these great floor length curtains from Ikea (with every color in our color scheme!) extra wide on either side of the small windows above the sofa will beef up those windows and create the look of a whole wall of curtains. So cozy and chic. Another set of curtains can be hung over the niche and the doorway to the right of Kelly's desk to obscure the storage area where she keeps her printer and some CD's (and they can be swagged to the side for easy access).
3. Adding fun 12 inch cork tiles to the corner where the futon used to be (Kelly can snag a bunch from Michael's or Office Max) will create a fun pin board where her toddler can hang everything from finger paintings to spaghetti necklaces. And since the futon will be relegated to storage, Kelly can also scootch the media cabinet over a bit so there's a little more space between it and the sofa. The parameters of the pinboard are really Kelly's call, but we think a few rows of floor to ceiling cork on both walls that meet in the corner will create a cozy little corner pin board, and a nook that's just perfect for Kelly's playful babe.
4. This sleek pop of white in the form of a floor lamp can replace the dark lamp behind Kelly's couch. It'll lighten things up and look right at home in front of those fabulous patterned curtains that will grace the back wall and create lots of interest and movement when the light bounces around.
5. This media cabinet from Target is the answer to the current TV debacle. The current television cabinet has darker wood that doesn't tie in as well with the other furniture pieces in the room, so by replacing it with this redder version, it'll work much better with the big CD cabinet and existing desk. By moving it against the wall where Kelly's TV is already plugged in (directly across from the sectional) the room will instantly feel more open and there won't be any more unruly cords in sight. This media cabinet will definitely come in handy for covertly storing all of the tv components like the DVD player and the cable box even if Kelly's darling hubby gets the courage to hang the TV on the wall above it… and thankfully it'll look just fabulous even if he doesn't.
6. This unbelievably amazing cork ottoman from West Elm served as our muse for this entire design board. Not only will it look fantastic in front of the sectional thanks to the gentle curve in the sofa that mimics its circular design, it's also toddler friendly (no sharp corners!) and can easily be pushed out of the center of the seating area (and even used as extra seating) should Kelly's little darling want to play on the rug in front of the TV.
7. This super fabulous chair from Walmart would be the perfect new desk chair and would single-handedly break up all the wood that's going on in Kelly's office area while adding some bright cheerful white to the other side of the room to keep things feeling balanced and airy.
8. A plush (and affordable) khaki beanbag chair is the perfect addition to the corner where the futon used to be (which will also sport a cork pin board on the wall). By creating a special place in the room devoted to little-person playtime, everyone will truly feel at home in this man-cave makeover.
9. This super swanky (and super discounted) 8 x 10 shag rug in a subtle tan tone will define the seating area and ground the sectional while creating a soft and snuggly place for toddler playtime (and nap time). Score.
10. For another punch of white, we've dug up a swanky table lamp for the desk that will complement the sleek white floor lamp on the opposite side of the room. Adding other accessories in white, pale blue, and tan will keep the room light and airy. And everyone knows that a light and airy basement is nothing short of a miracle.
That about does it for the man-cave makeover. What do you guys think? I'm excited to hear what Kelly (and her fabulous family) have to say about our ideas. And I'm psyched to see her pictures of the dramatic change… lots and lots of 'em. And speaking of pictures, we're about a week away from featuring our very first "after" design dilemma. That's right, one of our lovely readers brought our mood board to life and is just awaiting the delivery of the rug to call it complete and send us all the after photos. Exciting, huh? Stay tuned…
Update: We sadly can no longer find the time to take on client commissioned mood boards (we now whip up general inspiration boards instead) but if we ever reinstate them we'll make a big announcement!