Kate's ready to totally transform her blank slate of a basement. Here's her letter:
I'm a long time reader of your site and I'm so excited that you're working on our space. We (me, my husband, our 9 month old daughter Annabelle and our pooch Speedy) need help with our basement tv/rec room! It's basically an unfinished white drywall box and we're having trouble coming up with any inspiration. Our goal is to create a room where we watch tv and and also a playroom for Annabelle that has some flexibility to grow with her. We haven't ever had water problems in the basement, but we don't want to tempt fate with anything too precious or unremovable at floor level, so area rugs for floor coverings work best. Most of our house is furnished through Craigslist, eBay, and antique finds- it's an eclectic mix of mid-century, art deco and whatever else plays nicely together. The only item that has to stay is the navy blue sectional. Everything else can go. The TV & stand aren't sturdy enough for a toddler so we're planning on a wall mounted tv (we'll put the components in the adjoining storage space with a radio controlled remote- so we won't need a tv stand). The ceiling light fixtures also have to go, so we'd love your suggestions. We're definitely looking for a wall color too (and one for the adjoining bathroom if you could). We're not scared of prints so if you wanted to suggest a stencil or wallpaper for the bathroom or the main room, we'd be game. Can't wait to see what you do!- Kate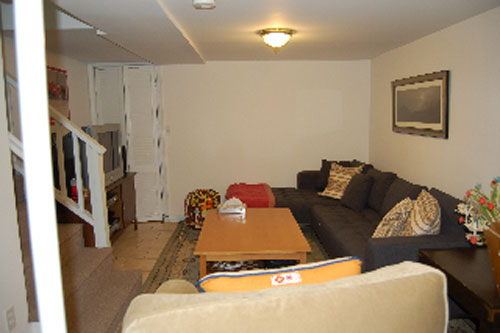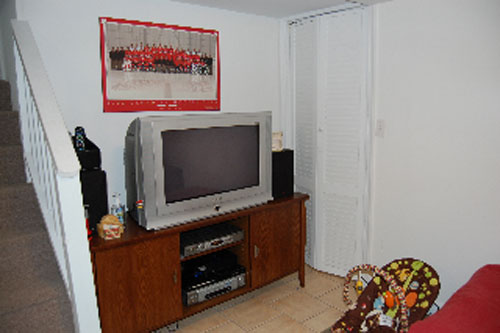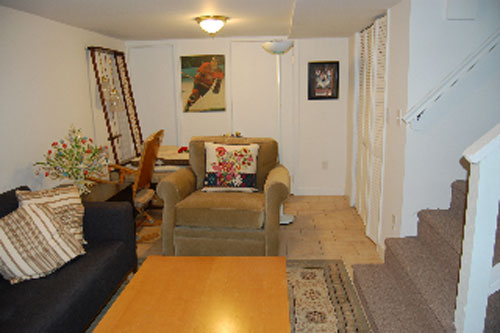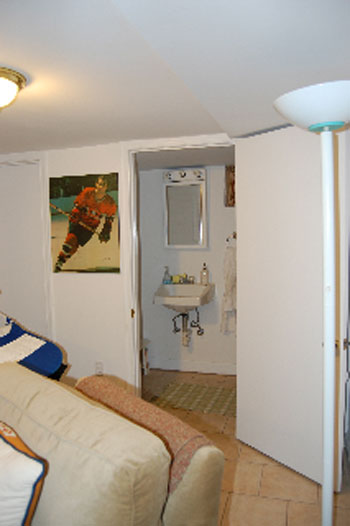 Here's the plan:
And here's the new layout suggestion: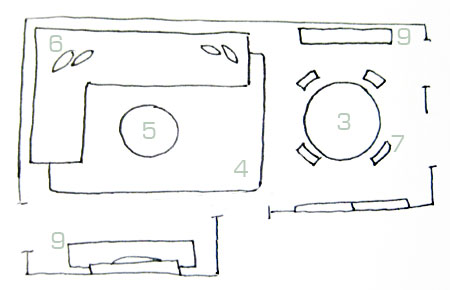 Now for the mood board breakdown.

1. When it comes to the color palette, we'd love to see the existing navy sectional paired with lots of warm wheaty neutrals along with some more vibrant tones like a soft aqua and light turquoise- just to keep it cheerful and happy down in their windowless space. And as for the walls, a warm and subtle wheat colored tan will add a nice cozy atmosphere to this future basement family room (Benjamin Moore's Sandy Brown 1046). Painting those uneven ceilings a lighter shade of tan instead of bright white will de-emphasize them for a more seamless and enveloping vibe (Benjamin Moore's Lighthouse Landing 1044). And when it comes to the adjoined bathroom, since Kate mentioned that she's not afraid of a bit of boldness, we think a mid-toned aqua color with a hint of gray (to keep it from getting too crazy) would be really fun in that small space off of the living area (Benjamin Moore's Paradiso 717).
2. We love that Kate and her family are into an eclectic mid-century-modern meets art-deco look, especially since they snag many of their furnishings on a budget from places like Craigslist. This budget friendly and modern 18″ pendant light from Ikea (for just $39) should fit right in with their aesthetic, and it'll look amazing when it's hung over the new table area that we'll be adding as well as over the sofa on the other side of the room for a bit of balance and interesting texture in both areas.
3. This sleek and modern tulip table is the affordable Ikea version of the original- plus it's oh so easy to wipe clean with kiddos (which is why we think it'll make a great little drawing/game playing area where Annabelle can someday color with her crayons and play with her legos). So many family rooms gain a ton of function with the addition of a small round table since it can be used in about a million ways.
4. We can't get over this 6 x 9′ hand tufted wool rug with some pretty amazing art deco medallion detailing. Not only will the fresh turquoise color pair perfectly with the navy sofa and the chocolate coffee table that we'll be bringing in, we think it'll instantly define the seating area and really add a ton of cheerful interest and pattern to the space. It's a room-maker for sure.
5. And here's that chocolate coffee table we mentioned, which we'd also love to see in front of the navy sectional to ground the seating space. The round corners are definitely more kid friendly than anything pointy (or glass) and we also love how the shape mimics the tulip table on the other side of the room. Plus the shape will help when it comes to the flow of the space since round tables are always easier to slip around than anything with edges.
6. An assortment of tan, teal, turquoise, and wheat pillows will break up all that navy in the sofa while complementing everything from the rug to the new upholstered chairs we dug up for the table on the other side of the room.
7. And speaking of those great upholstered chairs, they're striped (which always helps when it comes to kids and hiding stains) and the price is pretty darn amazing (2 for $199). Plus the fact that they work seamlessly with our color scheme is the icing on the cake. And the dark legs tie in with the round coffee table on the other side of the space for an even more cohesive and balanced effect.
8. This super huge statement making map (just $16.99!) has some great rich tones of navy that will easily relate to the sectional below it (we'd love to see it hanging centered above the back of the sofa). Walking down the stairs into a room with warm and enveloping wheaty walls and fun details like a chic oversized map and a turquoise rug will really give this room a whole new feeling. And adding in a few dark wood furnishings and some ample splashes of white along with the navy couch will temper the brights- so it's not too chaotic and kid-ish.
9. We'd actually love to see two Expedit systems worked into the room. The first would be this model, placed on its side so it's four squares wide and two squares high. We'd like to see it centered in the TV nook (with a new flatscreen mounted on the wall above it as Kate mentioned in her letter). And the fact that they'll be wirelessly hiding their media components in the nearby storage space will keep things looking super clean and kid-friendly to boot. Then Kate can snag some perfectly sized woven baskets that work with our color palette (like these) for Annabelle to fill with toys, legos, and everything else she'd love to play with- and they can be slid right into the square cubbies for tons of concealed storage and easy-on-the-eyes function that any kid would love.
The second Expedit piece that we think would definitely add to the space would be this 4 x 4 square version, which could be placed on the same wall as the sectional behind the table. Again Kate can bring in boxes and baskets to fill with items that Annabelle can use- whether it's board games or crayons for drawing at the table. And items like hardcover books and lacquer boxes in aqua, wheat, navy and chocolate will also add interest and color. Kate can even lean items like a bright turquoise canvas and an unbreakable wood bowl full of wheat colored woven balls atop this taller storage piece to give it a bit more height and fill up that whole wall behind the table.
So there you have it. A basement full of eclectic and inviting style. We can't wait to see what you guys think!
Update: We sadly can no longer find the time to take on client commissioned mood boards (and just whip up general inspiration boards instead) but if we ever reinstate them we'll make a big announcement on the blog!