Spring has sprung and everyone seems to be requesting soft blue touches when it comes to mood board makeovers (it's certainly a gender neutral color that feels serene… and more fun than builder beige)! Take Karin who asked for an elegant, comfortable and traditional living room to work with her existing blue and yellow sofa and her creamy tan walls. Here's her letter:
Hi Youngsters, this is our formal living room which we have not done anything with since we moved into our house almost a year ago. Our style is pretty traditional but I'd like it to be elegant and comfortable. I'm intimidated by the tall ceilings and large window in this room. We aren't up to the task of painting right now. The couch needs to stay (for budget purposes- it is creamy yellow and slate blue if you look closely). I don't know if it would fit better on the wall where it is or under the window. I think I'd like 2 chairs, a coffee table, and area rug but I need some direction (and I love your style). The end table can stay or go- either way. Also, there is no overhead lighting in here so we need lamps or something. As far as colors, I like anything that isn't too overwhelming. My husband has something against turquoise tones but we both like blue a lot. I would like the living and dining areas to feel cohesive. If you had a suggestion about an art piece or window treatment that would make the dining room tie into the living room I'd love to hear it. I'm so looking forward to seeing what you think we should do with our room! – Karin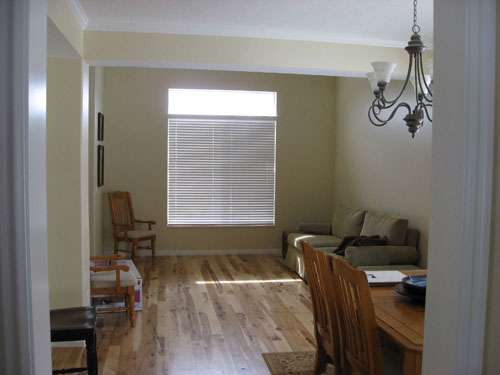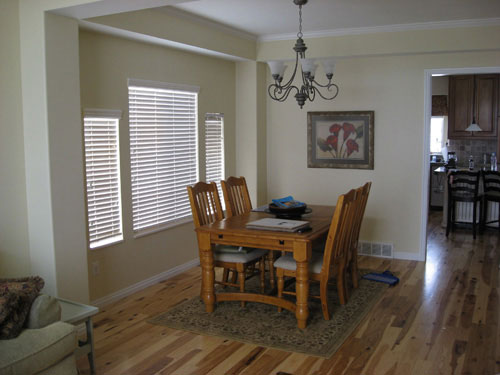 This space is definitely bursting with potential (just look at those gorgeous floors and that great picture window)! Here's the plan:
And now for the mood board breakdown.
1. We based our color palette on the creamy yellow and slate blue tones in Karin's existing couch, so we'll be bringing in some creamy butterscotch accents and a few blue items in a variety of shades. We'll also introduce some elegant and rich dark wood pieces for a traditional yet fresh take on Karin's living room.
As for the furniture arrangement, we'd love to see the sofa on the wall with the large picture window. Some floor length curtains will frame the view and add elegance while two floor lamps on either side of the sofa will contribute to a polished and cohesive focal wall that can be enjoyed from the nearby dining space. An area rug will further help to define the seating arrangement and help Karin place her coffee table (centered in front of the sofa) and her two new armchairs across from the sofa. Between the arm chairs we'd love to see a simple side table to connect the entire seating are which will sit on the rug for further definition and balance.
2. Here are those toffee colored curtains that we mentioned, and they have golden yellow undertones that can be found in the sofa while tying into the rest of the items we'll be bringing in. We'd love to see them hung and wide above the transom window to allow for maximum light and to frame that gorgeous view. Hanging them at least a 12-18″ wide on each side will ensure that the panels will frame the couch nicely and won't block any of the light or the view.
3. We'd love to see two of these silk pillows in a warm butterscotch tone on the sofa to bring out the creamy yellow coloring in the sofa to work it into the new items that we'll be introducing.
4. Here are the aforementioned floor lamps that we'd love to see on either side of the sofa in front of those luxurious toffee curtains that will hang on either side of the window. We intentionally went for two matching floor lamps (instead of side tables with matching table lamps) because we knew we'd be bringing in a side table to link the two chairs that will face the sofa along with a coffee table (so we didn't want to crowd the space with too much furniture). And the price was totally right on these babies, too! The brass will also inject that traditional feeling while adding elegance to spare, and the clean lines still feel fresh and current.
5. Here's the rich chocolate toned side table that will sit between the two new slipper chairs that will face the sofa to create a balanced and elegant seating area that's both classic and inviting. And at under $100 for such great detailing, it's really a no-brainer!
6. We searched far and wide for some traditional art with some creamy yellow and soft blue tones to tie into our color scheme for above the sofa. And we thanked our lucky stars when we came across these beautiful prints (here's one and here's the other) that will look gorgeous framed next to each other on the wall where the sofa used to live (now when you enter the room from the front door, you'll feast your eyes on these lovelies). As for frames, we'd love to see simple chocolate wooden ones to work with the new furnishings and a nice cream or white mat to add heft to the prints and make them look bigger and more expensive (can you believe they're only $12.99 each?!).
7.  Sometimes we like to go with what we know, and the fact that we have two of these lovely slipper chairs from Target in our own home helped tip the scales in their favor. They have soft creamy undertones and their armless design will make the entire seating area feel airy and open (plus they can easy fit two people in a pinch thanks to the lack of arms). At first they feel a bit stiff, but 2-3 weeks of perching on them will break them in and they'll be comfy and fabulous (and you can't beat the price!). Two slate blue lumbar pillows (or even some tawny brown velvet ones) will complete the look in a snap.
8. Words can't express how elegant and gorgeous the entire room will look thanks to this amazing 5 x 8 rug. It has every color in our palette and will define the seating area perfectly while grounding the coffee table and those floating chairs for a cohesive and balanced layout that feels luxe and lovely.
9. Here's our lovely chocolate brown coffee table with elegant clean-lines and a sophisticated yet comfortable feeling for laid back lounging and high-class entertaining alike. And the $90 clearance pricing is utterly amazing!
10. Karin asked us to help her tie in her dining area, so we think bringing in some pops of blue (in these lovely and sophisticated cobalt vases) will add interest and style to the eating area as well. Plus they're under $20! Score.
11. We also adore these prints and love that they work so perfectly with the other ones that we dug up for the living area. Hung next to each other in dark wood frames on the wall behind the dining table, they'll tie both spaces together and create an inviting and cozy atmosphere in no time flat (here's one and here's the other). Oh and did we mention they're just $8.99 each?
So there you have it. A truly transfomative living room makeover for Karin. We can't wait to hear what you guys think!
Update: We sadly can no longer find the time to take on client commissioned mood boards (we now whip up general inspiration boards instead) but if we ever reinstate them we'll make a big announcement!