When Jules tasked us with swankifying her pink on pink lavatory, we couldn't wait to inject some fresh and fabulous flavor. Here's her letter:
Thanks for tackling my pink bathroom project! As you know, my family and I live in a 1958 red-brick ranch in southern California. The Mamie Pink bathroom is, obviously, original.  We plan to renovate down the road (3-5 years), but in the meantime want to have lots of fun with the pink sinks, tub, and toilet.  Let's face it, when we redo the bathroom, we aren't going to buy pink fixtures–so why not live it up while we have them? But the reason I'm asking you both for help is because while we love the pink, there isn't much else that doesn't cause shivers. The floor is an unspeakable horror. I am sure someone, somewhere, finds the lighting charming, but not us! Last year we scraped with wallpaper off and painted the walls a very soft pink and while it's pretty, it does absolutely nothing for the bathroom.  Meh. The Mister says he is willing to tear out the tub enclosure and replace it with something like this and a faucet like this. I am looking to do something fun and happy. This bathroom is not only the guest bathroom, it is also our sons' bathroom (ages 4 and 1). I do want the room to flow with the rest of the house, but I don't mind a hip kids bathroom. They are only young once, and I have the rest of my life to design a "serious" adult/guest bath. I hope all this information helps rather than horrifies. You're earning your clams on this one. – Jules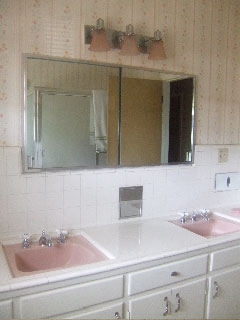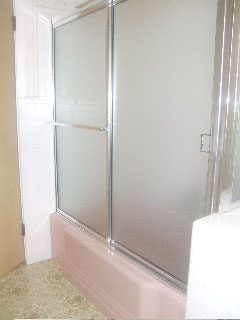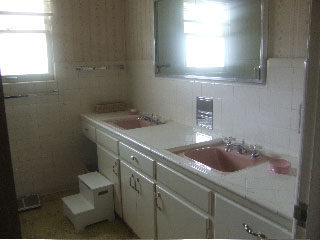 This vintage bathroom has charm to spare but could use a few fun, punchy accessories to create the playful kids bathroom that Jules craves. So without further ado, our happy little mood board:
Here's the mood board breakdown.
Finding a way to neutralize the pink for the boys while keeping things playful (but subdued so the room still flows with the rest of the house) was quite the challenge. But we had lots of fun searching for playful accents and pops of cheerful color. Our one complaint is that it's surprisingly hard to find patterned textiles that aren't totally girly! You'd be amazed at the sheer volume of flowery shower curtains and swirly (& girly) fabrics. But what about the boys?! We dug deep and came up with a few things that we think won't scream girl, but will still fit in with a pink fixtured space. Here's what we found:
1. Our palette is all about counterbalancing the pink for the boys, yet contrasting it with some fun yellow for that playful and happy vibe that Jules adores. Bringing a soothing taupy-brown onto the floor and into the shower curtain will cut all the girly white and pink, while a punchy yellow tone will inject cheer in the form of a few fresh and fun accessories. On the walls, we think a more subtle yellow tone (try Benjamin Moore's Provence Creme or Glidden's Pale Lemon) will keep things light and cheerful while working with our brighter yellow accessories as well as all the neutral taupy-brown and those charming pink fixtures.
2. This adorable set of bathroom accessories from Target was actually something Jules came across, and we thought it would inject the perfect amount of fun into the room for her children (it can also easily be swapped out for something else as they grow). We even managed to work a few more jungle-influenced items (one subtle, and one not-so-subtle) into the mood board to play off those adorable lions and giraffes (patience my friends, we'll get there).
3. This bright and happy chenille shag rug (for just $12) will look perfect in front of the tub for wet little feet as well as another fun burst of sunshine in the space.
4. Jules also mentioned that her boys love listening to the radio while they're sudsing up, so we thought we'd do them one better than the average bathroom radio. We found this adorable floating submarine radio to make bathtime even more exciting. And although yellow submarines and lion and giraffe accessories might not seem to fit together, in the mind of a 4 year old and a 1 year old they make perfect sense. And because we're all about creating a fun and playful kids bathroom, we thought less about maintaining a rigid jungle theme and more about whipping up an undeniably fun place for teeth-brushing and scrubbing down. Besides, who says the lion and the giraffe won't have some pretty exciting adventures on that submarine?
5. This classic light fixture will instantly update the sink area thanks to the current chrome detailing (which will match our new chrome shower rod and shower head as well as the existing sink faucets. For an even more updated sink area, Jules could find some fresh and fun door hardware (try Anthropologie for some truly unique pulls and handles) and even paint the metal frame around the mirror in the same pale yellow as the walls for extra charm and retro appeal.
6. The new chrome shower rod is another item that Jules dug up on her own, and we just love the classic and stylish look. Removing the dated shower enclosure and replacing it with something so timeless and elegant will definitely be worth the effort. And paired with a neutral and subtly jungle-inspired shower curtain, it'll add more fun pattern to the space while cutting the pink and adding a bit of texture to keep the eye moving throughout the space.
7. And what's a classic and posh chrome shower rod without a gorgeous new handheld shower head to match? This beauty was also dug up by Jules, and we adore how high-end it will look in cahoots with the new shower rod. Go team.
8. One of Jules' biggest enemies in the space was that dated old-lady linoleum, and one of the cheapest and easiest ways to get rid of it is to apply some vinyl tiles right over them for a fresh looking floor in a flash. We actually used some neutral Home Depot self-stick vinyl tiles in our kitchen for the two years before our major remodel, and we loved how easy they went in and how well they held up. Laying them on a diagonal can really expand a space and look even more like actual tile, so that's extra credit. We found these snap-in floor tiles on the Home Depot website, but encourage Jules and her hubby to swing by Home Depot and pick up whatever tickles their fancy (either stick-on or snap-in) in a soothing neutral color for a super updated appearance that will definitely tide them over until the major remodel a few years down the road.
9. This charming fabric hails from Ikea (for a staggering $7.99 a yard) and we thought it would make lovely little window curtains for Jules and the boys. When it came to hunting down a fun, patterned shower curtain and some fabric for the window, you'd be amazed how many florals and butterfly prints were out there… so we were overjoyed when we dug up the jungle-ish shower curtain and these gender-neutral striped curtains (which will actually create a playful, patterned look when paired- without veering off into the Barbie/princess decorating arena).
10. We think painting the white stool that Jules already keeps in the space in our pale yellow wall color will be just one more way to add a little more fun. And heck, if Jules really wants to embrace the cheerful and happy look, she can even paint the vanity that same pale yellow hue to make the white tile counter pop and add even more soft color to the room for a sunny, super sweet result.
11. And speaking of spiffing up that sink area again, we think sticking a giraffe decal or two on the mirror will add another splash of fun for the boys. Since these decals are easily removable, it's another semi-permanent way to create a flexible bathroom that really grows with the boys.
12. What's a bathroom without plush yummy towels? And we think these sunshine yellow ones (on sale by Thomas O'Brien) will fit the bill. They're delightfully chipper (like the bath mat, curtains and those fun jungle accessories by the sink), and we think tossing a few of them over the various towel bars throughout the space will keep things fun (while keeping the kids happy and dry).
So there it is, our cheerful pink & yellow mood board makeover. We'd love to know what you guys think!
Update: We sadly can no longer find the time to take on client commissioned mood boards (we now whip up general inspiration boards instead) but if we ever reinstate them we'll make a big announcement!