Jonel's blank slate of a living room is raw and ready for a major update. Here's her letter:
My living room needs help! I don't know my exact style but I would like a comfortable, light, and airy living space. I like country with a bit of casual modern. I also like natural items. I don't mind patterns. I like neutrals, greens, blues and grays- nothing very bold and bright but I am honestly up for any color scheme you think would work. The blue carpet will be removed to reveal the hardwood floors underneath. This is my first home so I will need a couch, chairs (I like the Dolce one from Target you have), coffee and/or side tables, window treatments, tv/entertainment area, light fixtures, storage options, and whatever else you see fit. I have a 5 year old daughter and 2 puppies so I would like a couch or chairs that are easy to clean up although I really prefer not to have leather ones. Also, in front of the fireplace on the floor are some loose red bricks that I would like to change, any suggestions? Thank you so much. I can't wait for your suggestions. -Jonel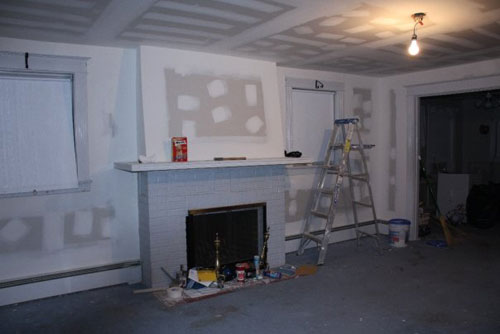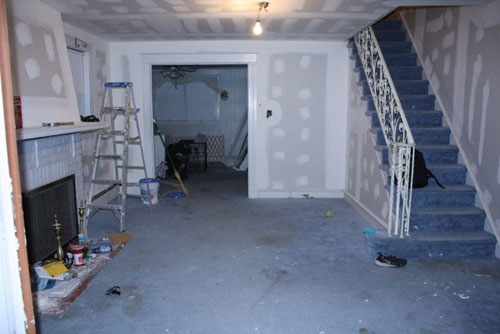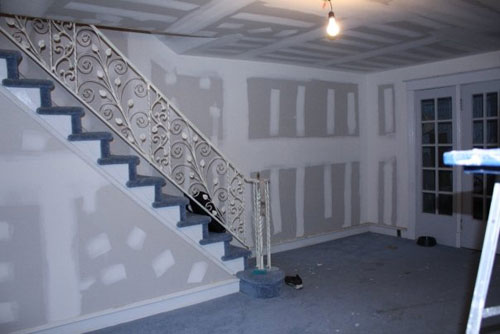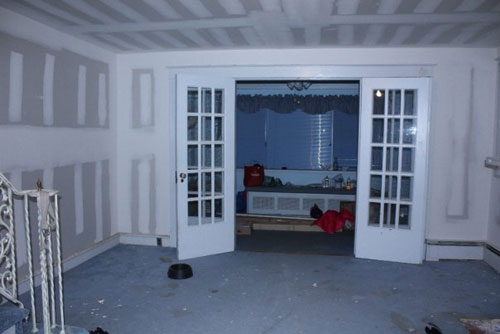 Here's the plan:
And now for the mood board breakdown.

1. Once that old blue carpeting comes up and the hardwood floors are revealed, this space will already be on the way to a huuuge makeover. Plus some light yet warm tan paint (Glidden's Water Chestnut) will look great on the walls when combined with a crisp white fireplace, trim, and doors. And since Jonel mentioned that she'd love a suggestion for the cracked and loose brick tiles on the floor in front of the fireplace, we think replacing them with simple and clean white 12″ floor tile (or even small white mosaic tiles or subway tile) will extend that clean white tone from the brick down onto the surround for even more presence and cozy style. We'd also suggest upgrading the railing to a basic clean-lined dark wood or painted white one for an instant facelift. When it comes to the rest of the color palette we'll be bringing in some rich chocolate wood tones and layering in some golden and wheaty neutrals along with soft sage and celery greens and a fair amount of soft tan and cream to keep things casual, open and inviting.
2. We love these three pillows which will serve as small bursts of color and texture since Jonel prefers neutral larger pieces (which are always a timeless choice). We'd love to see the patterned pillow (on sale!) on the chair that we'll be bringing in as well as on the sectional (along with the other two pillows – this one and this one– each appearing at least twice on the sectional to break it up and add inviting warmth and cozy style).
3. We always love a large mirror over the fireplace to bounce around lots of light, but because Jonel's space has lot of large doorways and openings we thought a large square piece of art would also look great. This luxe oversized canvas is ready to hang (no framing required- plus it's light and easy to mount) and it has hits of warm wheat, gold, cream and a lot of other tones in our color scheme to create a stunning focal point above the fireplace.
4. Jonel mentioned that she loved the Dolce Lounge Chair that we have in our den and living room so we headed over to Target to find one for her. Imagine our surprise when we learned that they now make them in a soft sage color, which is perfect for injecting a bit of interest and a splash of subtle color to Jonel's living room. Plus the price is right! When it comes to the placement of the seating area, we'd love to see the L-shaped sectional positioned so it faces the fireplace and the large doorway without the french doors (since we'll place the TV to the right of that doorway for easy viewing). Then the sage slipper chair can be placed about 5 feet in front of the doorway facing in towards the sectional to create a U-shaped seating area that feels balanced and floats in the middle of the room on an area rug that will ground everything and create a cozy and inviting room within a room.
5. We'd love to see these feathery golden-yellow blooms in a gold or tan vase on the left side of the fireplace mantel (layered in front of the art which will hang on that wall above the mantel) for an asymmetrical and cheerful effect.
6. Hanging this gorgeous pendant light full of golds and greens about 12″ from the ceiling will really update the entire room (we'd love to see it centered on the fireplace- it looks like the fixture box might need to be moved a smidge to the left but that shouldn't be a major undertaking since the room is still pretty raw). By centering it on the fireplace it will also end up in the middle of our floating seating arrangement to further define that area and create and inviting and balanced effect in an instant.
7. We love the idea of a large storage ottoman used as a coffee table so Jonel can stash toys, games, and anything else she loves to keep out of plain sight in a moment's notice. Plus ottomans are super kid friendly and this one has a great microfiber-ish texture that's easy to maintain and keep clean thanks to the forgiving color. And if Jonel is ever entertaining and in need of a more solid surface she can simply lay a large tray on the ottoman to create a coffee table-ish effect in a snap. And because the slipcovered sectional that we've chosen for the space has a nice right angle, the ottoman will mimic that shape and tuck right in to complete the seating area and tie the slipper chair and the sectional together for a nice U-shaped seating area that's effortlessly casual and undeniably comfortable.
8. Here's the much mentioned slipcovered sectional that will add kid-friendly and dog-friendly style (and comfort!) to the room in a snap. We love that half of it will face the fireplace while the other half will face the wall with the doorway sans french doors (where we'll be placing the TV). We also like that the rolled arms and the slipcovered nature of the sofa bring in a dose of country style which Jonel mentioned that she liked while the clean-lined shape still fits in with the casual modern feeling that she also enjoys. And once Jonel tosses about five of those green accent pillows on the sofa to break it up and add textural interest it'll look even more plush and cozy.
9. This media stand (on clearance!) is meant to be placed in the corner of a room and we think it's perfect for the corner to the right of the doorway without the french doors (which is one of the only places to put a TV in the entire room). The rich dark wood is perfectly classic-meets-modern but it's still much more casual than a large oversized armoire since the flatscreen TV will be out and easy to see from the half of the sectional which faces that wall. Perfect for the comfy and laid-back vibe that Jonel adores.
10. We love this 8 x 10 striped rug since it's full of so many of the colors in our palette. Plus the stripes mimic the lines in the chandelier that will be hanging overhead for a cohesive and layered sophistication that's still simple and inviting. We'd love to see it centered in the room with the sectional on two sides of it and the slipper chair on the third side facing the wall with the french doors to create a perfect u-shaped seating area with great views of the fireplace and the TV. And popping the plush storage ottoman in the middle of the rug will be the icing on the cake.
Oh and this round country-chic side table can be placed between the sectional and the slipper chair to further join them in a U-shaped arrangement if Jonel would like even more places to store or place things beyond the ottoman. And speaking of places to store things, we love the idea of putting one of these light and airy dark wood bookcases on both sides of the fireplace to create an almost built-in and balanced effect while providing additional display and storage space. And accessorizing them with woven baskets, hardcover books, and gold and green accessories (like potted plants, candle holders, vases, bowls, figurines, etc) will really complete the look.
As for the windows we'd love to see these soft neutral roman shades hanging high above each window on either side of the fireplace for even more balance and style (mounting them just about an inch or two below the ceiling will make the windows look even bigger and more lovely).
So there you have it. A living room full of light and casual style. We can't wait to see what you guys think!
Update: We sadly can no longer find the time to take on client commissioned mood boards (we now whip up general inspiration boards instead) but if we ever reinstate them we'll make a big announcement!