When Jaimee asked us to inject a splash of swanky and modern style to her soon-to-be office/lounge (fab, right?) we couldn't wait to get going. Here's her letter:
My husband I just moved into our first home (an awesome little 1951 house in Southern California) and we love it! The room that we need your expert advice on is our "office" which will house our computer and desk- but I don't want it to feel like your typical home office. I'm thinking of a modern, cool, chic vibe- almost like a lounge. I love the white paneling and the clean fresh feel it has. Perhaps color could be injected with accent pieces? We need a desk for our computer and I'm thinking glass or metal. The rest of our house is Pottery Barnish, and I'd like this room to be different and a bit more chic, so no big heavy wood pieces please. We also need a couch- I found this modern white leather couch and wanted to see if you think it could work. We'd also need something to put our flat screen tv on. As you can see, this room opens up to our deck so this'll probably be a room where people hang out while we entertain. The stripe around the room near the ceiling is Ralph Lauren's Crab Apple and that will be staying as well as the dark wood floors and the white paneling. Everything else in the room will obviously be going… it's been our storage room while we've been unpacking! Thanks and can't wait to see what you come up with! -Jaimee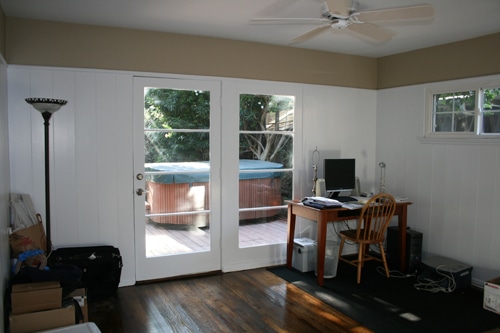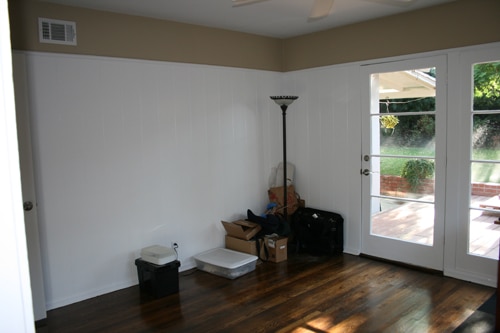 An office with a loungy feel for entertaining and relaxing sounds fabulous to us. So without further ado, our swank and spiffy office mood board:
Here's the mood board breakdown.
1. Our color palette is modern and chic to echo the gorgeous space (those glass doors! that painted accent stripe! the hardwood floors!). By introducing lots of crisp, clean white along with some metallic accents, some rich chocolate and a sliver of punchy green, this room will look loungy in no time.
2. Here's a sleek TV table to create a nice relaxing seating area for Jaimee and her guests. At $39.99 the price can't be beat, and the crisp white finish and clean lines will work seamlessly with a lot of the other modern pieces we'll be introducing to the space.
3. We couldn't pass up this fun and modern desk chair that conveniently comes in our accent color with streamlined metal legs to boot. We couldn't have created a better desk chair for Jaimee's space if we built it ourselves. And at $19.99, it'll be as easy on the wallet as it is on the eyes.
4. This steal of a desk from Ikea will mimic the crisp and clean TV stand, while keeping with our modern-meets-chic feeling for the entire office space. And it's made of steel and finished in a glossy white paint, so it'll look right at home without breaking the bank.
5. These decidedly modern curtains will add some movement and pattern to the room (to ensure all the white is anything but boring). And at $14.99 for two, Jaimee can flank the glass doors that lead to her deck as well as the small windows on the right side of the room for a bit of balance and an abundance of chic detailing on the cheap.
6. This fantastic cow print (for an unbelievable $10) will add a sleek splash of black and white. And paired with a few other black and white accessories (like our amazing black and white rug) it will keep the room looking oh so fabulous and fresh.
7. We also wanted to bring in a new floor lamp to replace the traditional one in the before pic, so we dug up this cool steel tripod floor lamp for a heart-stopping 55 beans (literally hundreds less than every other we've spotted).
8. Every lounge needs a place to put drinks, and this stunning coffee table with steel accent legs will play perfectly with all the other modern accents in the space. And at 25% off with free shipping it's sure to look a lot more expensive than it actually is.
9. This mouthwatering new striped area rug from Ikea is on every modernist's wish list, and it will tie in everything from the curtains to the cow print. It'll also help to ground the seating area and define the relaxation zone while making it clear that this room is so much more than the average office.
10. This is the couch that Jaimee found on her own, and we suspected that the white leather and the crisp clean lines (along with the price) just couldn't be beat. At $798, we searched high and low for another white leather couch of it's caliber and our suspicions were confirmed that this was the best deal out there. Nice find Jaimee. It will look heavenly on our new rug with a few punchy pillows (like the one in our moodboard above for just $6.99).
11. Finally, we found this sculptural desk lamp for under 30 smackaroos, and it'll be just perfect on Jaimee's new desk. With the Jonathan Adler-esque base and that rich chocolate shade, it will tie in perfectly with everything from the brown topped coffee table to those patterned blinds.
Our floor plan for the space will also be fresh and multifunctional. We propose placing the light and airy white TV stand to the left of those glass doors that lead to the deck and then floating our rug in the middle of the room to begin to define the seating area. The rug will help Jaimee position the couch towards the glass doors (so that guests can look outside and watch TV in comfort). Adding the coffee table in front of the couch will continue to ground the seating area and placing our stunning floor lamp to the right of the glass doors (where Jamie's old desk currently resides) will balance the TV table on the other side of the wall while adding some fun, sculptural height (to bring the eye up to that mod color stripe near the ceiling). Then the desk can either be positioned underneath the windows on the right side of the room, or, if Jamiee's feeling adventurous she can even place it behind her new sofa to take advantage of the great view out those glass doors (and create a more modern and unexpected layout in her swank and stylish new space).
So that about does it for Jaimee's sleek and chic office/lounge. We can't wait to see what you guys think!
Update: We sadly can no longer find the time to take on client commissioned mood boards (we now whip up general inspiration boards instead) but if we ever reinstate them we'll make a big announcement!